Alumni Corner
Tales from a Lapsed Slacker
How I learned to stop whining and love reading (again)
By Nick Kelly '09
Though it may not get as much press as its Spanish counterpart, The Running of the Seniors has to be as much fun to watch — if only for its sheer absurdity. The scene is the Steps, not a Pamplona street, but the drama is essentially the same: senior runs to print out his or her thesis (late); senior, chased by a fear of failure, awkwardly runs with armful of theses past the incredulous faces of his peers; senior, upon turning in his masterpiece, blacks out.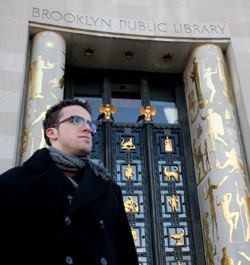 Nick Kelly '09 finds much to read in the main branch of the Brooklyn Public Library. PHOTO: Nora Schaffer '09 BarnardHanding over my thesis should have been a time for celebration. But as I lay down on Low Steps after turning it in, exhausted, I felt none of that sense of completion and relief that usually accompanied the end of a class. I hadn't even asked for my own copy. You would think that I would want to say to my classmates, "Hey, you may have had fun senior year, but I made this!" But I never wanted to see the thing again. And my books fared no better: I stuffed them into duffel bags and threw them into the Butler Library book return without a second thought. Over the course of that year I had come to dread reading them, and thus had come to dread reading in general.
What had happened to me? How had I completely lost my taste for reading? And most importantly, I found myself asking over the last couple months of school, would it ever come back?
Take some time off, people told me — you'll want to go back to school eventually. After all, they said, "You've been in school for 20 years!" But I was stubborn. Looking down at another 10-page writing assignment later in spring semester, I was pretty confident that I'd rather be in a coal mine than pull another all-nighter. I was convinced that I was off reading for a long while; that I would join the real world and have real experiences and meet real people, far from the cobwebs and stultifying bubble of academia.
I thought all these things, and then I got a white-collar job.
As my days became an endless parade of phone calls and e-mails, I started to feel mentally vacant. Not because my job wasn't interesting, but rather because, like most jobs liberal arts majors get out of college, it just doesn't involve a lot of reading. I also felt myself slipping into the typical yuppie cycle of never-ending happy hours. And so I drifted back toward reading again — slowly, cautiously. My former sworn enemy wouldn't make it back into my life without a fight.
I began with newspapers. These only required brief bouts of attention, and could be abandoned, guilt-free, at any moment. But soon I found myself reading them front to back. Newspapers then gave way to full blown magazines. And though I still regarded them with a distrustful eye, I gradually started to become interested in opening books again — and even reading a few. My friends from Columbia felt the same way. In a summer when vampire movies and TV shows were seemingly everywhere, my friends and I joked about our vampiric needs for reading, as if it were some blood-like substance we needed for our mental health.
More than a habit, reading had become a daily necessity. That may sound unremarkable: Most Columbia grads probably attest to a deep love of reading. But I was never one of those who really loved reading. I enjoyed it, sure, but I never threw myself into novels between semesters. It was at Columbia that I became a reader, even if I didn't realize it until after the fact.
I remember freshman year, walking across campus and trying to explain to a prospective student what made Columbia unique. Every other time I purported to impart some generalized knowledge about this school to willing (or unwilling) listeners, I was later proved wrong. But that time I think I got it right. "Columbia forces you to learn how to read endlessly," I said, exasperated at trying to read half of Robert Caro's epic The Power Broker the night before. "Your teacher assigns you hundreds of pages, and you just deal with it."
I never imagined the lasting effects of those classes. By confronting us with impossible reading lists, our professors were turning us into readers for life. My error, while I was in school, was to mistake my mental exhaustion — so understandable in retrospect — for lasting apathy. On the contrary: Though I had been briefly turned against reading, Columbia also had made my need for it inescapable. Whatever we vampires may say, we'll always be back for more.
Nick Kelly '09 majored in political science and is a political assistant for State Senator Daniel Squadron and Assemblymember Brian Kavanagh. He lives in Brooklyn with Glover Wright '09, Morgan Whitcomb '09E and Nathalie Celcis '09 Barnard.