Alumni Profiles
Joseph Goldstein '65: A Radically Examined Mind
By Joshua Summers '97
In the more than four decades since graduating from Columbia College, Joseph Goldstein '65 has played a significant role in transmitting the practice of mindfulness meditation to the West through his career as teacher, institution builder and author of numerous books on Buddhism, including The Experience of Insight: A Natural Unfolding (1976), One Dharma: The Emerging Western Buddhism (2002) and A Heart Full of Peace (2007).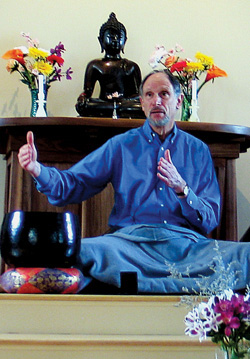 Joseph Goldstein '65 answers questions during a mindfulness meditation retreat at the Insight Meditation Society in Barre, Mass. PHOTO: Elizabeth VigeonAlthough mindfulness is at the heart of almost all Buddhist meditation, it has now spread in this country as a secular prac- tice that trains the mind in moment to moment, non-judgmental awareness. Advo­cates say this training leads to various benefits, such as stress reduction, clarity of mind and a more compassionate connection with the world around us.
"Joseph has had a seminal influence on the mainstreaming of mindfulness in the world. Over the past 35-plus years, thousands of people have sat retreats with him in the United States and around the world and have had their lives transformed by his extremely clear, kind and insightful teaching and his love for the Dharma or the teachings of the Buddha," wrote Jon Kabat-Zinn, founder of The Center for Mindfulness in Medicine, Health Care, and Society at the University of Massachusetts Medical Center, in an e-mail. "In his quiet, unassuming and transparent way, he exemplifies the power of non-doing and being ... nothing is forced, yet nothing important left undone. I sat my first insight, or vipassana, retreat with him in 1974 and continue to consider him one of my teachers, and a good friend."
The word "vipassana" means "insight" in Pali, the original language of the Buddha. Vipassana is often used as shorthand for "insight meditation" or "mindfulness meditation" when speaking of Theravadan Buddhism's approach to the cultivation of insight into the nature of phenomena and the nature of the mind.
In 1975, with colleagues Sharon Salzberg and Jack Korn-field, Goldstein co-founded the Insight Meditation Society in Barre, Mass. As the first large residential center in the United States to offer seven-day to three-month retreats in mindfulness meditation, IMS annually attracts 2,700 retreatants from more than 80 countries. And while some people might question the relevance of spending even seven days in meditation, Goldstein speaks resolutely to its benefit: "The practice here [at IMS] revolves around what the Dalai Lama calls the art of happiness. It's about understanding ourselves — our minds and our emotions — deeply enough so that we know for ourselves the causes of genuine happiness in our lives and the causes that perpetuate suffering and greed. This training in mindfulness gives people a direct experience of this, rather than simply an intellectual understanding. And what's really key to the work we do is the understanding that our minds can be trained."
The origins of Goldstein's interest in meditation can be traced to his years at Columbia and to the years immediately thereafter. Although his extra­curricular interests at Columbia were ordinary — he rowed crew, played saxophone and co-founded the Columbia Ski Club with Robert Jastrow '44 — his major in philosophy cul­tivated his ontological interest. Goldstein still feels the influence from the Core Curriculum, his course in 20th-century literature with Lionel Trilling '25, and his classes on Eastern religion and Western philosophy, especially the metaphysics of Descartes and Spinoza.
Graduating early, in January 1965, Goldstein embarked on one of the first Peace Corps mis­sions to Thailand, where he taught English at the King's School in Bangkok. It was during this time that he encountered Buddhist practice and philo­so­- phy. The King's School was close to the well-known Marble Temple, where a British and an Indian monk hosted weekly discussions on Buddhism. Goldstein recalls arriving at these meetings "with my Spinoza in hand" and a relentless volley of questions. In the midst of a lively debate, one of the beleaguered monks politely suggested Goldstein actually "try meditation." And so he did, and from his first attempt, Goldstein remembers how he was "continuously amazed at the systematic methodology for turning the attention inward to look at the mind itself — rather than always turning outward to look at the world."
After the Peace Corps, following a brief stint of work back home in the Catskills and feeling the need for a teacher's guid­ance, Goldstein ventured East again, this time to India. In Bodh Gaya, the town of the Buddha's enlightenment, Goldstein met his first meditation teacher, Anagarika Munindra, a quirky iconoclast, an anti-guru of sorts, who possessed both exhaustive scholastic knowledge and a deep wisdom gained from nine years of intensive meditation and study in Burma. Goldstein worked closely with Munindra over the span of seven years, with long periods in silent medi­- tation. Following this concen-trated period of practice, Gold-stein was poised as one of the few Westerners at the time who possessed such a depth of meditation training.
In 1974, Ram Das — another prominent figure in the nascent world of East-meets-West spir­it­uality — invited Goldstein to teach meditation during a sum­mer course at Naropa Institute, in Boulder, Colo. Ultimately, this experience proved to be the watershed moment in Gold­stein's career from which he began teaching grassroots retreats both in the United States and worldwide, a period of work that culminated in the founding of IMS.
Goldstein's work has influenced everything from Buddhist-informed psychotherapy to mindfulness-based stress reduction programs to cutting edge research on meditation and neuroscience. Columbia's preeminent Tibetan Buddhist scholar, the Jey Tsong Khapa Professor of Indo-Tibetan Buddhist Studies in the Department of Religion Robert Thurman affirms, "Joseph has been a great teacher for many, many people, helping them enormously. His recent book, One Dharma, has been influential in reducing divisiveness and sectarianism in the extremely diverse American Buddhist community. The Insight Meditation Society has been an important force in American culture, and it is well positioned to carry on its work for generations. All in all, Joseph is an American Buddhist 'Venerable.' "
Joshua Summers '97 is strategist at Sati Solutions, a mindfulness-based strategy firm.