Alumni Profiles
Maya Gupta '99 Aids Victims of Domestic Violence, Human and Animal
By Nathalie Alonso '08
The New York City subway may seem like an unlikely place to discover one's calling, yet Maya Gupta '99 first pondered the connection between domestic violence and animal cruelty — the crux of her career and research — while riding the 1 line as a College senior.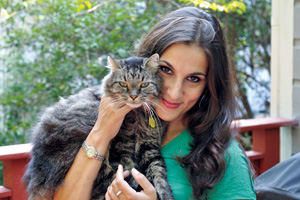 Maya Gupta '99, shown here with her cat Biskie, fostered kittens in her off-campus apartment during her senior year at the College. PHOTO: George Carless"I was idly looking at the posters at the top of the car when my eyes lit on an ad for a domestic violence crisis hotline. It asked about a number of warning signs of domestic violence, including if your partner had ever threatened or hurt your pet. That was kind of my 'light bulb' moment," explains Gupta, who since 2007 has been president of Ahimsa House (www.ahimsahouse.org), an Atlanta-based nonprofit dedicated to helping victims of domestic violence and their pets reach safety.
Gupta oversees the organization's three main programs, which include a 24-hour hotline for Georgia residents, an emergency safe house network to hold animal victims until they can be reunited with their owners and outreach aimed at raising awareness about the ways in which pets are often implicated in domestic violence. According to Gupta, pet owners often are hesitant to escape violent situations if they cannot take their pets with them to a shelter.
"Nationwide, fewer than one in eight domestic violence shel­ters allow animals, so it's a real problem," she says. "A lot of time the abuser will retaliate against the pet if the human victim escapes, or will use the pet to coerce the human victim into returning."
It is difficult to imagine a more fitting role for Gupta, who majored in psychology and French in the College and earned a master's and doctorate in clinical psychology from the University of Georgia in 2003 and 2006, respectively. Her dissertation, inspired by her subterranean epiphany, explored the links between intimate partner violence and animal abuse.
"One of the take-home messages was that there do seem to be subtypes in cruelty to animals in the same way we think there are subtypes in patterns of domestic violence," says Gupta of her research. "Some people's aggression is triggered mostly by perceived rejection while others fit a different subtype of the more typical, callous, unemotional aggressive person."
Gupta went on to serve as co-chair of the organizing com­mittee that developed the Amer- ican Psychological Association's Section on Animal-Human Inter­action in 2007 and is now chair-elect of the section's governing board.
"It is the first time that the work of psychologists in the area of animal-human interactions has been officially recognized by the APA," says Gupta, who will begin her term as chair in 2011.
Gupta also is the founder of the Magi-Cat Adoption Network in Athens, Ga., a no-kill rescue group she started in 2000 with the goal of extricating cats from shelters where they might otherwise be euthanized and placing them in foster homes until a permanent adopter is found. As a graduate student, she also helped rehabilitate and retrain a pair of former racetrack horses to become event horses.
"It was really a rewarding pursuit because these animals were getting a second chance," explains Gupta, who still keeps the horses, Luther and Norman­dy, as well as a pony named Dennis the Menace. She also shares her home with four cats: Biskie, Sterling, Fred and Chitlin'.
Gupta became involved in animal rescue during her senior year in the College, when she fostered cats in her off-campus apartment. During her time at Columbia, she also was a member of the cheerleading squad and the sorority Alpha Chi Omega, whose national cause is working to end domestic violence. As a senior, the West Lafayette, Ind., native also escaped Morningside Heights several times a week by venturing to Brentwood, Long Island, to ride horses at Knoll Farm.
Kerri Bauchner Stone '97, one of Gupta's sorority sisters and a fellow cheerleader, recalls her friend's enthusiasm for the endeavors she pursued. "I was always aware of Maya's love for animals. She spoke passionately about the causes in which she was interested," says Stone, a professor at the Florida International College of Law in Miami. "I loved that we could talk about shopping and music like typical college students one minute, but also discuss human nature or art the next."
It was precisely that balance that Gupta sought when she decided to attend the College, drawn in part by the Core Curriculum, which she credits in retrospect for allowing her to explore the interests that have shaped her career.
She explains, "The Major Cultures requirement was fantastic. Studying ancient Indian texts and Jainism really fit right in with my developing interest in non-violence and violence prevention, sort of linking the philosophical with the applied."
Location also played a role in Gupta's decision. "Growing up in a fairly small town in the Midwest, I really wanted to be at the center of everything, not just for the active off-campus life that New York offers, but also for the career enrichment opportunities it affords," says Gupta.
She never could have predicted however, that years later one of her fondest recollections of the Big Apple would be of an experience she had while commuting.
"I have, among other things, the 1 train to thank for helping me get started on this path," says Gupta. "That always stands out as a good memory of Col­um­bia and of how New York helped me get where I am now."
Nathalie Alonso '08, from Queens, is an editorial producer of and contributing writer to LasMayores.com, Major League Baseball's official Spanish language Web site.