Alumni Profiles
Jake and Marty LaSalle '07 Juggle Pins and Possibilities
By Gordon Chenoweth Sauer '11 Arts
Watching them during a performance of what they call "athletic artistry," identical twins Jake LaSalle '07 and Marty LaSalle '07 appear as different as apples and, well, apples. Fitting, since at 9 their juggling career was sparked by apples in an apple orchard. "I remember seeing the apples and thinking, 'Oh, it'd be cool to juggle those apples.' And I don't remember not being able to do it. I started juggling them, and I taught my brother," says Jake.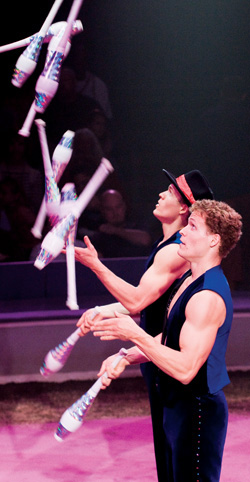 Jake LaSalle '07 and Marty LaSalle '07 say the seamless qualities in their performances come somewhat from being twins but also from "just practicing a lot." PHOTO: Maike Schulz/Big Apple CircusBorn less than a minute apart (Marty is older) in Kennett Square, Pa., the brothers, currently performing with the Big Apple Circus, showed an early propensity for performance: The two began formal gymnastics training at 8. Flashing forward 10 years — a decade including summer performances for the Holland America Cruise Line off the coast of Alaska; first place at the 2001 International Juggling Association Champion­ships in Madison, Wis.; and a performance in the fall 2002 international Cirque de Demain Circus Arts Festival in Paris — Jake and Marty arrived at the College to begin their academic tenure. They chose Columbia because they wanted to be in a big city, one that would, as Marty says, "allow us to continue working a little bit, even though we'd be full-time students."
"We visited the campus and both fell in love with the space up there. It was good to be around the energy of New York, and to be able to have some exposure to creative communities," Jake says.
But despite the academic rigors of the College, the two kept practicing — not as often as they had in high school, but enough to enter the Big Apple Circus following graduation. "We decided at the College that we wanted to keep performing, so the Big Apple Circus was one of the first companies we contacted. It's one of the best circuses in America, and it has a really nice energy to it," says Marty.
David Donner Chait '07, a first-year dormmate of Marty's, recently attended a performance. He says, "Going to the Big Apple Circus with five Columbia friends was an amazing experience. Despite years of friendship with Marty and Jake and an intense knowledge of their technique, this was the first time I'd seen them perform. Their act was unbelievable, and their talent is unmatched."
So when it comes to performing, what about the twin factor? "I think, without a doubt, being twins helps us stay in sync while performing," says Jake. "A body has its innate internal rhythm, and there's a fluidity that Marty and I have that is innate. Of course, practicing together since we were kids has helped." Marty says, "There is a natural advantage to being twins, but most of the seamless qualities in our performance don't come from that as much as they come from just practicing a lot."
It was at the College that they began to fully contextualize their performances. Jake says, "Having the opportunity to engage proactively with actual texts, historical texts in Contemporary Civilization, was really eye-opening. I was able to situate what we do, how I live and what we do on stage within a historical and cultural context. Columbia really encouraged me to think more about what I was doing for the circus community as a whole and by corollary, what the circus community was contributing to the artistic community and even the value of art."
Marty says, "What I do now is in a lot of ways different from the Columbia experience, because you're just in a totally different world. What Columbia does, what the objective of the liberal arts education really is, is it gets you to think on your own. It gives you the confidence and the ability to think about your problems. I think I'm more confident in the creative process as a result of being at Columbia."
Marty studied international economics, completing his junior year abroad at Lady Margaret Hall at Oxford. "My college experience was divided in two," he says. "The first two years I was a normal student, and then I went to Oxford. When I came back, I had already decided I was going to start performing after I graduated."
Jake condensed the pre-med curriculum, essentially completing it by the end of his sophomore year. This led him to a course of study concentrating in anthropology. He says, "I feel like I have a great base of knowledge because of what I was able to study at Columbia. My studies weren't super-specialized. I was all over the place, in a good way though."
Now, with the end of their contract with the Big Apple Circus approaching, Jake and Marty intend to go their separate ways professionally. Jake begins medical school in the fall, most likely at Columbia. "I am not quite done with New York yet," he says. "I definitely want to do some form of surgery. I bounce back and forth between most types, but I like the intensity of an operating room and the tangibility of it."
Marty is planning a career in the entertainment industry — ultimately, he thinks, on the production side — and considering business school for next year. "I'd really like to head the creative development of big entertainment projects," he says. "Not necessarily be the creative voice, but sort of manage creative talent." Marty's performance days, however, may not be over just yet. He's considering performing solo for a couple more years, as a generalist — someone who performs various acrobatic feats on circus apparatus.
View a video of the LaSalles performing. 
Gordon Chenoweth Sauer '11 Arts is a freelance writer, instructor in Columbia's University Writing Program and M.F.A. in fiction candidate.