Around the Quads
Reconstructing Haiti
Young alumni visit island nation ravaged by earthquake and look for signs of hope
PHOTOS: Daniella Zalcman '09
Joshua Robinson '08 is a freelance writer and Daniella Zalcman '09 is a freelance photographer. They live in Manhattan, and their work has appeared in Columbia College Today as students and as young alumni. After reading many touching stories and seeing countless heart-wrenching images following the earthquake that struck Haiti, they traveled to Port-au-Prince to document not the destruction but the first steps of reconstruction.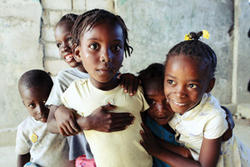 Children play in the ruins of an abandoned structure in Cité Soleil. DZ: We arrived in Haiti on January 24, 12 days after a 7.0 earthquake flattened three of the country's densest cities. Footage from Port-au-Prince (the capital), Léogâne and Jacmel had saturated news outlets for more than a week. As journalists, we were clearly late to the scene. But for every story that had been unearthed by CNN or the Associated Press or the BBC, we knew there were dozens more waiting to be told by the 1.2 million Haitians who had lost their homes and were living in makeshift tents. And so we decided to make our way to Port-au-Prince and report on Haitians taking stock and facing the future, finding hope where there seemed to be none.
JR: Because the airport there had been commandeered by American troops and aid organizations, getting to Port-au-Prince became a 30-hour ordeal. It meant flying into Santiago in the Dominican Republic, taking a taxi to Santo Domingo and then embarking on what turned into an eight-hour bus ride to Port-au-Prince. We arrived at our destination as night was falling. Everything we had read about and seen on television hit us immediately: the collapsed buildings where the second floor seemed to have consumed the ground floor, the people lining the streets where they would spend the night, and the pungent smell of garbage and death.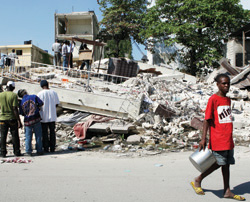 People sift through the rubble in downtown Port-au-Prince, seeking to salvage usable building materials and personal objects. DZ: I'd heard, from colleagues and peers who had already returned from Haiti, that the stench of death was everywhere. But I had no idea what that meant. I'd barely encountered a corpse, except for under a white sheet and behind plenty of police tape. So when we stepped off the bus and the sticky, acrid smell filled my nostrils, it took me far too long to realize what it meant. That odor followed us for the entire week — in collapsed churches, near the destroyed National Palace, in the fringes of tent cities. It was a terrible reminder of just how much we hadn't seen.
JR: When the time came for us to actually start reporting, we thought, "Where do we even start?" So many iconic images and momentous stories had already gushed out of Haiti, how were we, with so little local knowledge, going to find something new and meaningful? But with the help of a guide and a broken-down Toyota with cracks in the windshield and a "Merci Jésus" sticker across the back, we began by exploring as much of Port-au-Prince as possible. We spoke to everyone we could find — tent city residents, doctors, aid workers, Marines, Haitian officials. The idea was to expose ourselves to everything.
DZ: It didn't take long for us to realize that the stories were there. A woman named Marie, who was on the plane with us from Fort Lauderdale, Fla., was rushing to Port-au-Prince to find her brother, the youngest of her six siblings. The other five had died on January 12, along with their spouses and children. Darlande, a medical student we spoke to, had arrived at the American Embassy at 5 a.m. every day for five days hoping to obtain the necessary paperwork to emigrate to America — knowing full well that without a U.S. passport she wouldn't be permitted to even speak with an embassy official. Robert had lost his parents, his two younger sisters and his girlfriend to the earthquake and was living in a two-person tent with 11 friends from his high school soccer team, taking care of one classmate's infant brother. The struggles, and stories, were everywhere we looked.
JR: Of all the tent cities, all the piles of rubble and all the devastated neighborhoods we saw, the slum of Cité Soleil will stay seared in my memory. In the area surrounding Haiti's former state prison, a vile hole that witnessed more than 30 years of untold horrors under the Duvalier dictatorship, some of Haiti's poorest live amid rotting fruit, broken glass and feces. Pigs run free through the mounds of garbage. Women make food out of dried mud.
Realizing that the area had hardly been affected by the earthquake only made the scene more upsetting. This was the same abject poverty the people of Cité Soleil had always known, and little was going to change that, especially now. No aid organizations had come through, and in all likelihood, they weren't planning on it.
DZ: The most powerful images for me were the relics of life before the earthquake. Toward the end of the week, I'd begun to worry that I had been desensitized to much of the devastation. Seeing so much ruin on such a large scale had made it almost impossible for me to comprehend the earthquake's effects on a human scale.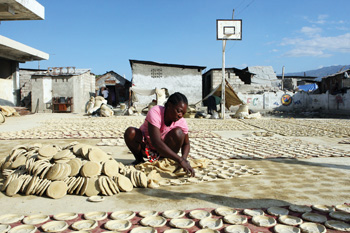 A woman makes food from dried clay in Cité Soleil, one of Haiti's poorest slums. And then, one morning, I visited the remnants of the Sacré Coeur church in Turgeau. Most of the walls had collapsed, and the space was filled with rubble, but the pews had survived. I walked into one of the last rows to take a shot of the altar, and lying in the middle of a pew was an abandoned bridal magazine. Had a young woman, soon to be married, been looking over white dresses in this spot on January 12? The thought absolutely shook me.
JR: Whenever people heard that we had come from New York, they immediately told us about their relatives in the United States — in places like Miami, Boston and Queens. And now, in their family's time of need, many of those relatives were frantically trying to circumvent the aid process and send money to them directly. So when the wire remittance offices like Western Union began reopening some two weeks after the quake, the lines were endless.
On the steps of a Unitransfer office in downtown Port-au-Prince one Saturday, Laurrette Maitre crouched in a sliver of shade. Her parents and two siblings in the Bronx had promised to send her $150 to help with food. For days, she had been surviving on insufficient aid handouts. She hoped to restart her small business selling drinks. "It's enough to eat a little, and maybe even begin working again," she said of the expected funds.
A few yards behind her, Pierrette Longuefosse had come from a nearby tent city with her sister and husband. She had three children to feed, so she waited for five hours to collect $100 from her younger sister in New York, even though she knew that it would not get them far. Price-gouging had spiraled out of control. Gas, for instance, was going for $8 a gallon. In places, a loaf of bread reached $10. "It's still better than nothing," Longuefosse said, exasperated. "But it will only last two days, maybe three."
Even before the earthquake wreaked its devastation, Haiti was the poorest country in the Western Hemisphere. DZ: I think a widespread misconception was that there were no resources to be found in all of Port-au-Prince. We certainly thought so. We brought enough protein bars from New York and almost enough water from the Dominican Republic to sustain ourselves for those nine days, expecting not to be able to find supplies anywhere in the city. But on our second day in Haiti, our guide stopped at a bustling supermarket and asked us if we needed anything. I was shocked — the shelves were well-stocked and the aisles were bustling with customers. But few of them were Haitian. The food was available, but the prices were far from affordable for most of Port-au-Prince's residents.
JR: And yet, it was impossible for us to share our resources with the people who truly needed them. Several United Nations workers strongly warned us against handing out anything because it could be enough to spark a riot — the aid organizations had all experienced it themselves. It meant that we were rarely welcome when we visited tent cities. "We weren't waiting for journalists," one man told me. "We were waiting for help."
DZ: Many people didn't want to discuss what had become the worst two weeks of their lives, and they certainly didn't want to be photographed. Josh had an advantage in that he speaks French fluently; all I could do was point at my camera and hope it was understood that I wasn't trying to capture their shame but rather document a crisis and the beginnings of rebuilding.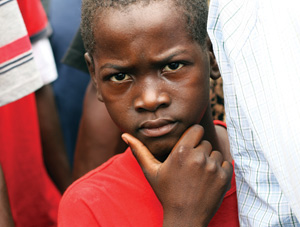 The eyes of a hungry child tell of the earthquake's consequences. JR: When I first drove by the tent cities and saw people living under four posts and a bed-sheet, I'd wrongly assumed that many of them had been poor before the earthquake. Cheap, poorly built housing, I thought, was hit hardest, and those with the means to leave had done so.
It wasn't until I began wandering through the tents that I understood two things. First, the disaster didn't discriminate. There were middle-class professionals, teachers and businessmen assembling shelter from cardboard boxes alongside people who had evacuated slums. And second, not everyone wanted to leave — Port-au-Prince was still their home, even without a house.
DZ: It wasn't long before shadows of those homes started springing up in tent cities all over Port-au-Prince. The evolution of those communities during the course of the week that we spent in Haiti was stunning. One in particular, the St. Louis community, changed tremendously in just a few days. The first time I explored the 10-acre tract, there was nothing more than sheets and plastic tarps fashioned into makeshift tents.
Haitians living in one of the Red Cross' tent cities in downtown Port-au-Prince find ways to set up their own businesses that they run in exchange for food and water. But by our last day in Port-au-Prince, St. Louis had progressed to a growing shantytown with street signs (named after American states) and an address system, grocery stores selling canned and dried produce, and salons offering a trim and a shave. Children clustered around a generator-powered television, watching cartoons. Women gave each other manicures. Men wove branches and straw into panels to create walls and thatching for more permanent housing. Reconstruction was underway.
JR: Nowhere was this clearer than in Léogâne, a town about 18 miles up the coast from Port-au-Prince where the earthquake had torn down 85 percent of the structures, according to official figures. Its main street had none of the desperation of sprawling Port-au-Prince. In this smaller, closer community, every pile of rubble was as busy as an anthill, with dozens of people clearing debris. They dug out whole bricks and steel cables, things that would become construction materials in a new Léogâne. Even small businesses seemed to have been revived. Of course, people knew it would be years before they recognized their hometown. But more quickly than anywhere else we visited, they had sprung into action.