Around the Quads
Reactions from a Medical Mission to Haiti
By Sallie Wilson '11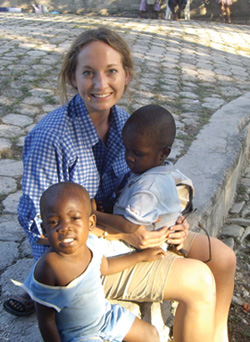 Sallie Wilson '11 with two Haitian orphans at the King's Hospital complex in Port-au-Prince before the earthquake. PHOTO: Hadley WilsonLate last summer, my dad and I planned a weeklong medical volunteer trip to Haiti for the first week of January. Little did we know that we would narrowly be avoiding death, or at least tragedy, by leaving just two days before the earthquake of January 12.
Why did we choose Haiti? We had found a group in Gastonia, N.C., not too far from my hometown of Charlotte, with a strikingly pure medical mission statement and established ties in Haiti. When we first visited Lumière Medical Missions, I was struck by their genuine altruism. They were not working for media attention and certainly not for money, which was refreshing.
My dad, a cardiologist, had always wanted to do medical mission work, and Haiti appealed to us because it is the poorest country in the Western Hemisphere. I had studied Haiti in passing during the course of my French studies, and its culture had intrigued me. I was excited to see the practice of medicine in a less formal setting — a general clinic — where I could be more participatory in patient diagnosis under a doctor's instruction.
We stayed with Haitian-born doctors Hubert Morquette and Junie Hyacinthe in their newly built mission hospital, King's Hospital, in Port-au-Prince. Their complex includes a six-story hospital, an orphanage of 64 children and a school of 108 children.
The most eye-opening part of the trip was not the sight of the shantytowns or the size of the stomach of a malnourished child, but the repetition of these sights. We drove to the beach on the Friday of our weeklong trip. Again and again we passed young children with stomachs that ballooned out due to malnourishment. Even at the orphanage, where the children are well-fed, the two youngest had enormous bloated bellies from being malnourished as infants.
The top of King's Hospital had a commanding view of Delmas, a suburb of Port-au-Prince, and the valley leading to the coast. Few buildings were more than one-story high with a few rooms; the hospital was the tallest building within the 360-degree view. Everything seemed to be falling apart except the mountains. This is not to say Haiti is not beautiful. The white-sand beaches of Jacmel could be mistaken for beaches in the Caribbean on which world-class resorts build their reputations. The mountains were lush, green and terraced.
When I found out that the earthquake had hit, I was shell-shocked, stunned, speechless, what have you. I learned that the Presidential Palace had been damaged and no longer looked like the image I had in the packet of developed photos I had just brought home from the drugstore. I felt that all of the memories and stimulation that had painted my experience — the sights, the people, the sounds, the smells — had ruptured along with Haiti. This kind of heartbreak was new to me.
A day after the earthquake I heard from Lumière Medical Missions; I found out that Hubert had called at 5:30 p.m. after the earthquake to say no one had died and the hospital was one of the few in Port-au-Prince still intact. Up until the earthquake, King's Hospital was not open to patients due to lack of funds, supplies and staff. Afterward, it was filled beyond capacity, with Hubert and Junie performing surgeries. I was told they were in desperate need of both doctors and supplies.
My main concerns for Haiti are first, the thousands of homeless Haitians who now will have an even harder time finding the food, water and shelter we take for granted. Second, the escape of inmates from the prison in downtown Port-au-Prince means some of those responsible for the 2003–08 violence now are free. Third, the country itself had so far to go with its medicine before the earthquake. King's Hospital was in need of fundraising to establish a fund to support the many Haitian patients who could not pay full price for their necessary medical attention. Now the attention of the world is on earthquake relief (as it should be). Thankfully, Haitian causes have become the focus of charities nationwide, but to what end will Haiti be restored?
My hope is that aid and disaster relief efforts will establish a greater infrastructure rather than merely restore the recent but tenuous stability Haiti had, which was due to an increase in police force and the recent capture by President René Préval's forces of the leader of the gang responsible for the revolts.
Haiti is not just a disaster-torn, third-world country to be pitied or patronized. Participate in the restoration process for the sake of its people and potential. A great place to start is by donating to the Helping Hands for Haiti campaign organized by the Haitian and Caribbean Students' Associations. At the very least, resist becoming desensitized to the issue as the images of disaster become redundant and the passage of time and stress of daily life make it easy to tune out this crisis. What the earthquake has not changed is Haiti's potential to be a thriving island nation with an intriguing identity. Now, more than ever, it needs help to get there.
Editor's note: A version of this story first appeared in The Columbia Daily Spectator on January 25.
Sallie Wilson '11 is from Charlotte, N.C. She is majoring in French with a premedical concentration and plans to continue volunteering in Haiti as she pursues a career in medicine.