Around the Quads
Five Minutes with … Stuart Firestein
Professor Stuart Firestein teaches biology and the popular "Ignorance," a course that invites professors to speak to students about what they don't know and what they question in their field. He earned his bachelor's in biology from San Francisco State University and his Ph.D. from UC Berkeley. A theater director before entering academia, Firestein did post-doctoral research at the Yale School of Medicine before coming to Columbia.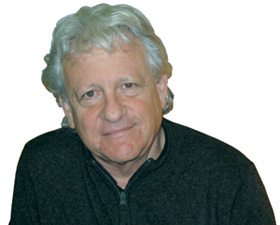 Where did you grow up?
Philadelphia.
What did you want to be growing up?
I started out with the usual childhood things — cowboy, fireman. My first interests were in science. I wanted to be an astronomer. That lasted until the middle of high school when I got involved in the drama club. Then I became interested in the theater. I think it was in part because I went to an all-boys school. There was an all-girls school down the street and the only interaction between them was in the theater because we needed girls to play the female roles.
How did you become a biologist?
I worked in the theater for almost 20 years. I did not go into science until rather late in life. I didn't go to college [straight from high school]. Instead, I was an apprentice and worked my way up, eventually directing, which I did for a number of years, both on the East Coast at rep companies and on the West Coast in San Francisco, and a little bit in Los Angeles. When I was 30, I decided to go back to school. In those days, one could go to San Francisco State and be a full-time student for $106 a semester. I took a class in animal communication from a professor named Hal Markowitz, who was a wonderful mentor and remains a good friend. It may have been the most important thing that happened to me in life. I finished a graduate degree by my 40th birthday, which was my goal. I was hoping there'd be some time between tenure and emeritus.
How did you end up at Columbia?
I came down and gave a talk to the department, and they liked me, and I liked them. I could have stayed at a medical school, but I always really wanted to return to a university situation. I like undergraduates, and I like teaching. This sounds terribly corny, but I feel a sense of responsibility to return what I was given, and I believe there's a better chance to do that at an undergraduate campus. Plus I liked hanging out with philosophers and classicists and language people.
"Frontiers of Science" is up for its five-year review. Where do you see it going?
This is not a trivial issue. There are parts of it that work and parts that don't. The part that seems to work is the big lectures. You get Columbia's world-renowned faculty to put together two, three or four lectures in their field, but making their field accessible. I think that alone, aside from what it does for the students, which is the primary thing, is important because you actually enlist faculty who usually spend all their time buried in the lab, and you get them to pause and think about how to put their work out there for a mostly lay audience, a group of kids who are smart but not trained. It's good for the students to see the depth of research and the way it happens here.
A little less successful, as I understand it, are the individual classes that meet once a week for two hours. These are labor-intensive, difficult to organize and use up a lot of faculty. It's the part of the course that uses the most resources and therefore has to give back the most, which it isn't doing at the moment. We'll figure out how to fix that eventually.
What are you working on?
My laboratory works on the sense of smell. We're a neuroscience lab, so our interest is the brain and how it works, which is the big question. With no hope of answering that, we chopped off a small piece, and the piece that I came away with was the nose. We use the nose as what we call a model system. The brain is too hard to understand all by itself. One looks for simpler systems along the idea that fundamental mechanisms in the brain are going to be found on simpler levels, possibly in simpler organisms, like worms or flies, or subsystems of complicated organisms. The sense of smell is a good subsystem of the brain to learn a lot about important issues in the brain.
What are you teaching this semester?
I teach a course I slapped together myself called "Ignorance." It comes out of this notion that the one mistake that we make unavoidably in teaching science is that we teach them a bunch of facts. That's important, but it's not what science is about. When I meet up with scientists, we never talk about what we know; we talk about what we don't know. It's the only thing that's of interest to a scientist. I was worried that we weren't giving our students any sense of that at all. They thought science was just a big fact book.
Are you married? Do you have children?
My wife is a professor of animal behavior at Hunter. My daughter entered the College in the fall.
How do you recharge?
I like to hang out in coffee shops and bars, and I have friends who are not in the sciences or academia. I know some actors and singers, and I think spending time with them is useful. I recharge by being social.
Interview and photo: Ethan Rouen '04J
Watch a video of Firestein talking about the value of mentoring, the benefits of Columbia as a research institution and a liberal arts college, and his research.