Around the Quads
Claire Shipman '86 Discusses Womenomics
By Shira Boss-Bicak '93, '97J, '98 SIPA
Claire Shipman '86, '94 SIPA advocates greater flexibility for women in the workplace. Nearly 100 women (and three men) gathered on campus at The Italian Academy on January 26 to hear ABC news correspondent Claire Shipman '86, '94 SIPA talk about the research in her new book, Womenomics: Write Your Own Rules for Success, cowritten with BBC World News America correspondent Katty Kay.
Womenomics argues that giving women greater flexibility in the workforce —to make schedules and even choose locations that work well with their lifestyles — both furthers their careers and is more profitable for businesses.
Shipman recounted her experiences "working nonstop" in Moscow and covering the White House, and said after she had her son several years ago, she started to feel differently. "I became a 'difficult person' for ABC, someone who was 'complicated,' and would say 'no,' " she said.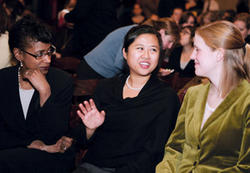 Among those attending Shipman's talk were (left to right)Dean Michele Moody-Adams, Student Council President Sue Yang '10 and Isabel Broer '10.She has negotiated more flexible work assignments and a four-day work week, but says women should not have to work out individual arrangements and that com- panies should be eager to accommodate them more formally, to prevent the "brain drain" of women leaving the workforce for family reasons.
Shipman now has two children and Kay has four children. "At cocktail parties, instead of figuring out how to be on TV tomorrow, we were trying to figure out how not to be on TV," Shipman said.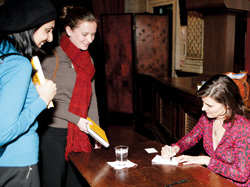 Shipman signs her book Womenomics: Write Your Own Rules for Success. PHOTOS: CHAR SMULLYANWhile the women were negotiating their own more flexible work arrangements with their employers, they discovered research about how businesses profit from women's involvement at all levels.
"The argument of the book is: giving people flexibility and letting them work how they want to work is not a favor or a p.c. thing to do. It's a very good business strategy," Shipman said. "The more senior women you have in a company, the more money it makes."
After her talk, Shipman answered questions from the audience and signed copies of the book.
Shira Boss-Bicak '93, '97J, '98 SIPA, an author and contributing writer to CCT, writes about her three whippets at Saving for Sesame (http://savingforsesame.com).