Bookshelf
A Witch and Her Descendent
Katherine Howe '99's novel uses her ancestors' stories
If you stroll through the seaside town of Marblehead, Mass., you'll see house after plain New England house, their old faces prim and bleak as Puritan portraits. In the 1800s, Marblehead's neighbor, Salem (of witchcraft fame ), grew rich from Far Eastern trade. But Marblehead stayed poor — and so it has one of the country's largest collections of 18th century architecture, says Katherine Howe '99. It's an easy place to think about history, she says, to mentally erase today's power lines and cars and imagine one's self in an earlier century.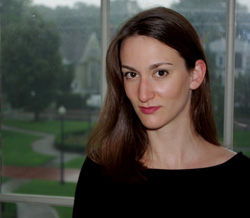 Katherine Howe '99 Photo: BRIAN PELLINENIn summer 2005, as Howe strolled with her dog around Salem and Marblehead, she began to muse about the towns' colonial past. Summer turned into autumn, but the walks continued; Howe, a graduate student in American and New England studies at Boston University, was tense about her upcoming orals. Her musings assumed the shape of what she calls a "thought experiment." What if Salem's witches really had been practicing magic? What would it look like? How would it happen? As the "thought experiment" turned into a plan for a novel, Howe imagined a heroine — like herself, a modern-day grad student who had moved to Marblehead — whose research would uncover a book of working spells from old Salem, a potent "shadow book." Ultimately, she would name the novel she wrote after that original book of magic: The Physick Book of Deliverance Dane (Voice, $25.99).
Quite apart from showing a historian's natural interest, Howe had good reason to feel connected to the territory. On her father's side, the family's roots in Essex County stretch back 300 years. She is related to not one but two of the women accused as witches in the Salem witch trials. One, Elizabeth Howe, was executed by hanging. The other, Elizabeth Proctor, survived because of a pregnancy. Her tale was later woven into the austere fabric of Arthur Miller's The Crucible.
The book Howe eventually wrote is a suspenseful supernatural bestseller. Flashing back and forth between the late 1600s and 1991, the story follows the persecution of an accused Salem witch, Deliverance Dane, and the increasingly dangerous researches of the witch's modern-day descendant. Scouring archives, libraries and even a venerable auction house, Harvard student Connie Goodwin tries to trace Dane's powerful "receipt booke," which could be a history-changing find. Howe has both a scholar's in-depth knowledge of period (and academic politics) and a novelist's gift for atmosphere. The result is a riveting read: "Harry Potter meets The Da Vinci Code," enthused Northern Virginia Magazine.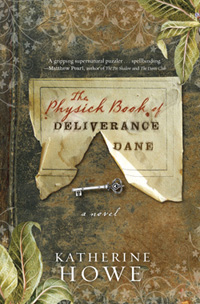 No less exciting was Howe's route to bestsellerdom. She belonged to a poker group — "graduate students, nerdy types" — whose members included Matthew Pearl, author of the popular novel The Dante Club. At one of their gatherings, Howe had mentioned her idea for a book. ("She was trying to throw us off the game," Pearl jokes.) Pearl spoke about it to his agent, Suzanne Gluck at William Morris, who was interested. In January 2008, Gluck sold the novel to Voice, an imprint at Hyperion. The following June, it debuted on The New York Times bestseller list at No. 2, and stayed on the list for 12 weeks. Foreign rights have been sold in at least 15 countries. Optioned for TV in August 2009, the book is being developed as a CBS series.
Howe says her years at Columbia helped equip her for her sudden career as a novelist. Growing up in Houston, she says, "I was really smart, curious — and completely scattered." The Core and its rigors were "a structure that I craved." (A true College advocate, she's served for years on the Alumni Representative Committee, interviewing prospective students.) Howe credits the College with teaching her how to think and write and revise, all skills she needs now as she readies another two books for publication. "There actually is such a thing as a Columbia education," she says firmly — something she feels isn't true at every school.
Then there's the personal side: Howe met her husband, Louis Hyman '99, at the College. In the Columbia version of "meet cute," they shared a senior-year class on Nietzche, Marx and Freud. He was a "hard-line Marxist in vegan jackboots," she remembers; he recalls her "stunning feminist critique of Freud." ("I'm a nerd, so I'm a sucker for that kind of thing," he remarked in their New York Times wedding writeup.) Hyman, having finished an American history Ph.D. at Harvard, is starting work at McKinsey in early 2010.
Post-bestsellerdom, Howe is keeping busy. There's the forthcoming paperback of Deliverance Dane (April 2010). There are the virtual "visits" she makes to her readers' book clubs (to arrange a Skype or conference call, contact her at www.katherinehowe.com/bookclubs). She's also editing a book of primary sources on witchcraft for Penguin Classics. Then there's the new novel she's writing, The Scrying Glass, set in Boston in 1915, in the twilight of the Spiritualist movement. Howe is cryptic about it, a little mysterious, though she admits that her story, once again, has an occult element. It's another chance for her to erase the present and immerse herself in the dense, captivating atmosphere of the past.
Rose Kernochan '82 Barnard