Cover Story
Jonathan Dahl '80, '81J Makes Business Writing Personal
Editor of SmartMoney magazine and author of 1,001 Things They Won't Tell You helps readers survive the financial crisis
By Yelena Shuster '09
photo: courtesy hearst corp.Since he was a child, Jonathan Dahl '80, '81J has known that he would spend his professional life fighting for a cause. He has been protecting people with ink and paper ever since.
Dahl's father, Theodore Dahl '49, '50J, instilled in him the concept of journalism serving as the fourth estate — a term for the press that dates to the 19th century and implies a duty to effect change. Whether reporting on homelessness for The Houston Chronicle or on asbestos danger for The Wall Street Journal, Jonathan Dahl has followed this belief in a successful career that has spanned more than 20 years.
"I am the cliché," Dahl says. "I wrote for my elementary school paper. Journalism is all I've ever done."
Since 2006, Dahl has been advising 800,000 print readers and two million Web readers on all matters of personal finance as editor-in-chief of SmartMoney magazine. Last May, he established his expertise to the general public as author of 1,001 Things They Won't Tell You: An Insider's Guide to Spending, Saving, and Living Wisely, which now has 25,000 copies in print. The book was an extension of SmartMoney's popular "Ten Things They Won't Tell You" column, which has been enlightening consumers since 1992 on everything from tax preparation scandals to purposely misleading movie ads.
At SmartMoney, Dahl continues in the tradition of serving his readers. "Whether Jonathan was covering travel as a reporter or running the Journal's Weekend Section, what's always driven him as a journalist is to be the proxy for the reader. It's a real challenge for a journalist to ask the question for the average reader and get to the bottom line: 'How is this really going to affect people?' " says Tom Weber, who has worked with Dahl since the '90s when both were at the Journal. Weber became SmartMoney's Web editor in 2008.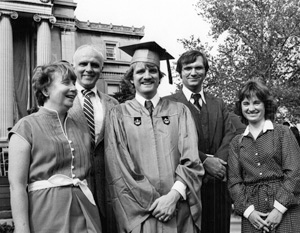 Dahl at his graduation with his parents, Theodore '49, '50J and Sheila; brother Dwayne '72; and sister-in-law, Beth. Photo: Courtesy Jonathan Dahl '80, '81JFor Dahl, SmartMoney is a safeguard against consumer exploitation.
"We are there to question not only government policy but also Wall Street mutual fund industry policies," Dahl says. "That's where we stand out. We're the self-appointed watchdog over the investment side of the business.
"To me, testing a million-dollar port- folio or gas tank should be equally important to covering the White House," Dahl continues. "This is your money, this is your life. It's remarkable how little attention has been paid to that. Personal finance reporting was not where newspapers put their resources."
The crash of 2008, however, quickly shifted everyone's attention. And Dahl found SmartMoney in the center of the spotlight. As the financial crisis was unfolding, Dahl saw an opportunity to increase the magazine's relevance and online presence (www.smartmoney.com). He had a two-pronged approach: On the production side, redesign the magazine for a broader interest beyond wealthy hedge fund analysts; on the editorial side, refocus the content so that stories have a personal appeal past the statistics.
With clarity in mind, Dahl led a major redesign in October 2008 to appeal to non-investors by staying away from a "stodgier, heavy-print" look. This redesign included larger art, funnier photo illustrations, shorter stories, more sidebars and a layman-friendly "Term of the Month" section that explained obscure financial terminology.
The first cover story after the crash, "Rebuild Your Wealth," which ran in the December 2008 issue, showed Dahl's editorial approach: what to do now to earn back money that was lost. Rebuilding your wealth has remained the editorial focus of the magazine.
Another approach included more personal interest stories to complement the magazine's coverage of statistic-based stock picking. Dahl's eye for stories such as "Parents in Crisis," about a reporter's mother's financial ruin, and "When Trouble Trickles Down," about families coping with the older generation's financial woes, helped bring in new readers.
On the Web side, Dahl created a financial help line that invited readers to send their questions via e-mail and an 800 number. Reporters and editors then answered the questions online or with a Webcast. In spring 2009, Dahl also provided a free, 40-page downloadable tax guide, researched and written by SmartMoney's tax expert, Bill Bischoff, meant to clarify how the new administration's policy affects the consumer's tax report. With 30,000 downloads in a week, the guide was a hit. The Web site also received some industry buzz after Weber launched @relivethecrash on Twitter, which featured daily news recaps of how the financial crisis unfolded from one year ago. Both strategies worked: Web site traffic has been up 20 percent since the crash, now averaging two million unique visitors a month and generating 19 million monthly page views.
Dahl has gained a bit of celebrity since the crash. "I didn't get the attention at cocktail parties that I do now," he deadpans. But his path to success was not easy. Like the Class of 2009, Dahl also graduated in the middle of a recession. He did not have any luck finding a job with traditional methods, so he got creative. On the day of the Pulitzer Prize deliberations, held on the Columbia campus, Dahl prepared a resume, clips and spiel with which he accosted every editor he could find. Dahl decided to wait for Pulitzer jurors in the hallway during their deliberations and grabbed Don Pickles, then-managing editor of The Houston Chronicle, on his way out. Dahl told Pickles, "I need two minutes of your time to tell you about my life and why I think journalism is an important calling. You probably get a lot of candidates, but you probably don't have any who have been doing it so religiously for so many years." Then Dahl showed him a lede page, a sheet that contained the first paragraph of six or seven stories Dahl had written, ranging from an expose about Vietnam veterans not getting any medical coverage to a personal essay about being beaten by the top junior girl tennis player. The boldness paid off. By the time they had left the building, Pickles offered Dahl a position covering the night police beat Wednesday through Saturday from midnight to noon. Despite the night hours, Dahl couldn't wait and drove to Texas the Monday after graduation.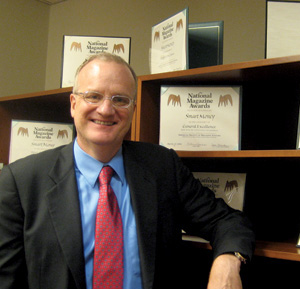 Photo: Yelena Shuster '09At the Chronicle, Dahl worked in the "cop shop," a tiny room at the Houston police department where reporters covering the beat hung out, listening to scanners and phoning in scoops in an old telephone booth in the middle of the room. At the same time, Dahl began serving as a freelance correspondent (known as a "stringer" in the newspaper business, because in the old days they were paid based on the length of the string of clippings they would compile) for The New York Times. He would leave his shift at noon and go straight to the Times bureau office. For the Times and the Chronicle, Dahl covered everything from nursing home scandals to Hurricane Alicia. After three years, he got a job in the Dallas bureau of The Wall Street Journal, where he delved into business reporting and began covering topics such as asbestos and bankruptcy.
In 1986, Dahl transferred to the Chicago bureau of WSJ and began developing the travel beat. Two years later, he moved to the New York bureau of WSJ and started a travel column, which focused on the headaches consumers faced in the first years of airline deregulation. From there, Dahl was promoted to travel editor and later became one of the founding editors of WSJ's Weekend section.
Dahl's rise through the ranks is no surprise to his coworkers, many of whom view him as a valuable teacher. Staff Writer Neil Parmar, who has worked for Dahl since 2005, acknowledges that Dahl can be "very intense, no matter if you're working with him for the first time or millionth time." Parmar began as an intern at SmartMoney before transitioning to staff writer. He considers Dahl a mentor.
"He's involved in everyone's stories, whether you're the intern, staff writer or a columnist. As an intern, I found that very surprising. I just assumed there was a huge chain of command and I would never see him," Parmar says. "Instead, he often walked by and asked me, 'How's it going? What ideas do you have? What are you working on?' He's known all of the interns on a similar basis. You never get coffee, never check personal e-mail. He gives the interns a lot of reporting."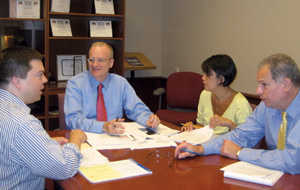 Dahl is a hands-on editor whose colleagues say he is driven in his pursuit of the perfect story. Photo: Yelena Shuster '09WSJ reporter Nancy Keates worked for Dahl at the Weekend Journal for a decade, and also considers him a mentor. Keates began pitching to Dahl while working for the Dow Jones newswires, and under his editing helm contributed stories ranging from hotel room service to water quality on airplanes (back when they had water fountains). "He put time into teaching me how to transition from a wire service reporter to a newspaper feature reporter," Keates says. "I think his greatest strength as an editor is that he teaches reporters not to stop. He pushes you to keep looking and keep finding. He really made an effort to help reporters learn how to write a better story."
Many coworkers agree: Dahl's pursuit of the perfect story is one of the things that drives his success.
"With a monthly magazine, you have the problem of a relatively long lead time. What we write today has to hold up and not be out of date a few weeks down the road when people buy it at the newsstand," says Executive Editor Bob Rose, who has worked intermittently with Dahl since the '80s when both were reporters in WSJ's Chicago bureau. "Jonathan is very smart with story ideas. Give him a fully edited story and he can find a problem with it quicker than anyone I've seen."
Parmar cites a similar strength. "Whenever I figure out a story, he always spins it around and asks the questions I haven't found the answers to yet: 'How can you make this anecdote funnier? How can you get a more recent statistic? How can you get the story shorter while making the same impact?' " Parmar says. "Until it's shipped, he's always on it to make sure it's as fresh and up-to-date as possible. He's not content letting a story sit around for a week or even half a week if he knows it can be tweaked."
Dahl credits SmartMoney's staying pow­er to "staying one step ahead of the curve — what's next, what's beyond Twitter and Facebook," he says. "I think print media will have a smaller place out there. We're not going to have large magazines down the road, you may have a Kindle-type of experience. It's a matter of trying to anticipate what readers will want. "If you're a good journalist, you're always looking for trends," Dahl continues. "From day one, whether writing for the high school paper or the Journal, I was trying to put together patterns. To take it to Columbia, what helps you be a good student when you're asked to do a whole reading of books is to find trends in the books you're reading."
Columbia has been a part of Dahl's life since he was a child. His father and his mother, Sheila Larkin, met at a Phi Gamma Delta (Fiji) fraternity party. Dahl's house was filled with CU paraphernalia from large beer mugs to jerseys. The family had been going to Columbia football games since Jonathan was 8. "I'll never forget my dad weeping when Columbia beat Princeton in the '70s at what was then called Baker Field," Dahl says. When it was time for Jonathan to apply to college, his father told him he had a choice of two schools: Columbia or Columbia.
He credits the College for inspiring the work ethic that enabled him to succeed. "At Columbia, you were really rewarded if you worked hard. I got used to that habit that the College had really instilled," says Dahl, a summa cum laude and Phi Beta Kappa graduate. "You have to be street smart from day one. I couldn't have been a journalist otherwise. I wouldn't have learned to think on my feet."
At Columbia, Dahl wrote for Spectator for three years and was a sports associate for a semester, learning how to write on deadline and other aspects of journalism. "I learned by doing at Spectator," he says. "One time a sports editor told me, 'You're not using verbs. That's the most important tool.' He was right, and I never forgot it."
Asked about favorite courses at Columbia, Dahl cites American history with Henry Graff '49 GSAS, which gave him a sense of perspective that is a "great tool for a journalist to have," and English with Carl F. Hovde '50, which helped him with long-form journalism. And he still appreciates the texts of the Core. "When I give speeches today, I might pull out a quote from Ovid," the American history major says.
Dwayne Dahl '72, an art history major who now is manager of operations for a computer company, is not surprised his brother became the editor-in-chief of SmartMoney. The two would share anecdotes when the younger Dahl had his travel column at WSJ and Dwayne was traveling 100,000 miles a year while working for General Electric.
All three Dahls — Jonathan, Dwayne and their father — were members of the Fiji fraternity, and both sons lived in Carman. "He was a skinny little kid, but grew up and made it big," Dwayne says of his brother. "And that was a big dream that our father had for him." Theodore kept every clip that Jonathan wrote in a book, which Jonathan found after his father's death in 1988.
Most of Dahl's friends from college became doctors or lawyers, but Dahl says he would never trade in his experience for more money or stability. "I think I've had a lot more fun in my career than a lot of my classmates. Many of the lawyers I know complain about their field," Dahl says. "I wake up every day bursting out of bed. It never gets boring."
Read an excerpt from Jonathan Dahl '80, '81J's 1,001 Things They Won't Tell You: An Insider's Guide to Spending, Saving, and Living Wisely.
Yelena Shuster '09 is a freelance writer living in New York. She has written for Time Out New York, New York Magazine and The Huffington Post.