Features
Making Tinseltown Green
Los Angeles City Council president Eric Garcetti '92, '93 SIPA gets things done with cool conviction and a soft-spoken style
By Justin Clark '04J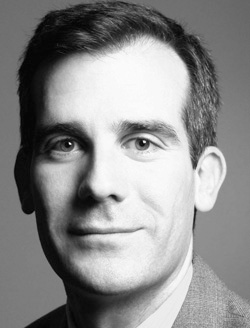 Always an activist, Eric Garcetti '92, '93 SIPA is more than a "pothole politician" who focuses only on short-term problems; his goal is nothing less than to reform urban culture in Los Angeles, starting with the area he represents, District 13. Photo: Michael PowersEric Garcetti '92, '93 SIPA remembers the time he stayed up late with a broken heart in his dorm room at Furnald Hall. The future president of the Los Angeles City Council wasn't recovering from a break-up or a bad grade. The problem was more serious than that.
"I was watching my city burn," he recalls.
It was April 29, 1992, and like many other Americans, Garcetti sat in front of the television through much of the night and the following days, watching the skies above Los Angeles turn a hellish shade of ochre. Having flown back to New York the day before, Garcetti had physically avoided the riots that rocked Los Angeles in the wake of the infamous Rodney King verdict. Mentally and emotionally, however, he was back in Los Angeles. His father, Gil Garcetti, was successfully campaigning to replace his boss at the district attorney's office, Ira Reiner, whose failed prosecution of the King case had sparked the riots. Seeing the mess his father was going to inherit was sobering for the urban planning and political science major.
"I felt at that moment I had to do something," he says with cool conviction.
At the time, Garcetti had no idea that doing something would mean running for office. He had already cut his activist teeth at Columbia, however, helping to build housing in Harlem through the Harlem Restoration Project and Habitat for Humanity; running Columbia Area Resource Exchange, a program that allowed New Yorkers to buy food vouchers for the homeless; and serving as president of the National Student Coalition Against Harassment. Garcetti had co-founded the Columbia Urban Experience, a program that took incoming Columbia students on tours of the neighborhoods near campus.
Garcetti surrounded by children at the 2007 opening of Seily Rodriguez Park, the 20th park created in his district since he took office. Photo: Courtesy Eric Garcetti '92, '93 SIPA"All those years at Columbia, I had been trying to effect change in New York City," Garcetti remembers. "I suddenly realized it was needed in Los Angeles as well."
After studying in the United Kingdom and returning to Los Angeles to teach public policy at Occidental College, Garcetti ran for city council in 2001 and was elected president in 2005. Since then, he has represented the quarter-million residents of District 13, an ethnically and economically mixed area of Los Angeles that stretches from the posh apartments of Hollywood to downtown's immigrant and working-class flank. In 2008, he co-chaired the California election campaign for President Barack Obama '83.
To many observers, Garcetti is more than just a member of the city council. He is a younger and less flashy breed of politician, more culturally literate than most of his colleagues. A fluent Spanish speaker with a mixture of heritages — Mexican, Italian, Jewish — Garcetti's background bridges some of the city's trickiest racial divides.
As associate director of Loyola Marymount University's Leavey Center for the Study of Los Angeles, Jennifer Magnabosco '95 SW, '01 SW has tracked Garcetti's career for years. "I don't know if his ethnic background is an explicit advantage," she says, "but it raises people's comfort levels, because L.A. is the most multicultural city in the United States."
According to Magnabosco, it isn't Garcetti's background that has made him popular, but his focus and affability. Tall and lanky, Garcetti could physically intimidate his colleagues, yet somehow doesn't. His soft-spoken style is neither ornate nor folksy. His avoidance of scandal has left the local press dejected. Despite his boundless energy — six hours is a good night's sleep for him — Garcetti lacks the showman's touch, preferring to talk about his policies rather than himself. One might think him bland until he starts talking about his ideas for making Los Angeles greener and more livable. That's where Garcetti's tenure has become most apparent.
Take Echo Park, a neighborhood still associated with gang violence in many Angelenos' minds. For years, the shopkeepers and homeowners in this famously graffiti-covered neighborhood rarely bothered to report vandalism to the city clean-up crews, imagining it would only reappear the next day. Then, in 2004, Garcetti started Uniting Neighborhoods to Abolish Graffiti (UNTAG), a neighborhood tag-spotting program premised on the proposition that taggers could lose their enthusiasm if their handiwork was painted over quickly enough. Block captains are asked to contact the city's graffiti abatement teams as soon as they see a tag, and the city responds immediately. With an 85 percent reduction in graffiti in the district over the past five years, UNTAG is an obvious success.
Compared to the other environmental problems Garcetti has singled out for repair, graffiti is a piece of cake. A more difficult ambition is to turn Angelenos into pedestrians in a city where no one walks.
"Those of us who have lived in New York know how wonderful it would be to have dinner, see a show, go to work and shop, all in the same neighborhood, walking or using public transport," says Garcetti, who grew up in the car-dependent San Fernando Valley.
Indeed, Garcetti already practices what he preaches, taking early morning walks in his neighborhood with his constituents. He points out that the problem isn't necessarily that citizens are lazy, but that they have not been involved in the decades of urban planning that have made driving a necessity and confirmed Los Angeles' claim to the second-worst air quality in the nation, after Pittsburgh. Garcetti's primary target is the conventional car; he passionately spoke out for its electric brethren in the 2006 documentary Who Killed the Electric Car?
But is it possible to survive without a car in Los Angeles? In certain areas, Garcetti says, it is. "In a year or two, Hollywood will be that," he offers.
To accomplish that goal, Garcetti organized the Great Hollywood Walkabout. Armed with tape measures and surveying equipment, he and 126 volunteers took to the streets of Hollywood in 2006, measuring sidewalks, timing intersections and observing on a minute level how the neighborhood functioned. The resulting observations helped develop the Hollywood Community Plan, a pedestrian-friendly vision of the neighborhood's future that is light on parking lots and heavy on shopping and retail centers in walking distance of existing residences.
Garcetti is frequently called a "pothole politician" — one who focuses on more immediate problems, sometimes at the expense of larger, longer-term issues. But his ambitions go deeper than simply eliminating graffiti and reducing congestion. He wants to do nothing less than reform urban culture in Los Angeles. As the car is an article of faith to most Angelenos, so is the backyard; the love affair with private green space has deprived public green space of political and economic support. Even so, Garcetti has managed to double the number of parks in his district.
"My district is one of the most densely populated in the city," he says, explaining why he pursued the traditionally neglected issue so aggressively. "The constituents are starved for green space."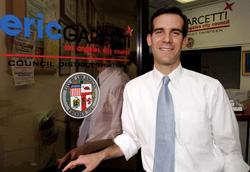 Garcetti, outside his office, has represented one of Los Angeles' most densely populated districts since 2001 and says, "The constituents are starved for green space." Photo: Courtesy Eric Garcetti '92, '93 SIPAThe toughest of Garcetti's environmental ambitions is restoring Los Angeles' polluted waterways. Garcetti helped author Proposition O, a 2004 bill that set aside $500 million to clean up L.A.'s storm-drain system and reduce the 10,000 tons of trash that wash up on the city's beaches each year. Well-known environmentalist Laurie David, a National Resource Defense Council Member who produced the movie An Inconvenient Truth, has called Prop O "one of the greatest environmental opportunities in L.A.'s history; a once in a generation opportunity." With Prop O funds, the city has already installed tens of thousands of storm drain screens, expected to reduce the volume of trash dumped into the L.A. River by twenty percent. One of the most ambitious projects, a $76 million rehabilitation of the Machado Lake Ecosystem, is now a quarter done.
Garcetti's willingness to take on global environmental issues from his current office is either quixotic or visionary, depending on whom you ask. "When I think about women's rights or global warming, when the national government won't take action, our ability to [take] action at the local level is imperative," he says. When he talks about the Bush administration's refusal to support the Kyoto Protocol, for instance, Garcetti speaks with obvious passion but maintains his well-known composure.
In fact, says District 13 legislative deputy Cecilia Cabello '96, Garcetti's secret weapon is that he always keeps his cool.
"He handle
Garcetti's popular UNTAG program has greatly reduced the amount of graffiti in the area by having the city and community work together to immediately paint over fresh graffiti. Photo: Courtesy Eric Garcetti '92, '93 SIPAs really difficult situations with the most grace and patience and understanding," says Cabello, an art history major and former political adviser to the Israeli Consul General who attributes to Garcetti a trait all but extinct in today's politicians. "He never raises his voice," she says.
Friend Brian Yorkey '93, a musical lyricist whose work includes a Broadway adaptation of Nick Hornby's novel High Fidelity and the current Broadway show Next to Normal, has a similar opinion of Garcetti. "He's incredibly smart and aware and knowledgeable and yet it never makes him forbidding or hard to know," says Yorkey. "That combination is rare."
That sense of approachability has helped Garcetti in politics. At the beginning of her boss' tenure, Cabello recalls, three constituents who were angry about an issue attempted to disrupt City Council meetings with racial slurs and inflammatory language. As with his graffiti-abatement program, Garcetti proved that patience can be a powerful weapon. Simply by keeping his calm, Garcetti managed to convince his visitors to adopt a more civil discourse, without resorting to threats himself.
Garcetti's remedy for L.A.'s urban tension, his profound calm, is stereotypically Californian, yet he is quick to credit much of his political vision to his time at Columbia.
"L.A. doesn't admit it's a city, but in Manhattan the city hits you squarely in the face from the first moment you're there," says Garcetti. "It was one of the reasons I chose to be at Columbia, to be in the midst of things as opposed to being sequestered from the world."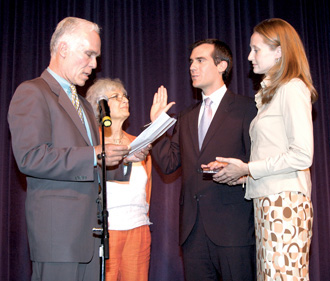 Garcetti was sworn in for his second term as councilman in 2005 by his father, former Los Angeles County District Attorney Gil Garcetti. Joining them are his mother, Sukey, and Amy Elaine Wakeland; Garcetti and Wakefield were married in January 2009. Photo: Courtesy Eric Garcetti '92, '93 SIPAThere was another reason Garcetti chose Columbia over Harvard, however: the theater. An aspiring jazz pianist, he'd originally come to Columbia to pursue a stage career and quickly became involved as the composer for the Varsity Show.
"It's funny, because I hate musicals," he says with a laugh, "but I really enjoyed writing them."
Yorkey got to know Garcetti when Yorkey answered an ad in Spectator seeking a new artistic director for the Varsity Show. Yorkey's friends were impressed to hear that he was collaborating with one of the best-known figures on campus. Yorkey was impressed with Garcetti's restless energy and musical ability.
One of their first songs together, "Always A Protest," chronicled the romance of an anti-war liberal feminist woman with a Republican football player. Yorkey says the tune was inspired by the political culture on campus during the run-up to the Gulf War. Later, Garcetti worked on another topical project: a musical called Random Access.
"It chronicled four people after college involved in different industries, starting with the riots and ending with the (1994 Northridge) earthquake," says Garcetti. "It was the story of Los Angeles in those years that the Presidential elections were happening."
It was yet another sign that Garcetti's theater wasn't going to be on Broadway but rather at L.A.'s City Hall. "Eric could have been Richard Rodgers ['23] if he'd wanted to, but he's destined for something much more important," says Yorkey.
Fortunately for District 13 (and perhaps unfortunately for music lovers everywhere), Garcetti had to set aside Random Access unfinished — he was off to England. He'd been rejected for a Rhodes Scholarship during his senior year, but his urban politics professor, Carlton Long '84, himself a Rhodes Scholar, told Garcetti not to quit.
"Carlton told me he was in the same class as George Stephanopoulos '82, who didn't win until he applied a second time," says Garcetti. "So I was encouraged to submit again."
This time, Garcetti was accepted.
"I'm convinced to this day the reason I got the scholarship was because, unlike the other candidates flying in from around the country to New York for the interview, I knew the city and was comfortable there," he says. "I guess I was lucky to have been at Columbia for that reason, too."
Garcetti spent 4½ years across the Atlantic, first at Oxford and then at the London School of Economics, where he began work on a Ph.D. in ethnicity and nationalism. It was while abroad that he met his future wife and fellow Rhodes Scholar, Amy Elaine Wakeland. Wakeland, who is from Indiana, was the California political adviser for Howard Dean's 2004 Presidential campaign. Wakeland's time is now taken up with a more important client: her husband — they were married in January 2009.
That job is likely to prove only more challenging as time passes. Garcetti prefers to speak in present terms, but rumors are already circulating about a future in mayoral and possibly national politics. His background in international affairs makes him, in the eyes of many observers, an ideal candidate for Congress. In 2007, Garcetti received Harvard's prestigious John F. Kennedy New Frontier Award, offered to one elected official under 40 who best represents Kennedy's legacy of public service. But Garcetti is nothing if not methodical in his approach to politics, and for now he is content to build his appeal by filling potholes.
"[Eric's] biggest challenge is to keep that reputation at a high level, especially in light of what's going in L.A. with a number of our other leaders," says Magnabosco, referring in part to Mayor Antonio Villaraigosa's admission of adultery in July 2007. "But if you have a reputation like Eric does, people aren't going to be taking that for granted."
Meet Eric Garcetti '92, '95 SIPA in a video biography.
Justin Clark '04J is a Los Angeles-based freelance writer who has written for the San Francisco Chronicle, LA Weekly, nerve and other publications. He is working on a Ph.D. in U.S. history at USC.