Features
1959: The Year Everything Changed
By Fred Kaplan
Generations Howling
On the night of February 5, 1959, Allen Ginsberg ['48] gave a poetry reading in the McMillin Theater [now the Miller Theatre] at Columbia University before fourteen hundred spectators, nearly all of them students, with hundreds more turned away for lack of space. It was a triumphant night for Ginsberg, his first return to the college that had suspended him a decade earlier under sordid circumstances, and he was returning as a literary celebrity, almost a pop star.
A few years earlier, Ginsberg had been living in the Bay Area of California. Kenneth Rexroth, a local poet-impresario, sponsored weekly poetry readings at art galleries and coffee shops in San Francisco's North Beach district, a scruffy neighborhood that was attracting a growing number of young bohemians. On October 7, 1955, Ginsberg appeared at one of these readings, at the Six Gallery on Fillmore Street, and recited the first part of a poem, which he'd started writing two weeks earlier, called Howl. It was a brash, profane, apocalyptic meditation, with long, syncopated lines and turbulent imagery ("I saw the best minds of my generation destroyed by madness, starving hysterical naked /. . . angelheaded hipsters burning for the ancient heavenly connection to the starry dynamo in the machinery of night."), and Ginsberg read it with what even he later described as "a strange ecstatic intensity." The event caused an instant sensation. It was widely written up, hailed (though in some quarters mocked) as a new kind of poem and, more, as the cry of a new generation alienated by crass materialism and conformity.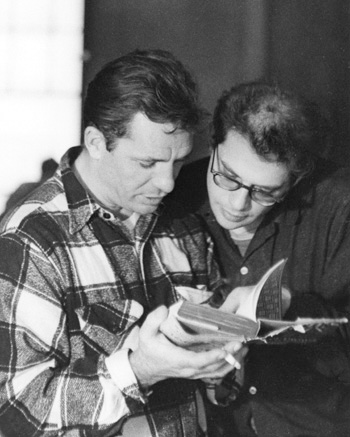 Beat legends Jack Kerouac '44 (left) and Allen Ginsberg '48 read a book together in 1959, the year in which author Fred Kaplan contends "everything changed." photo: john cohen/getty imagesGinsberg publicly credited Jack Kerouac ['44] with coining the poem's title and inspiring its style of phrasing — "a spontaneous bop prosody," as Ginsberg put it, referring to the cadences of Charlie Parker's bebop jazz. As a result, Howl made Kerouac famous, too, and Viking Publishers, which had laid aside a proposal that he'd submitted months earlier, gave him a contract for On the Road, the most ambitious of eleven novels that he'd written in the previous six years, only one of which, The Town and the City, had ever been published (and it was largely forgotten).
To the extent Kerouac was known at all until then, it was for a remark that he'd made back in the early fifties to a friend and fellow writer named John Clellon Holmes. They were talking about contemporary parallels with the "Lost Generation" after World War I and the philosophy of existentialism that followed. Kerouac said," You know, this is a really beat generation." Holmes leapt up and said," That's it, that's right! " Inspired by the line, Holmes wrote an article in 1952 for the New York Times Magazine, called "This Is the Beat Generation," in which he credited "John Kerouac" for the phrase.
Soon after the reading at the Six Gallery — at which Kerouac passed around jugs of wine — the "Beat" label was applied to a whole group of North Beach poets, including Rexroth, Michael McClure, Gary Snyder, and Lawrence Ferlinghetti, who also owned the City Lights Bookstore and had just started an imprint to publish many of these poets' works, including Howl.
Is 1959 the year when our own age was born? In Fred Kaplan's book 1959: The Year Everything Changed, the dawn of the Space Age seems to usher in breakthroughs and liftoffs of all kinds. The Soviets' space capsule Lunik 1 blasts off on January 2, and as it leaves the atmosphere, all sorts of barriers seem to rattle and crumble. Texas Instruments announces the invention of the microchip. The birth control pill is submitted to the FDA for approval. The Motown sound is born. The U.S. Civil Rights Commission makes its first report, which leads to an overhaul of segregation laws. As Kaplan once wrote in an essay for Slate (where he is a columnist), 1959 really is "a pivotal year — not only in culture but also in politics, society, science, sex: everything."
In the cultural events of this critical year, Columbia plays a pivotal part. Years earlier, in the mid-'40s, a small group of Columbia students and their like-minded friends — Jack Kerouac '44, Allen Ginsberg '48, William S. Burroughs and others — had coalesced around the Morningside Heights campus. The soon-to-be Beats took in the rhythms of Harlem jazz; they traded ideas and influences. A new literary movement took shape. By the end of the '50s, major works such as Kerouac's On the Road, Ginsberg's Howl and Other Poems and Burroughs' The Naked Lunch had established the friends as groundbreaking new voices. In this excerpt, Kaplan tells the story of the Columbians whose Beat writings, in 1959, were changing the face of the culture.
Rose Kernochan '82 Barnard
When On the Road appeared in bookstores in September 1957, a review in The New York Times declared it an "authentic work of art," a "major novel," even a "historic occasion," proclaiming, "Just as Hemingway's The Sun Also Rises came to be regarded as the testament of the Lost Generation, so it seems certain that On the Road will come to be known as that of the 'Beat Generation.' "
The review was a fluke. The Times' regular book critic, a thorough square named Orville Prescott, was on vacation when Kerouac's novel came in. An editor assigned it to a staff writer named Gilbert Millstein because he seemed to know something about the subject. Five years earlier, Millstein was the editor who'd commissioned Clellon Holmes to write the Times Magazine article about the "Beat Generation." Millstein had favorably reviewed Holmes's novel, called Go, whose main characters were based in large part on Kerouac and Ginsberg, whom Holmes had known when they all lived in New York. And so the links came full circle.
When Prescott returned from vacation, he panned Kerouac's novel in the Sunday Book Review section, as expected. But Millstein's rave in the daily paper had made its impact. On the Road was the book of the moment; it climbed the best-seller charts, and attracted a vast following among restless young men for decades to come.
Ferlinghetti had published Ginsberg's Howl and Other Poems a year earlier, but Customs officials declared it "obscene" and seized copies. (One official was quoted in the press as saying, "You wouldn't want your children to come across it.") The U.S. Attorney's office in San Francisco declined to pursue the case. So the feds tried again, this time sending undercover agents into the City Lights Bookstore to buy a copy and then to arrest Ferlinghetti for publishing, and his poor cash-register clerk for selling, obscene materials.
At the ensuing trial, which was heavily publicized, provocative passages from the poem were read aloud, and a stream of eminent critics testified that it was a masterpiece. The federal judge, Clayton Horn, ruled that the book was not obscene. Before the trial, only a thousand or so copies of Howl had been in print. After the ruling, Ferlinghetti couldn't print copies quickly enough to sate the mass hunger for this once-forbidden fruit.
Judge Horn's ruling came down on October 3, 1957, just a few weeks after Millstein's rave review of Kerouac's novel. To most of the book-buying public, then, Howl and On the Road appeared at the same time. And so, the two works, along with Kerouac and Ginsberg themselves, were forever linked as the essential artifacts and heroic figures of the Beat movement.
PHOTO: WILL O'LEARYThen came another wrinkle. On October 4, the day after Ginsberg's legal victory, the Soviets launched Sputnik, the first satellite, into orbit. Herb Caen, a prominent columnist for the San Francisco Chronicle, wrote that the bohemians hanging out on the North Beach were as "far out" as Sputnik—and so dubbed them "beatniks." The term stuck.
By 1959, newspapers and magazines were filled with stories about beatniks, who tended to be portrayed as either morally dangerous or eccentrically dimwitted. Hollywood B-movies, like High School Confidential, The Wild Party, The Subterraneans and The Beatniks, hit screens across the country. The Dobie Gillis Show premiered on television that year, with Bob Denver playing Dobie's bongos-slapping beatnik friend, Maynard G. Krebs. Life magazine published a story called "Squaresville U.S.A. vs. Beatsville," about three teenage girls in the small town of Hutchinson, Kansas, who wrote a letter to Lawrence Lipton, self-described leader of the beatniks in Venice, California, inviting him and his friends to come visit. "This town is Squaresville itself," the letter read, "so we as its future citizens want to be cooled in." The plan was squelched when Hutchinson's police chief put out the word that any beatniks would be arrested on sight. A "beatnik doesn't like work," the officer said. "Any man that doesn't like work is a vagrant, and a vagrant goes to jail around here."
The beatnik craze annoyed Kerouac, who had always been shy and now retreated to isolation. The term angered Ginsberg, too, who publicly called it "a foul word." But Ginsberg was also a flamboyant showman — he declaimed his poems with high drama, sometimes gleefully disrobing in his passion, as if to bare his body along with his soul — and he played on the PR possibilities. He scribbled, in a letter to Kerouac, "The general public image of beatnicks built up from movies, Time, TV, Daily News, Post, etc., is among the hep a fake and among the mass Evil and among the liberal intellectuals a mess — but that is weirdly good, I dig that we are still so purely obscure to philistines that it's inevitable that it be misunderstood…. Mockery is inevitable compliment."
But the Beats were getting at something disturbingly stagnant about American society, and mockery was the easiest way to dismiss the messengers out of hand.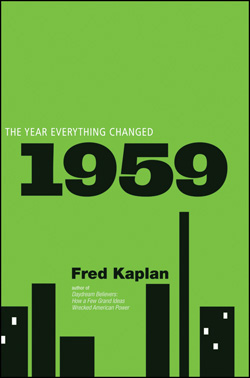 Kerouac and Ginsberg met in 1944, when they were studying literature at Columbia. Kerouac had started college as a football player but injured his leg during the first semester and, with some relief, rekindled his longtime love of books. Ginsberg started out wanting to be a labor lawyer, but turned to poetry after taking Columbia's mandatory freshman Humanities course. The university's English department valued high modern poetry with irony, tight stanzas, and clear meters, usually iambic pentameter. Ginsberg was very good at this form. He won several college prizes for his poems and often discussed his work with his professor, the famous critic and novelist Lionel Trilling ['25].
That same year, through a mutual friend, Ginsberg and Kerouac met William Burroughs, who was doing postgraduate work in psychology. Burroughs was a decade older and had an aristocratic bearing. He came from a wealthy St. Louis family — his grandfather had invented the adding machine — and he was living on a trust fund, which allowed him to get by well enough without working. Burroughs also had a broad grasp of literature and a penchant for authors that no one was teaching at Columbia — romantic poets, like William Blake, Arthur Rimbaud and Hart Crane, who glorified individual expressiveness above obeisance to formal rules. The two students spent many hours in Burroughs' living room, discussing ideas and books.
Burroughs had a very dark streak and a cynical detachment. He once told Kerouac, "I'm apparently some kind of agent from another planet, but I haven't got my orders decoded yet." When Burroughs was an adolescent, one concerned neighbor called him "a walking corpse." Burroughs agreed, wondering only whose corpse it was. A classic problem child, extremely bookish but anti-social, he was fascinated by con men. His parents sent him to the Los Alamos Ranch School in New Mexico, where the government later built the atom bomb — a connection (Burroughs didn't believe in coincidences) that haunted him the rest of his life. In the thirties, an uncle named Ivy Lee had worked as Hitler's publicist in America — another blood tie to death and sin.
By the time Ginsberg and Kerouac met him, Burroughs was experimenting with drugs and hanging out with thieves and hustlers from Times Square. The fascination rubbed off on the impressionable students. In August 1944, a fellow student named Lucien Carr, who was also a member of this circle, got into horrible trouble. A friend of Burroughs named Dave Kammerer was infatuated with Carr (everyone in this group had at least leanings toward homosexuality), stalked him incessantly and one day followed him into Riverside Park, demanding sex. Carr stabbed him repeatedly with a pocketknife. Carr confessed to Burroughs, who advised him to go to the police. Instead he went to Kerouac, who helped him dispose of the weapon. The next day, both were arrested, Kerouac as a material witness to homicide. They were also expelled from Columbia. The crime made the front pages of local papers. Kerouac was bailed out of jail by his girlfriend, and the two fled to Michigan.*
Several months later, Kerouac returned to New York and stayed in Ginsberg's dorm room, spending all his time reading. Ginsberg then caused a campus scandal. As a prankish protest, he traced the words "Fuck the Jews" on his dusty windowpane. A maid reported the deed to the dean of students, along with the tidbit that, when she entered Ginsberg's room, he was in bed with Kerouac. Some took Ginsberg's scrawling as self-hatred (he was Jewish), others as homoerotic double-entendre. In any case, he was suspended.
At that point, Ginsberg worked at a few menial jobs, to get a taste for ordinary life, then took a seven-month voyage as a merchant marine on a freighter ship. Meanwhile, Burroughs and his wife moved to Texas. Kerouac went home to Lowell, Massachusetts, where his father, a French-Canadian immigrant who owned a small printing press, was dying. He was rescued the following summer by a call from a friend named Neal Cassady, who asked him to come along for a car ride across the country, the first of several such journeys that would provide the material for On the Road. (Cassady was the real-life model for the character Dean Moriarty.)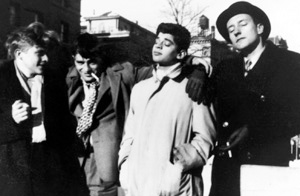 (Left to right) Hal Chase, Kerouac, Ginsberg and William S. Burroughs enjoy each other's company in Morningside Heights. PHOTO: © Allen Ginsberg/CORBISGinsberg came back to Columbia in the spring of 1947 and resumed writing the stiff poetry that his professors encouraged. One day in the spring of 1948, he was sitting on his bed, reading "Ah! Sun - flower" by William Blake, one of the romantic poets that he'd learned about from Burroughs, and suddenly he had a mystical vision, an out-of-body experience, a touch of Nirvana. He later interpreted the sensation as a psychological revelation, a message from his inner self that this was the kind of poetry — intensely personal, nakedly emotional, magically prophetic — that he should be writing.
Around this time, Ginsberg found himself attracted to the outlaw derring-do of a hustler, and another friend of Burroughs, named Herbert Huncke. One night, Huncke enticed Ginsberg to join him and his pals for a cruise through the city in a stolen car. The pal who was driving took a wrong turn on a one-way street, sped away from an approaching police car, and crashed into a telephone pole. They were all arrested. Ginsberg was saved by the intervention of Lionel Trilling, who brought in a professor from Columbia Law School, who in turn convinced prosecutors to commit the young poet to the Columbia Presbyterian Psychiatric Institute, free of charge, instead of sentencing him to prison.
After eight months in the hospital, Ginsberg went home to his father, a high-school teacher and poet, in Paterson, New Jersey. (His mother, who had gone insane when he was in high school, lived in an asylum up in the Bronx.) Allen wrote some articles for a local labor newspaper and asked for an assignment to interview the poet William Carlos Williams.
Williams, who was in his sixties, lived in Paterson, toiling in relative obscurity. Certainly nobody at Columbia, or most other colleges, was teaching his work. Williams took a liking to Ginsberg, and met with him several times after their first talk. Williams came out of the Black Mountain school of poets, former teachers or students at Black Mountain College, an avant-garde school set up in the thirties in Asheville, North Carolina, where artists and writers were encouraged to take their inspiration from materials and objects found in their surroundings.
Once, when Ginsberg and Williams went for a walk through the woods, they sat and wrote poems about things lying on the ground — a sliver of tin, a chunk of concrete, a hairpin.
Williams also felt strongly that a poet shouldn't be confined by arbitrary rules about the length of a line or regularity of a meter. He should write in his natural voice, constructing phrases that matched the rhythms of his own breath. This wasn't easy. In fact, done well, it was harder than conventional poetry. You couldn't just fill in the blank spaces of the metronome's ticktocks. You had to listen to your voice, very carefully, and devise ways to capture that rhythm, a rhythm that might not ever have been written down before.
Kerouac was thinking along the same lines; he and Ginsberg remained in frequent contact, either in person or through correspondence. But they both needed a voice before they could figure out how to transcribe it, and the voice they aimed for, the voice that most appealed to their desire for speed and risk and transcendence, a sound at once hot and cool, was modern jazz — "a spontaneous bop prosody," as Ginsberg described Kerouac's phrasing.
While they were studying at Columbia, the two often went to the jazz clubs in nearby Harlem and got to know some of the musicians, including the trumpeter Dizzy Gillespie, who along with Charlie Parker invented the style of bebop. At one set, which a fellow Columbia student was recording, Gillespie improvised a melody, based on the popular song "Exactly Like You," and titled it "Kerouac." (He thought about calling it "Ginsberg," but that wasn't as jazzy a name.)
Kerouac set down the idea of his poetic phrasing in a short essay called "The Essentials of Spontaneous Prose," in which he likened the act of writing to playing jazz. Sentences should be punctuated not by periods but only by "the vigorous space dash separating rhetorical breathing (as jazz musicians drawing breath between outblown phrases)." This was how he wrote the original draft of On the Road, all of it in one unindented paragraph, typed on sixteen-foot rolls of Japanese drawing paper, which he taped together as a massive scroll. That was the ideal way to capture the vista of the landscape, the whoosh of motion, the immediacy of experience.
Ginsberg attracted a capacity crowd when he returned to campus for his poetry reading in McMillin Theater (now Miller Theatre) on February 5, 1959. photo: Fred W. McDarrah/getty imagesTo Kerouac, it was cheating even to revise a first impulse (though he did rewrite On the Road, adding punctuation, to make the book publishable). Ginsberg wasn't such a purist. He sought to convey the impression of spontaneity, but he relied on craft and artistry to get there.
A year before he wrote Howl, Ginsberg wrote to a friend, "I have been looking at early blues forms and think will apply this form of elliptical semisurrealist imagery to rhymed blues type lyrics. . . . Blues forms also provide a real varied syncopated meter, with many internal variants and changes of form in midstream like conversational thought." He later told a critic that Howl's cadences were inspired in part by a recording of Dizzy Gillespie's trumpet solo on "I Can't Get Started."
Ginsberg and Kerouac were inspired, then, by several diverse influences: Burroughs' reading list of romantic visionaries like Whitman, Blake, and Rimbaud; William Carlos Williams' veneration of natural objects over lofty ideals and human breath over preset meter; and the frantic, jagged cadences of blues and bebop.
Jazz inspired Ginsberg to extend his lines much longer than any poet — even Whitman — had ever attempted. He explained later to one critic that his earlier attempts at free verse were "not expressionistic enough, not swinging enough," adding, "I have to let off steam by building a longer climactic line . . . a jazzy ride . . . to ride out on the break-rhythm without any artificial built-in guides or poles or diving boards . . . no forcing the thoughts into a straitjacket—sort of a search for the rhythm of the thoughts and their natural occurrence. . . . It's a jump up forward into life, unknown future."
The poem's long, jangling lines were what gave Howl its drive and power. But they were also what led many writers and critics of the day to dismiss it as unserious, not a real poem.
Not least among those who dismissed it was Lionel Trilling. Ginsberg had stayed in touch with his former mentor and savior from Columbia days. When Howl was published, he sent Trilling a copy, along with a cover note. "I think what is coming is a romantic period . . . a reassertion of naked personal subjective truth," he wrote. "Perhaps Whitman will be seen to have set the example," after having "been bypassed for half a century."
Though the letter was cordial, Trilling no doubt read it as a personal jab, and correctly so. (He wrote back, saying that he didn't like the poems at all.) Trilling had never regarded Whitman or any of Ginsberg's other idols as great writers. He distrusted literature that celebrated passion, transcendence, or the liberation of the self from society. Like most members of his intellectual circle, who lived in New York and wrote for the Partisan Review, Trilling was an ex-Marxist (some were still Marxists but anti-Stalinists) who cherished the tradition of high modernism — with its canon of works, formalist theory, and critical method — as a civilizing tool, grounded in a sense of history, to ward off the pressures of ideology and totalitarianism.
Strict form was important because it represented the elevation of rationality, which Trilling saw as "a principle of control." Back when Ginsberg first met Burroughs, and especially after his mystical experience while reading Blake, he urged his teacher to reconsider Rimbaud in particular. Trilling gave him a read, but he was repelled. Rimbaud's "rejection of the ordinary social values," he told Ginsberg, amounted to "an absolutism which is foreign to my nature and which I combat."
Later, Trilling wrote an essay, perhaps with Ginsberg in mind, noting that he understood why some of his students "have become excited over their discovery of the old animosity which Ezra Pound and William Carlos Williams bear to the iamb, and have come to feel that could they but break the iambic shackles, the whole of modern culture could find a true expression." But, Trilling went on, he found this notion illusory—and, more than that, dangerous, because unshackling formal structure could unravel the underlying social thread. In a sense, Trilling was right. Ginsberg, too, saw the connection between freedom from structures in poetry and freedom from structures in all of life. The difference was that Ginsberg yearned for both freedoms.
Back when Ginsberg was a student, Burroughs advised him to veer away from Trilling, warning, "He's got no orgones, no mana, no charge to him."
The irony was that, deep inside, Trilling might have agreed, if not in those terms. In 1985, a decade after Trilling's death, Partisan Review published excerpts from his private journals, which revealed a very unhappy man who loathed his own sense of seriousness and responsibility, and who envied those capable of cutting loose and expressing themselves openly.
He appeared to feel this inadequacy as far back as 1933, when his friend Clifton Fadiman ['25] showed Trilling a letter that he'd received from Ernest Hemingway. It was "a crazy letter," Trilling recounted," written when he was drunk — self-revealing, arrogant, scared, trivial, absurd: yet I felt from reading it how right such a man is compared to the 'good minds' of my university life — how he will produce and mean something to the world . . . how his life which he could expose without dignity and which is anarchic and 'childish' is a better life than anyone I know could live. . . . And how far-far-far I am going from being a writer — how less and less I have the material and the mind and the will."
Similarly, in 1948, around the time Ginsberg urged him to read Rimbaud, Trilling wrote in his journal of coming back from a dinner party where someone had praised him for leading a life of "equilibrium," a comment that gave him "a twinge of pain" and "the sense of some awful doom" that, at age forty-two, he had "no more time, no more time" to do something creative. Not long after, he wrote, "I have only a gift of dealing rather sensibly with literature," which he regarded as "a great hoax."
In 1949, while still convalescing at the psychiatric institute, Ginsberg came to see Trilling and told him that Harcourt, Brace was about to publish Kerouac's first novel, The Town and the City. "I predicted that it would not be good & insisted," Trilling wrote afterward in his journal. "But later I saw with what bitterness I had made the prediction — not wanting K's book to be good because if the book of an accessory to a murder is good, how can one of mine be?"
Trilling despised the notion, popular in some avant-garde circles, that an artist had to be pathological. But he also wanted to believe in the opposite idea — that a real artist couldn't have a streak of "wickedness" — and he feared that he might be wrong.
The tensions between institutional order and instinctual gratification racked many among the generation that came to maturity after the war, but Trilling's sense of decorum and dignity — his ideas about the moral grounding of literature — kept his inner bohemian under wraps.
Diana Trilling, his wife and fellow critic, would later wonder, in her memoir of their marriage, whether any of Lionel's friends knew "how deeply he scorned the very qualities of character — his quiet, his moderation, his gentle reasonableness — for which he was most admired in his lifetime and which have been most celebrated since his death."
When Ginsberg returned to Columbia for his poetry reading on a cold Thursday night in February 1959, it was at the invitation not of the English Department but of a student group, the John Dewey Society. Almost no professors showed up for the event; they didn't want to grant him the legitimacy that their attendance might convey.
Lionel Trilling stayed home, too. Some of his colleagues were coming over to discuss an intellectuals' book club that they were trying to get off the ground.
But Diana Trilling — who, later that year, would chide Norman Mailer for abandoning his earlier style of literary realism — did go, along with two other faculty wives, who all nervously mapped out ahead of time where and when to meet, as if they were conspiring to commit a crime.
She wrote an essay about the event afterward for the Partisan Review (whose editor, Philip Rahv, accepted it after expressing misgivings about giving the Beats the implicit credibility). In her essay, she recounted her husband's turbulent past with Ginsberg and how she had chided Lionel at the time for giving his brilliant but clearly disturbed student too much attention and leniency.
Like everyone else, she had read the recent magazine stories about the now-celebrated poet, his beatnik friends, and their antics. (The issue of Time that was then on the newsstands described a cocktail party in Chicago, where Ginsberg introduced himself by saying, "I'm crazy like a daisy," to which his lover and fellow poet, Peter Orlovsky, replied that he was "crazy as a wild flower.")
As Mrs. Trilling walked into the already-packed auditorium, she noticed that the audience was "crazily young." She sighed at the girls with their "blackest black stockings" and the boys in their checked shirts and blue jeans ("standard uniforms in the best nursery schools," she would cluck). But she was also surprised. She'd expected the kids to smell bad, but they didn't. "These people may think they're dirty inside and dress up to it," she wrote in her essay, but they were "clean" — as, it turned out when they came onstage, were Ginsberg and his friends.
Ginsberg read a long poem, called "Kaddish," about his mother, who had died three years ago; he choked and cried as he read it, yet, Trilling wrote, no one "tittered or showed embarrassment at this public display of emotion." Then he read "Lion in the Room," after announcing that it was "dedicated to Lionel Trilling." She misinterpreted the poem. It was about Ginsberg's vision while reading Blake back in 1948. His dedication was ironic, as he'd criticized his old teacher for failing to see the lion himself, for resisting sensory experience.
Perhaps because of her misunderstanding, Trilling found herself liking the poem. "I was much moved by it, in some part unaccountably," she wrote. "It was also a decent poem, and I am willing to admit this surprised me." She was also struck that all of Ginsberg's poems dealt with "serious subjects" and that he read them in a poetic meter. It seemed he was a poet after all. During the question-and-answer period, he even led a discussion of the meaning of prosody and the influence of William Carlos Williams. Suddenly, she saw that Ginsberg and his friends had "earned . . . their right to be heard in the university" — not because of "their whackiness and beat-upness," but by "their energy of poetic impulse . . . their studious devotion to their art."
When Diana Trilling arrived back home, her husband's meeting was still going on. It was a meeting, she wrote, "of the pleasant professional sort," like "the comfortable living room" in which such meetings usually take place "at a certain point in a successful modern literary career," confirming the writer's "sense of disciplined achievement and well-earned reward." This comfort was "not ever to be spoken of except with elaborate irony," she continued, "lest it propose a life without risk and therefore without virtue."
W. H. Auden, the legendary poet, and the only one of the men at the meeting who was not dressed in a suit (he wore an old brown leather jacket), asked her what she thought of the reading.
She replied that she'd been moved by it.
"I'm ashamed of you," Auden said.
"It's different," she responded, "when it's human beings and not just a sociological phenomenon."
She left the men with their drinks and their discussion. She concluded her Partisan Review essay by noting an "unfathomable gap that was all so quickly and meaningfully opening up between the evening that had been and the evening that was now so surely reclaiming me."
For an inkling, she sensed that Ginsberg's poetry reading at Columbia and the intellectual establishment's hostile indifference to it, both on campus and now in her living room, marked the first crack in a sociocultural breakup that would grip the coming decade — the opening fissure of the Generation Gap.
Excerpted with permission of the publisher John Wiley & Sons from
1959: The Year Everything Changed.
Copyright © 2009 by Fred Kaplan. This book is available at all bookstores, online booksellers and from the Wiley Web site at www.wiley.com, or call 800-225-5945.