Alumni Corner
Living the Life Unexpected
By Hannah Selinger '02
M
y father, Neil Selinger '75, worked at the same law firm for 31 years. He started his career as a law clerk in 1976, while he was completing law school at NYU. A year earlier, he had graduated from Columbia with a degree in English. He had married young and gone straight to law school while my mother, Judith Cowan '75 Barnard, worked as a paralegal at a glossy downtown law firm.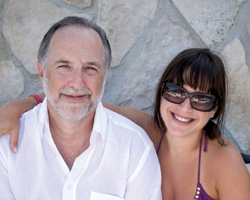 For the last 15 years of his tenure at Lowey Dannenberg Bemporad and Selinger, my father was a managing partner, assuming various administrative roles and overseeing issues with his staff. He was good at his job and was considered the office mediator, a gentle chime of reason in a chorus of loud voices. I couldn't have known, growing up, the depths of my father's discontent. It turns out that the law firm where I spent so many school vacations and latchkey days was where my father went to mourn circumstance. Law school had fallen in his lap, not unlike his too-young marriage that ended in divorce, and he had made a left turn into a legal career when he just as easily could have made a right turn into any other field. I followed, not unintentionally, in my father's footsteps. At 18, I found myself at Columbia, and at 20 I was declaring English as my major, too. For a while, I set my sights on law school, until my father suggested an alternate route. He found the law exhausting, limiting and creatively void, he told me. He saw in me, I think, some unfinished version of himself, the possibilities of life unfolding a second time; I could make a different choice.
An outsider never would have suspected how my father felt about his job. As a lawyer, he was successful, renowned in his field, respected, admired. He took down large corporations for class-action plaintiffs and he made good money in the process. He was listed, year after year, in The New York Times' Super Lawyer list, a compendium of men and women at the top of their field. He had been praised by judges and colleagues for his clear and concise arguments, and he had been asked time and again to speak at national investor conferences. A specialist in investor-related litigation, his career appeared to be at an apex.
And then, at 54, he retired.
To some, my father's decision to leave the law was abrupt, but to us — my stepmother and sisters — the decision did not come as a surprise. What had begun as a mild unease had developed into deep unhappiness. The law provided no sense of purpose for my father, no altruism, no soul. If he had wanted to do other things in life, those things had grown stale with time, sinking to the bottom of lists upon lists of unmet goals. He wanted to travel the world. He wanted to buy a pied-a-terre in Italy and a cabin in Vermont. He wanted to tutor underprivileged kids at the local high school, or volunteer at the soup kitchen more than once a year, or build houses with Habitat for Humanity. Most of all, he wanted to pen his memoir, a project for which he simply had never found the time.
When my father retired in 2007, he was in the enviable position of being able to start tackling his long wish list of dreams. He did travel a little, and he volunteered at Mamaroneck H.S., and he built houses with my youngest sister during her spring break. And he had time for his memoir. He spent afternoons holed up in his home office, writing about his New Jersey childhood, and at the end of the first year of his freedom, my father had a manuscript to show for his efforts.
He was still playing basketball once a week when he noticed that his lateral movement had decreased. First it was his hip, and then a disagreeable left leg that stumbled a bit too often. My father had been a distance runner for most of his life and had run the New York City Marathon in 1992; in the years following, when he experienced the athletic withering marked by sore knees and back and stiffened joints, he attributed his clumsiness to age.
Except that it wasn't age. By spring 2009, a handful of symptoms had drawn the interest of a neurologist. My father, still young and a parent to one Columbia graduate (me), one Columbia first-year (my sister Emily '12) and one high school sophomore (my sister Julia '15), was diagnosed with Amyotrophic Lateral Sclerosis (ALS), otherwise known as Lou Gehrig's disease. From there, months became stages. He walked with a walking stick, then a cane, then a geriatric metal walker, and then he sat patiently as we pushed him in a black vinyl wheelchair. Eventually, he took up residence in a Permobil motorized wheelchair, delivered to our family home in my father's chosen color, metallic blue.
Some would find pity in such misfortune, but my father has never been a man to wallow. He gave up many of the things he loved, some large and some small. For 15 years, he was an active board member and officer of the Columbia College Alumni Association, where he chaired a committee on student affairs for many years. As months wore on and he grew weaker, he could no longer make the meetings and so he left the association behind, just as he had left basketball and running and dining at nice restaurants. Walking away from what brought him joy couldn't have been easy, but my father never looked too far into the dark side of his condition. When he could still type, he spent hours revising his manuscript and sending queries to literary agents, pinning his retirement hopes on unlikely possibilities. My father's fingers curled and bent and he had to rely on the rest of us to type for him, but his persistence was rewarded: An agent signed him and sold his book, A Sloan Product: A Memoir of a Lost Boy (available at amazon.com and bn.com), and The New York Times subsequently published online a version of an essay he wrote about his disease, "The Passage of Time" (November 12, 2010, http://cityroom.blogs.nytimes.com; search for "Selinger").
These days, my father enlists help from others to write his newest pieces. His speech is slow and slurred and he cannot spend too long working before exhaustion creeps in. But he has found a sense of purpose in the twilight of illness that he never found in all those years of courtrooms and pinstriped suits. I think he's finally happy.
Hannah Selinger '02 holds an M.F.A. in creative writing from Emerson College, where she was a Presidential Merit Fellow. Her writing has appeared on RawStory.com and in Eclipse, Zone 3, The South Carolina Review, Pennsylvania English, New Voices, RiverSedge, Lullwater Review and The South Dakota Review.