Alumni Profiles
Nina Willdorf '99: Learner-in-Chief
By Dina Cheney '99
N
ina Willdorf '99, editor-in-chief of Budget Travel magazine, has never stopped learning. Instead, education, bolstered by an enterprising attitude, has driven her career trajectory.
Willdorf's career education began while in college. Having decided to major in English, she interned at her hometown San Francisco magazine the summer after her first year. During the second semester of her sophomore year, Willdorf became a columnist for Spectator; she contributed two articles a month through her senior year, filled with "vague campus-related musings." From the fall of her junior year until graduation, she worked one day a week as a correspondent and fact-checker for The New York Observer.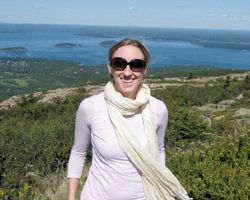 Nina Willdorf '99, seen here in Maine's Mount Desert Island/Acacia National Park, says she wants to "keep learning and growing" in her professional life.
After graduation, Willdorf knew that she wanted to continue working in publishing and took a job at then–San Francisco-based Health magazine. However, she wasn't writing much, and — remembering the words of the Larry Miller Professor of English and Comparative Literature James Shapiro '77, whose classes she'd taken at Columbia — she applied for a six-month fellowship at The Chronicle of Higher Education in Washington, D.C. "I went to the Chronicle in part because of Professor Shapiro," Willdorf says. "Early on, he told me that you're going to be no good at writing until you get 10,000 words out of your system."
And, soon, she did. After her fellowship, Willdorf earned $9.50 per hour as an assistant to the managing editor of The Boston Phoenix, an award-winning arts and entertainment weekly newspaper. She later became a features writer, covering everything from Bikram yoga to Jonathan Franzen. She also met her husband, Michael Endelman, then a staff music writer, later senior editor at Rolling Stone and now features editor at Food & Wine.
For the Phoenix, Willdorf began writing a column that "seemed to be connecting with the local community of post-collegiates," she says. Based on that success, she took a few weeks to write a proposal for a "service-y, how-to book about trying to live the best life I could with very little income." Willdorf landed an agent, and, after a few months, sold the project to Sourcebooks. Willdorf left the paper in June 2002 to write City Chic: A Modern Girl's Guide to Living Large on Less (2003), taking on freelance work with Self and Glamour to supplement her income.
Feeling that it was time to return to New York, Willdorf and Endelman, who hadn't yet gotten jobs, packed a car and found a two-month sublet. Willdorf became the assistant lifestyle editor at Worth magazine, where she assigned, edited and wrote high-end lifestyle articles, and, she jokes, "learned the definition of thread count." The publication folded a few months later, and Willdorf took a senior associate editor job at Child magazine, where she "learned that anything, even the subject of parenting (when you're not yet a parent), could be interesting," she says.
During her 1½ years at Child, Willdorf got married and wrote Wedding Chic: The Savvy Bride's Guide to Getting More While Spending Less (2005). She spent the first six months of her marriage working at Child on weekdays and writing three nights and one full weekend day each week.
By the time the book was published, Willdorf had changed jobs again. Having spotted a posting for a senior editor at Budget Travel magazine, she hand-delivered her resume the next day.
While at Budget Travel, Willdorf spearheaded the launch issue of Girlfriend Getaways, a spin-off magazine. During this period, she realized that she'd transitioned from being a writer to being an editor. "I think I got more into building pages as a whole, which I really, really love," she says. "What makes publishing so exciting is that you're working with other people to build an entire package."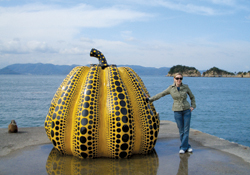 Willdorf's travels have enabled her to see some unusual sights, such as this squash sculpture on Japan's Naoshima Island. Photos: Michael EndelmanWilldorf moved to Travel & Leisure Magazine 1½ years later, where she further honed her skills before returning to Budget Travel as editor-in-chief in 2008.
When she started, Willdorf was eight months pregnant (her daughter, Mimi, is now 2), and needed to prepare the magazine for her maternity leave. By the time she'd returned to work a few months later, the recession was in full effect, and the magazine climate had become much tougher.
During the process of retooling the magazine in tough economic times, Willdorf realized that she needed to revamp the format of the publication as well, which she did in concert with a new art director. She also helped with the sale of Budget Travel from Newsweek to a private equity group in December 2009. "I had to manage a jittery team through a transition, and I tried to encourage them to do their best work in uncertain times," she says.
Now, Willdorf manages a staff of 18 and an annual budget of $2.5 million, publishing 10 issues per year and overseeing online content. She is proud of what she and her team have accomplished: Since she started, circulation has risen 6 percent, and article readership scores and average page views on the companion website, budgettravel.com, also have increased.
Whole Living magazine editor-at-large Sari Lehrer '99 Barnard, whom Willdorf met in their first year of college, says, "Nina is known for coming into Budget Travel during a very challenging time — not just for this magazine, but for the industry in general — and putting out a consistently quality product. There's an energy to the magazine that is pure Nina: full of excitement for and deep knowledge of her subject matter, coupled with an abiding sense of joy in making a magazine each month."
Looking ahead, Willdorf says she does not have specific plans. "I'm very ambitious, but in the sense that I want to keep learning and growing," she says. "Right now, I feel strongly that I am continuing to do so. When I stop learning, I'll be interested in what's next."
Dina Cheney '99 is the author of Tasting Club (DK, 2006) and Williams-Sonoma New Flavors for Salads (Oxmoor House, 2009), as well as a regular columnist for Everyday with Rachael Ray magazine.