Alumni Profiles
Cellist Erik Friedlander '82 Plays an Uncommon Tune
By Maryam Parhizkar '09
C
ellist Erik Fried­lan­der '82 has much to tell about how his life as a musician has progressed since his years as a student, and he speaks with the same excitement and nostalgia that can be heard in his cello playing. "With New York it's touch-and-go because I think, here, I'm kind of a homeboy," he explains. "The greatest influences I have were people I worked with along the way, and I made a point to learn as much [as possible] from them."
Friedlander has become a major player in New York's downtown experimental music scene, recognized for his innovative work as a cellist and frequently sought as a musician across genres. He has collabor­ated with the likes of John Zorn, John Darnielle's Mountain Goats, Courtney Love, and most recently, Marty Ehrlich's Rites Quartet at Columbia's Miller Theatre.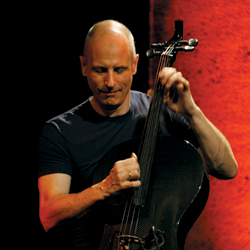 Erik Friedlander '82 puts the cello bow down for his Block Ice and Propane project. PHOTO: ROLAND ROSSBACHERFriedlander's independent projects deserve their own praise, exemplifying how he has taken the cello and redefined the sound that it is capable of producing. His 2007 album, Block Ice and Propane, inspired by the long cross-country summer trips he took with his family as a child, was reviewed by The New York Times in 2007 as "the avant-cello album of the summer." Heavily inspired by American roots music, the compositions elicit the nostalgic road trip experience with unconventional string tunings and plucked strings. Friedlander turned to his experience with the guitar as a child and his performances with jazz bass players as inspiration. "I feel I have an understanding of how to shape music when I'm using pizzicato [plucking the strings with fingers] in a way that I maybe don't have with the bow," he says. He has applied the same techniques to his Broken Arm Trio, a project inspired by bassist Oscar Pettiford's own experiments with pizzicato.
Despite his success, Fried­lander speaks humbly of his beginnings as a musician. Raised in Rockland County, he began playing the guitar at 5 and picked up the cello at 8, through his public elementary school's music program. At Columbia, he studied in the music department with cellist Mark Shulman and played in the University Orchestra as well as several student-led "fringe" groups and at the Aspen Music Festival in the summers.
"In the beginning, I used to wonder why he wasn't in a traditional music school," says P.D. Villarreal '82, his freshman roommate. "But, in time, I came to see that Erik was benefiting from his time at Columbia just as much as I was. He didn't want to be just a musician; he wanted to be an educated human being who also was a great musician."
Friedlander's excitement for music rose after he fell in with an older group of jazz players in downtown New York. "It was such an exciting experience for me to play with these musicians that I was always petering on, declaring to myself that I would become a musician in my professional life," he says.
Halfway through his Colum­bia degree, Friedlander decided to dedicate himself to music. He dropped the basketball team and declared music as his major.
"Although Erik was a good basketball player, especially in clutch situations, I don't think basketball was ever a serious threat to music in his life," Villarreal says. "Basketball was fun. Music is a basic part of who Erik is."
Friedlander began a long, "exciting and painful" process of "tearing down old technique and building it back up again — you know, a lot of hours practicing." After graduation, he spent a large amount of time reworking his technique so that he could become a working musician. "I ended up not being good enough at the time to continue playing with the kind of jazz players I was playing with," he explains, so he sought work as a classical freelance musician. For many years he played in pick-up orchestras, studios and Broadway gigs. "As it turns out, it was 'be careful what you wish for,' " Friedlander explains. "I wasn't keeping track of where my heart was and what I needed to do to stay creative."
With this realization and his new technique, Friedlander began improvising with greater effort, performing with groups at the Knitting Factory and other New York venues. After meeting Zorn and playing on several of his projects, including the Masada String Trio, Friedlander began experiencing greater visibility on the scene, as he did under several other band leaders. "That's the trajectory that has continued," he says. "I started out being a sideman, and gradually started to lead my own bands and learn about that as well."
Friedlander lives in Manhat­tan with his wife, choreographer Lynn Shapiro, and daughter, Ava. He has been busy with several projects lately, including a tour with the Broken Arm Trio and a performance with Zorn again at the Abrons Arts Center in the past year. Block Ice and Propane, his biggest breakthrough to date, was reincarnated at the Spoleto Festival in Charleston, S.C., in June. The multimedia performance included a film made for the project by Bill Morrison and old photographs taken by his parents, including his father, celebrated photographer Lee Friedlander. His latest CD, Fifty Miniatures for Improvising Quartet, was released in September by Skip-Stone Records.
Looking back at his career, Friedlander explains, "The path I took as a musician was trying to become relevant — I don't think I conceptualized it back then, but I see it now, and I wanted to be busy."
Hear a track from Erik Friedlander '82's album, Bonebridge, which will be released in June.
Maryam Parhizkar '09 is a program assistant at Turtle Bay Music School in East Midtown Manhattan. She also is violist and founding director of fourbythree, an ensemble of Columbia-based musicians.