Around the Quads
Northwest Corner Building Opens
By Alex Sachare '71
More than a century after Columbia moved from midtown to Morningside Heights, the last piece of the campus' core rectangle has been completed with the opening of the Northwest Corner interdisciplinary science building at West 120th Street and Broadway.
The Northwest Corner Building provides access to Pupin Plaza from Broadway and West 120th Street. photos: David SundbergThe 188,000-square-foot structure, which officially opened in December and is being used for classes this semester, houses classrooms and laboratories for faculty and students in biology, chemistry, physics and engineering as well as a science library, lecture hall and café. Built above Levien Gym and supported by a 129-foot-long, three-dimensional truss, the 14-story facility accommodates seven double-height lab floors designed to mitigate vibration and allow for flexible layouts as scientific research priorities evolve.
The building was designed by Pritzker Prize-winning architect José Rafael Moneo in collaboration with the architects at Madrid's Moneo Brock Studio and New York's Davis Brody Bond Aedas.
Elevated, enclosed bridges to Pupin Hall and Chandler Hall were designed to encourage interaction among faculty and students from the University's science and engineering departments. The facility also includes a 164-seat lecture hall and a two-story integrated science library. Interior lobbies flow from the sidewalk level at West 120th Street and Broadway to a publicly accessible, 1,400-square-foot café above, and are connected to the campus-level lobby, adding a public portal to the campus. An exterior stairway connects the sidewalk at West 120th Street to Pupin Plaza, permitting direct access to campus.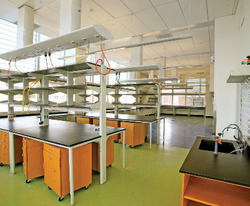 The Northwest Corner Building includes classrooms, laboratories (above), a science library and a café. photos: David Sundberg"The connections to the neighboring buildings guarantee activity and life, reinforcing the interdisciplinary program needed in state-of-the-art research," Moneo said about his first building in New York City. "It has been very exciting to create a building in New York that uses this unique site to draw people together in new ways while respecting Columbia's great campus architecture."
President Lee C. Bollinger said, "What Rafael Moneo has created here is literally a bridge — both across areas of scientific knowledge and from our history to our future at Columbia. As the final addition to the original perimeter of our Morningside Heights campus, this building completes one of the greatest academic settings in the world and also performs an important task of opening up a new, transparent pathway between campus and community on a street corner where there had long been only a blank wall."
When fully occupied, the Northwest Corner Building will provide research, teaching and study space for a community of faculty members and students working in 21 labs.