Around the Quads
Five Minutes with … Mae Ngai '98 GSAS
Mae Ngai '98 GSAS is the Lung Family Professor of Asian American Studies and professor of history. She is the author of Impossible Subjects: Illegal Aliens and the Making of Modern America and The Lucky Ones: One Family and the Extraordinary Invention of Chinese America. She also has written about immigration for many major newspapers and magazines. Ngai has been a Guggenheim Fellow and was a union organizer and educator before becoming a historian. She earned her B.A. from SUNY Empire State and M.A. and Ph.D. from Columbia.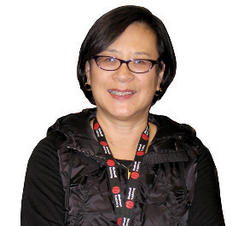 Where did you grow up?
I was born in the Bronx. I grew up there and in Teaneck, N.J.
What did you want to be while growing up?
I wanted to be an architect. I was very close with my aunt, who is an architect. I loved to draw houses and make plans. Then I learned you had to know engineering. It wasn't just an aesthetic. You had to know about building and physics, and that kind of ruined it as a career path.
What did you do after college but before graduate school?
I was in high school during the civil rights era and the Vietnam war. I was very concerned about issues of racial inequality and social justice. I thought I wanted to be a sociologist, but the events of the day made it seem that going to school was a waste of time when getting involved was more urgent. I did community work for a long time. I ended up working for a labor union in New York City, District 65 of the United Auto Workers (which represents the clerical workers here at Columbia.) I was on the staff of the education and political action department. We were involved in the anti-apartheid movement, protests against racial violence, Jesse Jackson's presidential campaigns and David Dinkins' mayoral campaign. I was on staff during his second campaign.
Why did you decide to go back to school?
I was still interested in many of the same issues, especially those facing immigrant workers. By that time, I realized I was more suited for historical studies.
History is not really about studying the past just to know about the past. It's about understanding historical change and why and when things change. That helps us understand our own time.
How did you come to teach at Columbia?
I got my Ph.D. here and then went to Chicago to teach. Then Columbia invited me back. I was very flattered.
You just published a book, The Lucky Ones. Are you taking a break from research?
We don't take breaks. I'm working on a study of Chinese gold miners in the 19th century during the rushes in the period in California, Victoria, Australia, and South Africa. It's a wide-ranging comparative study about how social practices and ideas among Chinese and among Europeans traveled across the greater Pacific world in the late 19th century. The circuit of labor includes not just Chinese but also miners from Cornwall, Belgium, Ireland, France and the United States as well. They all crisscrossed the globe and carried with them experiences and political and racial ideas. I'm interested in how these ideas and practices traveled and interacted in different settings.
What classes are you teaching this spring?
I'm teaching the senior essay seminar that started in the fall, and I'm teaching a graduate course on citizenship and nat­ional identity in U.S. history.
What's your favorite food?
Taiwan beef noodle soup.
Where do you live?
On West 116th Street. We also have a house in Maryland that we recently bought (my partner works in Washington, D.C.). It's a contemporary round house.
Do you have children?
I have one son who is a civil rights lawyer in San Francisco. He recently got married.
How do you recharge?
Playing the piano, reading without a pencil and sailing.
What's your favorite spot in New York City?
Biking down Riverside Park from campus to Chambers Street.
What on your resume are you most proud of?
My first book. It won a few prizes.
Interview and photo: Ethan Rouen '04J
Watch a video of Ngai discussing the fascinating Tape family, the subjects of The Lucky Ones.