Around the Quads
Rose, Jones Join College Senior Staff
L
Laura RosePhoto: Dan Dryaura Rose and Sherri Jones have joined the Columbia College senior staff, effective February 14. Rose was named senior executive director for development, Columbia College and Arts & Sciences, and Jones was named senior executive director, Columbia College alumni affairs and communications.
Rose came to the College from the University of Chicago, where she was the senior director for its Global Regional Offices, including the New York office, which represents the undergraduate college, four graduate divisions and various other schools and units. A Wellesley alumna, Rose worked closely with academic and alumni leadership at Chicago on major gift and annual fund solicitations.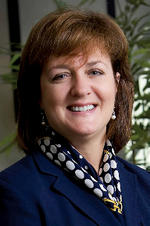 Sherri JonesPhoto: Randy MonceauxJones, who has spent more than 20 years in alumni affairs, most recently was director of alumni affairs at Lafayette College. Her background includes successes in alumni relations, volunteer management and strategic planning, including work at her alma mater, Cornell.
Both will report directly to Dean Michele Moody-Adams. In announcing their appointments, Moody-Adams said, "Laura and Sherri will be spearheading the College's development and alumni outreach efforts, working in tandem on volunteer management, fundraising and alumni relations and communication strategies. Their wealth of experience and expertise will help us move the College to new levels, both in the areas of alumni engagement and financial support for Columbia College priorities."
In another transition, Susan Birnbaum has stepped away from day-to-day leadership of the Columbia College Fund to do more project-based work and direct work with volunteers as executive director of the Columbia College Fund and dean's special initiatives. As part of this new role, Birnbaum, who has overseen the fund's growth during the past nine years, will continue to work with the Dean's Alumnae Task Force and help plan a broader and more robust fundraising program for College parents.
"We are all aware of the consistent growth of the College Fund and of its importance to the College," said Moody-Adams. "Susan's hand in guiding it upward in creative and energetic ways is especially apparent in the breadth and depth of volunteer engagement and a well-organized, professional staff."
Alex Sachare '71