Around the Quads
Creed To Address Class of 2011 at Class Day
A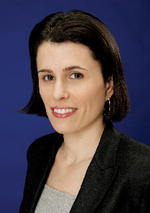 Alexandra Wallace Creed '88lexandra Wallace Creed '88, senior v.p. of NBC News, will address the Class of 2011 at Class Day, Tuesday, May 17, on South Lawn. Creed is only the second female College graduate to speak at Class Day; Claire Shipman '86 spoke in 1999.
Creed was named senior v.p. in December 2008. In what is an expanded version of the role that she held from January 2006–March 2007, when she was executive producer of NBC Nightly News with Brian Williams, her responsibilities include overseeing Nightly News, news production, staffing and, in partnership with V.P. David Verdi, newsgathering. She is chief deputy within the news division for Steve Capus, president of NBC News.
In March 2007, Creed became executive producer of Nightly News, making her the first woman to lead a weeknight network evening newscast in a decade and one of only a small group of women who have served in the top post of a Big Three daily newscast. She was first named v.p. of NBC News in January 2006. Prior to that, she was executive producer of Weekend Today and senior producer of Today beginning in March 2005.
Creed came to NBC News from CBS News, where she was a senior broadcast producer for The Early Show starting in May 2000. Before that, she was a senior producer for both The Early Show and CBS This Morning, a producer for CBS Evening News with Dan Rather and an associate producer for CBS This Morning, 48 Hours and the CBS foreign desk. Creed began her network career at the CBS News London bureau.
Creed has been honored with 11 News and Documentary Emmy Awards as well as a Gracie Award and a Peabody. She was presented a John Jay Award for distinguished professional achievement in 2008 from the College, where she earned a B.A. in English literature. She is a member of the College's Board of Visitors, is on the Council on Foreign Relations and is a member of the Board of Visitors of the National Cathedral School in Washington, D.C.
CCT featured Creed on the cover of the November/December 2007 issue.
Class of 2011 President Sean Manning Udell '11 noted in an e-mail to the College that "we were particularly impressed that … Ms. [Creed] is also the mother of young children and an extraordinarily active alumna who hosts several Columbia College events every year and serves on the Columbia College Board of Visitors."
Alumni from all classes have a chance to participate in Class Day by marching in the Alumni Parade of Classes, carrying their class year banners in the processional that also includes graduating students, faculty and administrators. The parade underscores the transition the graduates will be making from students to alumni, while emphasizing that their Columbia connection is lifelong.
Alumni marching in the parade are invited to a champagne breakfast in John Jay Dining Hall that begins at 8:30 a.m. The parade is scheduled to begin at 9:45 a.m. Alumni interested in participating should contact Nick Mider, events coordinator, College events and programs: nm2613@columbia.edu or 212-851-7846.
Lisa Palladino and Atti Viragh '12 GS