Around the Quads
Web Exhibit Celebrates The Varsity Show
T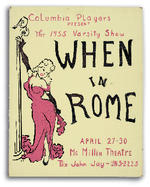 he Columbia University Archives has created an online exhibit celebrating the history of The Varsity Show. The site is an expansion of a physical exhibit — The Varsity Show: A Columbia Tradition — that was mounted by the University Archives in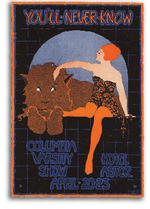 2004 in honor of The Varsity Show's 110th anniversary and includes images of programs, posters, photographs and other printed matter that help relate the history and highlights of what is recognized as Columbia's oldest performing arts tradition.
The student-run comedy, which premiered in 1894 as a show to benefit the Columbia College Athletic Union, has left its mark on the Columbia
community and has included a number of alumni who went on to success in the entertainment industry. For example, Roar, Lion, Roar originated in the 1923 show, Half Moon Inn, and famous Varsity Show alumni include Oscar Hammerstein II '16, Lorenz Hart '18, Richard Rodgers '23, Herman Wouk '34 and I.A.L. Diamond '41, who wrote four consecutive shows.
The 117th Varsity Show will take place in April. Tickets will be available at thevarsityshow.com.
Atti Viragh '12 GS