Around the Quads
Mollie Andreae '11 Gains Health Care Experience by Volunteering
By Nathalie Alonso '08
Mollie Andreae '11 has suffered 13 broken bones throughout her life while playing tennis, basketball and lacrosse and practicing gymnastics. These injuries, and their treatment, have kindled her passion for the health care field, which she has cultivated through extensive volunteer work at home and abroad.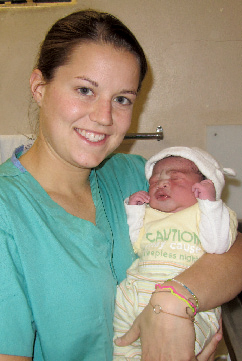 Mollie Andreae '11 holds a newborn boy she helped deliver during her summer in South Africa. PHOTO: Lyndsey FousheeIn January, Andreae made her third weeklong trip to Honduras as a member of Global Brigades, a student-led organization that promotes global health and sustainable development. The Columbia chapter, which comprises medical, public health, dental, business and water brigades, has approximately 50 undergraduate members from the College, Engineering and Barnard, and more who help fundraise through Facebook and empowered.org.
As president of the Columbia chapter's public health brigade for the 2010–11 academic year, Andreae oversaw the logistics of her brigade's trip, which took her and five other students to a community located an hour outside the capital city of Tegucigalpa. The community is run by a local nonprofit, Sociedad Amigos de los Niños (Friends of the Children Society). The Columbia brigade teamed up with volunteers from UC Berkeley to form a group of about 20 public health volunteers, all of whom stayed at a boarding school that was out of session.
As she did during her previous trip in January 2010, Andreae helped construct water storage units, concrete floors, latrines and stoves for local families. She also led games and lessons designed to educate children about the importance of hygiene.
"It's a really fun experience," says Andreae. "It helps me practice my Spanish a little bit. The kids make fun of our Spanish, but we have fun with them."
Honduras is among the poorest countries in the Western hemisphere. Andreae first traveled there in January 2009 with the Columbia Medical Brigade. On that occasion, she staffed a health clinic that saw approximately 400 patients a day.
Andreae switched brigades after taking "Social History of American Public Health" with David Rosner, the Ronald H. Lauterstein Professor of Sociomedical Sciences and professor of history. The course focused heavily on the history of sanitation. "It was a completely different way of looking at health issues," says Andreae.
Andreae has since sought exposure to varying approaches to health care. Last summer, she volunteered at the Eerste River Hospital in South Africa through the NGO Child Family Health International (cfhi.org). She spent time in all the departments and in mobile clinics in remote communities. She also assisted midwives in delivering babies and became heavily involved with the hospital's Kangaroo Mother Care program, which promotes skin-to-skin contact between premature infants and their mothers in order to help the babies develop. Andreae provided the mothers with much-needed respites by "kangarooing" the newborns while they took breaks.
Dr. Paulus Steyn, head of the pediatrics department at the hospital, was impressed with the quality of Andreae's interaction with the mothers.
"Mollie was quick with a joke and managed to ease some of the inevitable tension that arises when 12–14 uncertain and tired new mothers stay confined in such space for weeks," he says. "One can see without much effort that Mollie is devoid of prejudice. She harbors an agape kind of love for the patients in her charge. She is practically minded and would make a great surgeon."
Andreae was impressed by the way doctors at the hospital make do without the latest technological advances.
"They are forced to be better doctors because they don't have all these machines to rely on," says Andreae. "They have the ability to diagnose people by just using their hands."
During her stay in South Africa, Andreae lived with an empty-nest couple near the townships where many of the hospital's patients reside.
"I wouldn't have had it any other way," she says. "We didn't have heat in the houses where we were staying. I was always freezing, but I had a roof over my head that didn't leak. You were grateful for what you had because you could tell that [the patients] didn't have anything."
Andreae, who is from Alexandria, Va., spent the summer before her junior year shadowing doctors and observing surgical procedures at the Children's National Medical Center in Washington, D.C. From October 2008–October 2009, she spent many a Friday night — roughly five hours a week — volunteering at St. Luke's Hospital in Morningside Heights, where she triaged patients in the Pediatric Emergency Department and assisted doctors in the Ambulatory Surgery Unit.
In addition to those who tended her sports injuries, Andreae also attributes her interest in medicine in part to the orthopedist who treated her when she fell from a tire swing as a kindergartener and broke her wrist. "The hand specialist who worked with me was amazing," she recalls. "She showed me the X-ray and the break. It was very interesting to me because I loved seeing what was wrong. I've remembered that."
Andreae, a defender on Columbia's lacrosse team, has been named to the Intercollegiate Women's Lacrosse Coaches Association Academic Squad each of her four years. Her former teammates played an important role in her decision to attend the College.
"I talked to some players on the team when I came on a visit. A lot of them had done cool stuff in the city, whether it was volunteering or interning," says Andreae, who majors in psychology. "That was something I was interested in and wanted to take advantage of."
At press time, Andreae had applied to several post-baccalaureate programs in order to complete requirements for medical school and was awaiting responses.
"Almost all my volunteer experience has been dealing with kids. They're such amazing patients," she says. "Adults can be very whiny, but you'd be surprised how little kids complain. They have a high pain tolerance and heal so quickly. I see myself as a pediatrics specialist when I'm older."
Nathalie Alonso '08 is a freelance journalist and an editorial producer of LasMayores.com, Major League Baseball's official Spanish language website. She also writes a career blog for women, herfabcareer.com.