Cover Story
Go Fish
Paleontologist and evolutionary biologist Neil Shubin'82 brings out the fish in all of us.
By Nathalie Alonso '08
Paleontologist and evolutionary biologist Neil Shubin '82 delights in recounting how a fortune cookie foreshadowed the journey that resulted in his most important discovery.
Shubin and Ted Daeschler, then his student at Penn, had spent several years on a quest for fossils that would yield new insight into the evolutionary transition from fins to limbs. Their search was limited to the state of Pennsylvania until one morning in 1998, when, in an attempt to settle an unrelated debate, they stumbled across a map that showed where rocks of the type and age they sought were exposed. The region was in the Canadian Arctic and was previously unexplored by paleontologists.
Reveling in the unexpected breakthrough, Shubin and Daeschler decided to make plans over Chinese food. That's when Shubin opened his fortune cookie and was startled by the message it contained.
"It said, 'Soon you will be at the top of the world,'" recalls Shubin, his voice rising before descending into laughter. "Ted looked at me and said, 'We have to go.'"
---
Whether it was coincidence or fate, the fortune cookie could not have been more accurate. After months of arranging logistics (the region is only accessible by helicopter), Shubin and Daeschler co-led the scientific team that discovered a 375-million-year-old fossil fish called Tiktaalik roseae, which is long-desired evidence of the pivotal shift from aquatic to terrestrial life. Unearthed approximately 600 miles from the North Pole (literally the top of the world), Tiktaalik is considered a crucial "missing link" in the study of evolution because it has features that liken it to both fish and four-limbed animals.
"If I were to hold one in front of you, what you'd see is like a fish. It has scales on its back and fins with fin webbing. But then you look at it and it has a flat head with eyes on top like an early land-living animal. And it has a neck; no fish has a neck," explains Shubin, the Robert R. Bensley Professor and associate dean for organismal and environmental biology at Chicago and provost at the Field Museum. "It's a real mix of fish and amphibian found at just the right time in the fossil record."
For Shubin, whose expertise and primary interest is in the development and evolution of limbs, the most thrilling revelation took place upon examining the bones found in Tiktaalik'spectoral fins.
"When we open up the fin, it has bones that correspond to our upper arm, forearm, and even parts of our wrist," he says.
Though it is unlikely that Tiktaalik was able to walk, its fins allowed it to prop itself up on the ground and do "push-ups." Their function fell in between walking and swimming, making them transitional in their use as well as in their form.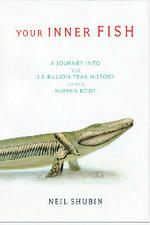 In April 2006, the journal Nature formally introduced Tiktaalik, which means "large freshwater fish" in Inuktitut, a language spoken by the Inuit people of Canada. In the same week, Tiktaalik made the front page of The New York Times and Shubin was named the ABC News Person of the Week as a result of the groundbreaking find.
"One minute you're a fish paleontologist and no one is really all that interested in you," says Shubin with a laugh as he recounts the morning of the announcement when he found himself surrounded by news trucks at Chicago. "Then there were microphones being shoved in my face. It was really weird."
He adds, "It was fun while it lasted, but I'm glad it's not there right now. I'm back to work."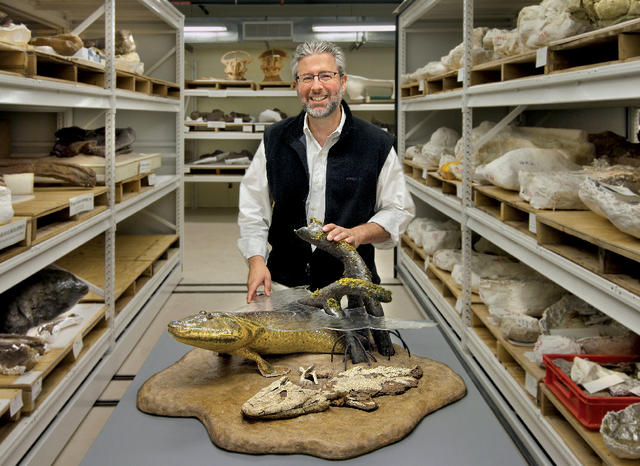 Paleontologist Neil Shubin '82 with a model of Tiktaalik roseae in the Dinosaur Collection Room at the Field Museum of Natural History, where he serves as provost. Photo: John Weinstein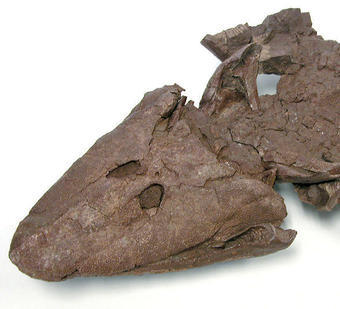 The skull of Tiktaalik roseae provides evidence of how life transitioned from water to land. Photo: © Ted Daeschler
The valley in Bird Fiord where the team camped and made its discovery. Photo: © Ted Daeschler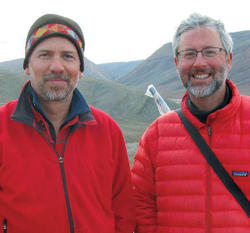 Shubin (right) and Ted Daeschler in the Canadian Arctic in 2008. Photo: © Jason Downs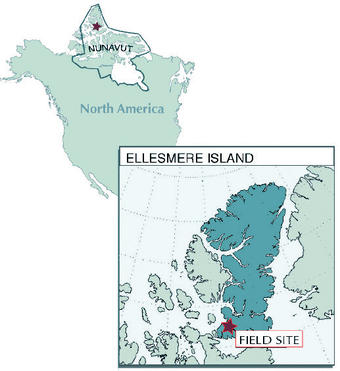 The fossil site where Tiktaalik roseae was discovered is in the northernmost part of the Canadian Arctic on Ellesmere Island in Nunavut territory. Graphic: Kalliopi MonoyiosBased on his work in Pennsylvania and existing knowledge about species that preceded and followed Tiktaalik, Shubin was able to determine the type and age of rocks in which an intermediate species would be found: 375,000 million-year-old stream bed rocks from the geologic period known as the Devonian. He also had been able to predict with accuracy the physical features of a transitional creature. Shubin substantiated his theory in July 2004 on Ellsmere Island in the Canadian Arctic Archipelago.
After six years of excavating in the region and coming up empty-handed (or, as Shubin point outs, six years after the fortune cookie), he, Daeschler and fellow paleontologist and co-leader Farish Jenkins of Harvard, Shubin's former adviser, were on the verge of quitting when they uncovered the snout of a fish sticking out of the rock. To date, Shubin's team has dug up partial skeletons of 20 Tiktaalik individuals that range 4–9 feet in length. He plans to revisit the site every other year with the hope of finding more individuals or other transitional species.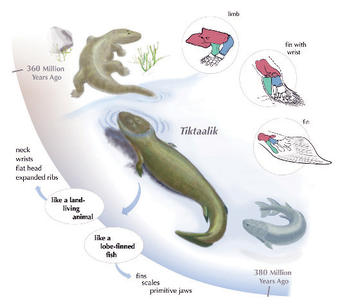 Tiktaalik roseae is an intermediate between fish that lived in water and animals that evolved to walk on land. Its fin is like that of fish but it was capable of propping the body of the animal up, much like a limb. Illustration: Kalliopi MonoyiosShubin also has led fossil expeditions to Greenland, China, Argentina, South Africa and Morocco. Under the guidance of Paul Olsen, currently the Arthur D. Storke Memorial Professor of Earth and Environmental Sciences at Columbia, Shubin led his first expedition to Nova Scotia while a graduate student at Harvard, where he earned a Ph.D. in organismic and evolutionary biology in 1987. That expedition yielded one of the first major finds of his career: a fossilized trithedelont, a 200-million-year-old reptile-mammal hybrid that had previously been found only in South Africa. His specimens also have shed light on the origin of mammals, frogs, crocodiles and lobe-finned fish.
Shubin's interest in evolution was kindled as a student at the College and cultivated inside and outside the classroom. He cites a comparative anatomy course taught by biology professor Walter Bock that played in important role in developing his interests.
"He taught anatomy from fish to cats to humans. It was the structure of the body in an evolutionary perspective, looking mostly at muscles and bones but also guts and everything else. That was a really important course for me," says Shubin.
In addition, he finds Core Curriculum texts relevant to his understanding of scientific principles.
"I'm often tracing the history of our science," Shubin says, "and much of the history of our science goes back to some of the people we read in the Core — Plato and Aristotle on the one hand, and Adam Smith and Karl Marx on the other. Historically, our views of natural history, from the workings of the earth to those of life, have roots in Greek philosophy. Also, market and economic factors can structure social systems in an analagous way that natural selection does for biological ones."
Tiktaalik roseae is considered a crucial "missing link" in the study of evolution because it has features that liken it to both fish and four-limbed animals.
Shubin, associate dean for organismal and evolutionary biology and the Robert R. Bensley Professor at Chicago, holds part of a fossil from Tiktaalik roseae, a species that fills in the evolutionary gap between fish and land animals. Photo: Dan Dry
Some of Shubin's formative experiences as an undergraduate took place at the American Museum of Natural History, where he began volunteering while he was a freshman. There he had access to the collection, a privilege granted by the late Malcolm McKenna, curator of vertebrate paleontology at AMNH and professor of geological sciences at Columbia. It was precisely the access to world-class institutions such as the AMNH that drew Shubin to Columbia.
"I liked the fact that it was a small college, but also that we had the resources of a big city. That proved to be hugely important to me," explains Shubin, who was born and raised in Philadelphia.
McKenna invited Shubin to Wyoming on a field dig, which had a lasting impression on the aspiring scientist and cemented his fascination with fossils.
"It was a remarkable experience to catalyze my own interests," Shubin says. "Having someone show faith in me was a very big thing. Now that I'm a teacher, I try to return the favor."
For Shubin, however, fossils tell only half the story. Daeschler, associate curator of vertebrate zoology at the Academy of Natural Sciences, notes that Shubin has been at the forefront of evolutionary developmental biology, a revolutionary approach known as "evo-devo" that consists of examining the role of genes in development in order to establish common ancestry among species.
"Neil was at the right place at the right time and had the right background, but at the same time he's helped drive that revolution," says Daeschler.
Shubin became interested in evo-devo during a course on developmental biology at Harvard. Fascinated by the similarities between embryos of radically different species, Shubin, who had enrolled in graduate school with the intention of studying early mammals, decided instead to focus on fish and amphibians.
"It's hard to not be impressed by how much of our evolutionary history is captured in development," Shubin says. "Then it became a hunt for the best system to work on where I could bring together both evolutionary biology and developmental biology, particularly the love for fossils that I gained at Columbia with the love of embryos that I gained at Harvard.
"It became clear that the best animals to do that are fish and amphibians. There were lots of important questions in the fossil record that were wide open for people who wanted to make important discoveries."
Shubin's dissertation on the evolution of limbs and their relationship to fins drew from his work with fossils and embryos. He is one of a small number of scientists that apply both paleontology and developmental biology to the study of evolution. In his laboratory at Chicago, whose faculty he joined in 2000 from Penn, he continues to investigate the transition from fins to limbs through Tiktaalik and other primitive fish.
The 2008 field crew (left to right): Jason Downs, Daeschler, Andrew Gillis, Randall Dahn, Shubin and Farish A. Jenkins Jr. Photo: © Andrew Gillis
The crew excavates fossils in Bird Quarry in 2004. Several specimens lie encased in plaster, waiting to be shipped back to the labs for preparation. Photo: © Neil Shubin '82In 2007, Shubin and fellow researchers announced that through experiments on paddlefish — a primitive living fish bred for caviar — they had determined that ancient fish were genetically capable of producing limbs with digits. Their conclusion corroborated with genetics what Tiktaalik had demonstrated morphologically.
"Neil's constantly on the boundaries between deep time evolution [evolutionary events put in the context of the Earth's vast history] and a profound understanding of modern biology. He sees things that other people don't and puts them in a cutting-edge biological context. That's where his real strength lies," says Olsen.
"I'm often tracing the history of our science, and much of the history of our science goes back to some of the people we read in the Core."
A model of Tiktaalik roseae, depicted in what scientists believe to be the animal's environment about 375 million years ago. Model: Tyler Keillor; Photo: Beth Rooney
After graduating from Harvard, Shubin completed a two-year postgraduate fellowship at UC Berkeley. He began his teaching career at Penn in 1989. In 2008, Shubin published his first book, Your Inner Fish: A Journey into the 3.5-Billion-Year History of the Human Body, in whichhe describes the evolution of the human body for a non-scientific audience in a conversational, often humorous, tone.
Your Inner Fish is a product of Shubin's experiences teaching human anatomy at Chicago for three years, an unlikely undertaking for a fish paleontologist, prompted by faculty departures.
"It became clear that being a paleontologist — and not just any paleontologist, but a fish paleontologist — is actually a really powerful way to teach human anatomy," says Shubin. "Many of the basic roadmaps to our bodies are found in other creatures. If you want to teach the structure of human limbs, it is often easier to look at the simpler state of affairs in fish."
Your Inner Fish earned the Phi Beta Kappa Science Book Award and scored Shubin an appearance on Comedy Central's Colbert Report in 2008. (See the video at college.columbia.edu/cct.) The following year, it was awarded the National Academy of Sciences' Science Communication Award for Best Book.
In his spare time, Shubin enjoys being outdoors, engaging in activities such as fly fishing and hiking. He also relishes family time with his wife, Michele, and his children, Nathaniel and Hannah.
"My kids are 9 and 5, so we enjoy museums and pretty much anything to do with water or snow," he says.
Shubin, however, does not allow himself to get too relaxed when it comes to his work. In fact, in Your Inner Fish, he describes himself as having "ants in his pants." Accordingly, Daeschler notes that his former teacher always has his eyes set on new frontiers, a voraciousness he points to as one of Shubin's greatest strengths as a scientist and as a mentor.
"Neil is always asking, 'What do we do next after we complete this piece?' " says Daeschler. "His ability to look at the big picture keeps you moving forward."
View more photos of Shubin and his colleagues working in the field.

Nathalie Alonso '08, from Queens, is a freelance journalist and an editorial producer of LasMayores.com, Major League Baseball's official Spanish language website. She also writes "Student Spotlight" for CCT.