Features
Reform School
Andres Alonso '79 shakes up Baltimore's dysfunctional educational bureaucracy
By Alex Kingsbury '04J
I
t takes a certain type of man to correct the President of the United States. But that's just what Andres Alonso '79 did when President Barack Obama '83 inadvertently maligned the results of Alonso's life's work.
Last March, while announcing a new education initiative, Obama said that in school districts in Detroit, Indianapolis and Baltimore, the student graduation rates "hover around 30, 40 percent — roughly half the national average."
Not so, Alonso, CEO of the Baltimore City Public School System, told an audience during a conference a few days later. The district has improved that rate to more than 63 percent in the past two years. He called the President's words "a kick in the stomach."
It was more than just semantics to Alonso, who has pushed and prodded the ailing school district to coax kids back into the public schools and ensure they graduate. Indeed, 900 fewer students dropped out in 2010 than when Alonso took the reins of the system two years earlier. In July, he celebrated three years as CEO of the city's school system, making him the longest-serving schools head in recent memory.
The changes to the Baltimore schools during Alonso's tenure have been profound. Teachers and principals have been fired, staff jobs cut and authority simultaneously centralized in the office of the CEO and decentralized to principals. Positive outcomes are the only goal.
Baltimore is the latest example of a trend in school reform that has played out in cities such as Atlanta, Boston, New York and Washington, D.C., for the past decade. They all follow a similar script: a powerful superintendent (in Alonso's case, CEO), an entrenched bureaucracy and a fight to turn around schools caught in a cycle of failure and malaise.
---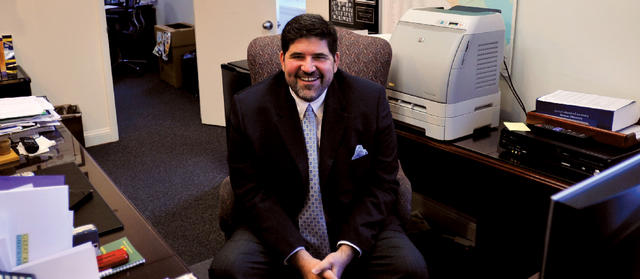 Andres Alonso '79 heads a Baltimore City Public School System whose graduation rate improved by more than 63 percent the last two years. Photo: Alex Kingsbury '04J
---
"Mr. Alonso is changing the prospects for city schoolchildren not only through the force of his personality — he's demanding, responsive, impatient with excuses and can rankle some of his subordinates — but he's transformed the landscape by shaking up a dysfunctional educational bureaucracy that has been failing kids for decades," gushed an editorial in The Baltimore Sun last year.
Joining his mentor and one-time boss Joel Klein '67, former New York City schools chancellor, as one of the country's foremost educational reformers is a surprising turn for the Cuban immigrant who was raised in Union City, N.J., and dreamed of being a lawyer.
Alonso was born in Jovellanos, Cuba, two years before Fidel Castro marched his victorious revolutionary army through the streets of Havana. Alonso's family was opposed to the communist regime and begged the government for permission to leave; that permission was granted eight years later, and the family fled Cuba for Union City, home to many Cuban immigrants at the time.
It also was home to numerous textile and embroidery factories, which is where Alonso's mother found work. His father got a job as an auditor for Merrill Lynch. A precocious student, Alonso remembers rewriting his father's notes for work into English. During his high school years, Alonso worked at a dry cleaner to earn money.
"It was an immigrant neighborhood where everyone was conscious of the fact that their parents had worked hard to get here and that a better life was possible," says Alex Valella '79, '82L, a lifelong friend who, like Alonso, took their Union Hill H.S. French teacher's advice and applied to Columbia.
Mrs. Brown, their influential professeur, might just as well have suggested attending school on the moon. "We'd only been into New York City in big groups," Alonso recalls. "It was another world for us."
Maybe so, but neither seems to have been too intimidated. The interviews went well, and both were offered nearly full scholarships. The friends skipped out on the freshman orientation, however, to watch the U.S. Open, the national championship of tennis, a sport both played and relished.
Alonso majored in English and history and had an interest in the French Revolution and the American New Deal. He counts John Romano, who taught courses on the novel, and Andrew Sarris '51, who taught film, as his favorite professors. He lived at home and read through his father's modest library of Spanish language history books to supplement his studies. To make ends meet, Alonso cleaned offices and worked shifts at a paint factory.
"I remember enjoying studying the New Deal, with its lessons about what is possible for a nation that is tested and challenged and what it can achieve," he says. "The city that I grew up in was architecturally shaped by the 1930s, so the reminders of the New Deal were everywhere."
Valella and Alonso excelled at Columbia. Valella went on to the Law School, while Alonso, after graduating magna cum laude and Phi Beta Kappa, headed to Harvard, where he earned a J.D. in 1982. "Education, for me, was about acquiring social capital — that's what I thought it was and what I still think it is," Alonso says. "It was an antidote to some of the vulnerabilities of the immigrant experience and spurred on by an understanding of sacrifice — to see your mother working in a factory and to see your father vulnerable by not speaking the language perfectly."
Whatever his motivations, by the early 1980s Alonso had reach­ed his goal: a job with a corporate firm in Manhattan, a pair of Ivy League sheepskins, financial security.
Two years later, bored by the drudgery of corporate law, Alonso quit. He lived off his savings and traveled to Europe and around the United States. Soon enough, he was back in New Jersey and, on the advice of his sister, applied for a teaching job. (Interestingly, notes the CEO famous for ousting insufficiently certified teachers, it was the fact that teachers in those days didn't need certificates that allowed him to get a foot in the door.)
Assigned to teach special education to emotionally disturbed students, Alonso spent 12 years in the classroom, adopted a student he took a special interest in and now concedes that "every day was a crisis.
"There is a perverse pride about staying in the classroom. It is endlessly engaging. But, in the end, I began to feel that I was becoming less effective," Alonso says. So, he headed back to the ivory tower, earning a master's in education in 1999 from a new Harvard program designed to sculpt education reformers.
From there Alonso headed to New York and was chief of staff for teaching and learning at the New York City Department of Education under Klein, who was then fast becoming one of the country's foremost education reformers, and among its most controversial.
Under the mayoralty of Michael Bloomberg, Klein had reined in the notoriously unwieldy New York Department of Education. Klein shuttered the Livingston Street headquarters, partnered with private education groups, slashed waste, and replaced underperforming teachers and principals. It worked. Graduation rates climbed and the achievement gap between white and minority students began to shrink, if ever so slightly.
"Being a great teacher is a form of theater, and being a super­intendant is the same way."
In 2006, Alonso was named deputy chancellor, at the same time as he earned a doctorate from Harvard. Klein calls his time working with Alonso "a privilege" and holds no hard feelings that his No. 2 struck out on his own to take the reins of the Baltimore school district a year later. "He is a dynamic educational leader with a commitment to equity and excellence," Klein says. "The students in Baltimore and New York City whom he has served, and will serve, are the beneficiaries."
Not surprisingly, Alonso's formula in Baltimore has echoes of Klein's effort in New York. "Baltimore reminds me of Brooklyn in the 1990s, before the fashionistas arrived," Alonso says. He replaced a third of the city's principals and fired more than 200 ill-qualified teachers. He cut 300 of the 1,500 jobs at the school system's North Avenue headquarters, a symbol of its calcified bureaucracy, and moved many of them into the schools. Another 150 headquarters jobs were axed outright.
It has been a hard grind. "I'm in early and I expect my staff to be, too," Alonso says during an interview in his North Avenue office. Glancing down at his BlackBerry, he grins and adds, "and this thing is never off." Valella says that Alonso's commitment to the job is intense. "We haven't had a chance to get out and play tennis for about eight years. Some people, like me, work a day job. For others, their job is their life."
But it has paid dividends for Baltimore students. "Being a great teacher is a form of theater, and being a superintendent is the same way," Alonso says. "The lighting and the script are important; so are a reliable group of actors who can be counted on to do their jobs. My job is to help convince all the players in the cast that they have a stake in the outcome of the performance."
Alex Kingsbury '04J covers the intelligence community, national security and the Iraq war for U.S. News & World Report.