Obituaries
Joseph D. Coffee Jr. '41, Devoted Alumnus
Joseph D. Coffee Jr. '41, a retired academic administrator and longtime involved College alumnus, died on January 23, 2011. He was 92 and lived in Lakewood, N.J.
Born on December 8, 1918, in Glens Falls, N.Y., Coffee served from ensign to lieutenant commander in the Navy during WWII and, along with five other members of the Class of '41, was profiled in Columbia magazine's Fall 2005 feature "Six Who Served."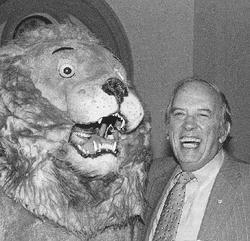 Coffee began his distinguished career in college administration in 1947 at Columbia. He was assistant to the president for alumni affairs when he left in 1967 to join Eisenhower College in Seneca Falls, N.Y., as a founding administrator, and retired in 1983 as chancellor of Eisenhower College of Rochester Institute of Technology following their merger. Coffee also was the director of the Educational Fund of the Joint Industry Board of the Electrical Industry for more than 40 years, administering college scholarships for union member's children, and co-developed the nation's first residential educational program for union members.
Deeply dedicated to the College, Coffee is widely credited with originating many of its most cherished alumni traditions, among them the John Jay Associates program, Dean's Day, the Alexander Hamilton Medal, the Columbia College Fund and CCT. He is an honorary permanent member of the Columbia College Alumni Association Board of Directors, served as a University trustee, served as a Columbia University Club Foundation trustee, was a longtime member of the Society of Columbia Graduates and was a Nacom. Coffee also was heavily involved in the Columbia Undergraduate Remembrance Committee. He was presented a John Jay Award for distinguished professional achievement in 1998 and an Alumni Federation Medal in 1957.
Coffee also was involved in his local communities, serving as a trustee of the Board of Education of Teaneck, N.J., for six years, during which time Teaneck became the first town in the United States to voluntarily desegregate its schools. He was named Teaneck's first Citizen of the Year in 1967. Coffee also served on the board of directors of the National Women's Hall of Fame in Seneca Falls. After retiring, he and his wife, Margaret Jennings, moved to Red Bank, N.J., where he was active in the Red Bank Rotary, the Shadow Lake Village community and the St. James Catholic Church choir. Coffee began his love of Rotary International in Seneca Falls, where he served as president. Coffee devoted himself to the Ambassadorial Scholarship, which provides scholarships to study abroad, and started the Honorary Rotarian Award in 1988. He received the Paul Harris Award in 1988 and in 2002.
Coffee was predeceased by his wife of 56 years in 1998 and by a son, John, in 1993. He is survived by sons Jim and his wife, Betty, and Matt and his wife, Michele; daughters Mary Joyce, Barbara Wolf '73 Barnard and her husband, Steven '73, Erin Giovannini and her husband, David, and Ann Beach; and 19 grandchildren, including Daniel Wolf '05, '10L and his wife, Elizabeth '05. Memorial contributions may be made to the Columbia College Fund. A memorial service will be held on campus on Thursday, April 28, at St. Paul's Chapel.
Lisa Palladino