Obituaries
Garland E. Wood '65, Financial Executive
Garland E. Wood '65, a retired financial executive and member of the College's Board of Visitors from 1987–94, died on November 15, 2010. He was 66 and lived in Weston, Conn. Wood, an innovator in the municipal bonds market, rose through the ranks at Goldman Sachs during a two-decade career, becoming the first black partner at the firm and one of the first in the financial services industry. He was renowned as a leader and innovator in public finance and is widely recognized as being instrumental in leading Goldman's advanced refunding efforts in the late '70s and early '80s.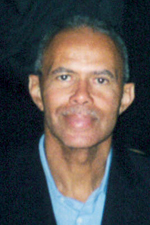 Wood was born in New York on December 29, 1943. He moved with his family to Prairie View, Texas, in 1948, where he attended public schools, excelling both in academics and athletics. After earning a B.A. in economics, Wood earned an M.B.A. from the Business School in 1972 and joined Goldman Sachs that same year. Goldman named Wood a general partner in 1986, making him the first black professional to reach Goldman's top tier of leadership. He was featured in Black Enterprise Magazine in 1992 as among the top 25 black professionals on Wall Street. He retired from Goldman in 1994 but for many years was an adviser to the firm.
Wood was a longtime supporter of the Greater New York Council of the Boy Scouts of America. The Garland E. Wood Foundation supported numerous causes and charities, including scholarships at the College, and Wood established a scholarship in his name at the Business School. He was a founder of Columbia's Black Alumni Council.
Wood is survived by his children, Michelle, Cynthia and Scott; mother, Lou Lee Wood; brothers, Curtis Jr. '64, '67L and Craig; and sisters, Barbara Wood Harrison '79 TC, Beth Setrakian and Gina Hector.
Lisa Palladino