Alumni Profiles
David Rothkopf '77 Reveals His Superclass
By Katarzyna Nikhamina '07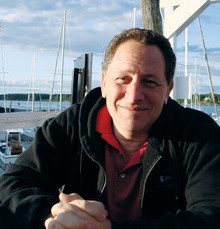 David Rothkopf '77 relaxing in Boothbay Harbor, Maine, where he worked on Superclass last summer. PHOTO: Adrean RothkopfDavid Rothkopf '77 was on the road promoting his last book, Running the World (featured in CCT in November 2005), when readers' questions spurred him to reconsider power. "People asked me why I thought the United States runs the world. I don't. I think a few people at the top run the world," says Rothkopf, who spent the next two years researching and writing Superclass: The Global Power Elite and the World They Are Making (Farrar, Straus and Giroux, 2008).
Superclass is rooted in Rothkopf's Columbia experience. In Contemporary Civilization, he read The Power Elite by C. Wright Mills, a Columbia sociology professor in the 1960s. Rothkopf describes Mills' book as "a polemic about the inbreeding of the power elite in American political, military and business communities." Thirty years later, Rothkopf was inspired to describe today's global elite, the successor to Mills' elite. In Superclass, he reveals who constitutes this 6,000-strong elite and how its decisions affect us. "There are no strong global institutions; these people weren't elected," says Rothkopf. "They might have good intentions, but they all act in self-interest." He opens Superclass with an example of this phenomenon, namely, the World Economic Forum in Davos. Every year, business, government, media and cultural leaders, from Bill Clinton to Brazilian novelist Paulo Coelho, congregate there to solve the world's problems.
"Conspiracies are overrated, but when interests align, they become hard to stop," says Rothkopf. "Elites from all over the world attend Columbia and its equivalents, where they acquire the same biases and values. Ultimately they have more in common with each other than with most people in their respective countries. They have the ability to shape conventional wisdom."
Years of experience have vested Rothkopf with the authority to make these conclusions. As president and CEO of Garten Rothkopf, a growing international advisory firm that specializes in emerging markets and alternative energy, he travels widely among four continents. (He lives in Bethesda, Md., with his wife and daughters.) Since 2002, Rothkopf has been a visiting scholar at the Carnegie Endowment for International Peace in Washington, D.C., where he chairs the Economic Strategy Roundtable, a series of nonpartisan discussions with cabinet-level policymakers on climate change, national security and trade. He also has taught at SIPA for eight of the past 11 years.
Rothkopf interviewed about 150 people for Superclass, including Nobel Prize-winning economist and University Professor Joseph Stiglitz, imprisoned Russian oligarch Mikhail Khodorkovsky, Al Jazeera chairman Sheikh Hamad bin Thamer al-Thani and Facebook CEO and founder Mark Zuckerberg. He weaves the substance of those conversations into an ambitious narrative that spans the roles of institutions, finance and force, the terror threat, the information age and the disproportionate concentration of power.
As an undergraduate, Rothkopf studied economics, but concentrated in English because he loved theater. "Abstract stories about power are not interesting," he says. "Working for the Clinton administration taught me that people in government are more human than we imagine."
Rothkopf calls his career "a lesson in improvisation." Looking back at his Columbia years, he credits Peter Pouncey, then-College dean, and Michael Rosenthal, then-associate dean and now a professor of English, with encouraging him to pursue his ideas. "These guys showed me that you could talk about great books, but without a sense of humor, you'd be lost," says Rothkopf. But he is quick to admit that luck plays a huge role. "While the system has become more of a meritocracy, your birthplace and your parents' background still affect who you become," he notes. "A woman with your genetic structure and skills born in Papua New Guinea probably won't have access to the decision-makers and won't play the global game."
Rothkopf looks forward to traveling with Superclass, which will be released in 21 foreign language editions and thus promises to draw a wide audience. Perhaps another book will be born on the road.
Katarzyna Nikhamina '07 is a paralegal in the Manhattan DA's Rackets Bureau.