Alumni Profiles
Scrubs' Robert Maschio '88 Is Nothing Like "The Todd"
By Yelena Shuster '09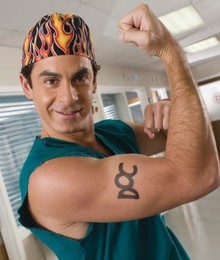 Robert Maschio '88 turned a bit part in a series pilot into an eight-year gig as "The Todd" on Scrubs. Photo: NBC/Mitchell HaasethI'm not famous," Robert Maschio '88 insists as we sit down at his favorite café in Santa Monica, Calif. But thousands of fans would disagree. As the high-fiving frat boy surgeon known only as "The Todd" on the comedy series Scrubs, Maschio has appeared in more than 100 episodes during a run of seven seasons (with an eighth to come). Speaking in sexual innuendo and often wearing nothing more than a Speedo, The Todd has garnered a cult following.
The Emmy-nominated show, which at press time was expected to move from NBC to ABC next season, follows the lives of three interns at Sacred Heart Hospital as they adjust to the hectic schedules and responsibilities of adult life. Though Scrubs is perhaps best-known for the inner monologues of J.D., played by Zach Braff, Maschio is part of an ensemble cast that rounds out the comedy.
The American studies major grew up thinking he would be a lawyer. "I had no idea I wanted to go into acting," he says. It wasn't until his final year at Columbia, when he befriended fellow actors Dan Futterman '89 and Lauren Graham '89 Barnard, that he discovered his passion for the stage.
Maschio met Futterman — who most recently starred as Daniel Pearl in A Mighty Heart [see January/February] — in Contemporary Civilization, and in their senior year they took "Eliot, Joyce and Pound" together. In CC, Maschio was a self-admitted skeptic who found the humor in some of the more naïve student comments. One day after class, Futterman told Maschio, "You know, you should consider acting. You're very funny."
His other inspiration came from Graham, widely loved as the Golden Globe-nominated cool mom, Lorelai, in The CW's Gilmore Girls. Graham was a good friend of Maschio and his twin, Patrick '88. In college, she performed with the all-female a cappella group The Metrotones. "They would sing and do sketches — she was really talented," Maschio says. "She was smart and quick-witted in a comedic way." Graham never forgot Maschio's enthusiasm for her work, and their paths crossed in Los Angeles.
"In school, Rob was smart, cute and funny. But the other part [of him] is really driven and able to take risks, and anyone who is willing to do stand-up [as he did starting out] is a person who is brave," Graham says. "I was thrilled to see him on Scrubs. It didn't surprise me at all. I think in some ways, it's just the beginning for him."
Futterman and Graham were local inspirations for Maschio — at Columbia, he starred in Pippin, Anything Goes and The Mystery of Edwin Drood. "I was getting laughs in Pippin when you weren't supposed to be getting laughs, and I realized I know how to make people laugh," he says.
As a senior, Maschio starred in a number of short student films that Patrick directed. (Patrick has since "sold out," according to Maschio, and become a lawyer.) The School of the Arts' Film Division recently had opened, and the brothers were able to use its equipment on the weekends. "Rob's an exhibitionist. At no point would he say, 'I'm too shy to do that.' You could put him in any situation you want, give him something preposterous to do and if it's not going to hurt anyone, chances are he'll do it," Patrick says. After shooting and editing the short films, they would have a viewing party at Furnald, "a cool place to live at the time," says Maschio.
Maschio is nothing like his character on Scrubs. He wrote his senior thesis on the lack of objectivity in the media, and it won the Allen J. Willen Award for best thesis in a political science or history major. Maschio took that $750 cash prize and paid for the summer session in the Neighborhood Playhouse School of the Theatre, where he rehearsed classical acting, dancing and singing techniques from 9–6 every day. For a former jock, he had no trouble getting into his ballet and tap classes.
Despite Maschio's persistence, however, it took him a decade to break into the industry — yes, he even worked as a waiter to pay the bills. That income was important, since in the mid-'90s, an Off-Broadway gig paid $350 a week and stand-up about $15 a set. Under the guidance of comedy teacher Wynn Handman, who also taught actors John Leguizamo and Allison Janney, Maschio began writing his own material.
A decade before Scrubs, Maschio received one of his big breaks. While in Los Angeles, he saw an ad looking for a "baby faced yuppie in a contemporary comedy." He auditioned on a whim and got the lead role. Full Cycle was so well-received that it ran for two months instead of the originally planned two weeks. Scrubs creator Bill Lawrence wrote the play; they have been friends since.
"I watched Rob audition and thought he was really good," Lawrence says. "He's just a comfortable guy, and that's why he's a good comedic actor. He doesn't have shame. I think that's his strongest suit as a comedic performer."
Maschio guest starred on Spin City, another Lawrence brainchild, before he got the call that would change his career. Lawrence told him that he was developing a comedy about medical interns and there may be a part in it for him — if he moves back to Los Angeles. Maschio decided to take the risk.
Maschio turned a one-line part in the pilot into an eight-year run. "I didn't let them let me go," he says. "If there's any interesting part of the story, it's that I just never quit. I pitched subtly and obviously many times." Maschio was aware of the prevalent stereotypes surrounding surgeons and their notorious boys' club mentality. He knew Turk (Donald Faison) could not be the dumb jock character and pitched himself in that comedic role. "I just got lucky in the sense that whatever I'm doing caught on," he says. "The only reason I'm on the show is because the fans really reacted to the character, and the writing staff loves to have me as a creative weapon in their arsenal."
Maschio takes credit for many of The Todd's most memorable features, including the now-famous banana hammock (Speedo) and the naming of his high-fives (Air Five! Self Five!). "One of the things we do on Scrubs is encourage people to claim ownership of their characters. Our show has a very high improv quotient," notes Lawrence.
Despite Hollywood's ups and downs — including last fall's writers strike that put Scrubs' production on hold — Maschio holds no regrets. He lives a quiet life by the beach with his girlfriend of 1½years, Amanda Elsasser. He is looking forward to season eight of Scrubs and perhaps settling down. "I feel very much like I did when I graduated from Columbia 20 years ago," he says. "A chapter in my life is coming to an end. I am excited about my future, and I can't wait for what comes next."
Yelena Shuster '09 majors in comparative literature and society. Her articles have appeared in CosmoGIRL! and The Huffington Post.