Alumni Profiles
David Eisenbach '94 Combines Campaign, Classroom
By Kate Linthicum '08 Barnard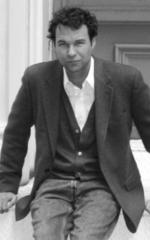 David Eisenbach '94 uses his experience in political campaigning to provide insights for his classes. The past eight months have been a busy time for David Eisenbach '94, '95 TC, '06 GSAS. When he's not teaching Columbia students Lit Hum or lecturing on the media and politics, Eisenbach has been hard at work as communications director for Democrat Mike Gravel, the former Alaska senator who is running a maverick campaign for his party's Presidential nomination.
Eisenbach, who earned an M.A. from Teachers College and a Ph.D. in American history from GSAS, teaches his students to approach politics and the media with a healthy degree of skepticism. Not long ago, though, he was on the receiving end.
"You talk so cynically about the media, you talk so cynically about politics," one student said at the beginning of his class "The Presidency Since 1945." "And yet you write books about politics and you work in politics. I don't understand!"
Eisenbach thought for a moment before responding. "Even though you're facing the tremendous odds of being able to change something so big as the American media and political situation, you try anyway — because you have a faith, deep down with all the cynicism, that it can be better," he replied.
For Eisenbach, working on Gravel's campaign is the clearest way to bring about the seismic shift in political thinking that he says America needs. He admits that Gravel doesn't have much of a shot at the nomination, but says that Gravel's radical message has pushed the other candidates to be more progressive. Gravel says he is running for President because he believes the current system of representative government is broken. He supports a legislative package called the National Initiative, which includes an amendment to the Constitution and a federal statute that would give citizens the ability to make laws.
According to Gravel, Eisenbach's commitment to the cause is telling. "It says something about him that he's not been deterred by the fact that he hasn't been on a celebrity campaign," Gravel says. "Many people are interested in power above substance; David is interested in substance more than power."
Eisenbach first got in touch with Gravel last spring, when he invited the former two-term senator to be a speaker at the "Friendly Fire Series," a lecture series that Eisenbach and the Columbia Political Union launched to encourage free speech on campus. When Eisenbach and Gravel finally met, it became clear that they clicked politically. "We identify on the same approach," Gravel says. He asked Eisenbach to come on board the campaign, first as a speech writer and eventually as the media adviser.
On days when the campaign stresses him out, Eisenbach gets energized by teaching, and by his students. "When I walk into the classroom and I'm worrying about the Gravel campaign, or I'm worrying about the book I'm writing, or I'm worrying about how my book is selling, I get in there and all of a sudden I'm talking about Hamlet," he says. "And I'm seeing it through the eyes of someone who is reading it for the first time. It is a thrill and an honor."
Eisenbach, who grew up in suburban New Jersey, vividly remembers his early days at Columbia, as well as his biggest academic influences. One of them was James P. Shenton '49, the legendary history professor. "He taught me the power of storytelling," Eisenbach recalls. "If I had not met Jim Shenton, I would have been a totally different person. That's how great an impact he had on me."
Eisenbach studied modern European history as an undergraduate. "Every step of the way I was thinking about my history education as preparation for a real-world experience in politics," he says. "I felt that history was the best training for understanding how the real world of politics works."
These days, Eisenbach tries to bring that same "real world" component into the classroom. "You cannot hold the attention of 18-year-olds for two hours twice a week for an entire year without bringing a little theatrics to the classroom," he says. "You need to get them excited about books that are thousands of years old, and that requires forming a connection between the text and their everyday lives. They're not learning about what Plato wrote; they're learning about what Plato has to say to them."
Although Eisenbach says he wouldn't be opposed to running for office one day, for now he plans to continue teaching. "I wouldn't be happy just being a political operative; it's not rewarding to my soul the way that teaching in the classroom is," he says. "That's an oasis."
Kate Linthicum '08 Barnard majored in American studies. After graduation, she will head west for an internship at The Los Angeles Times.