Around the Quads
Friends, Food and Fun: It's All at Alumni Reunion Weekend
By Lisa Palladino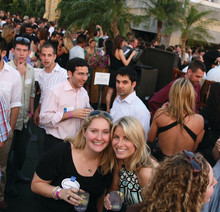 Reunion brings together classmates on campus as well as at fun NYC venues, such as 230 Fifth, where the Class of '02 gathered last year. PHOTO: MICHAEL DAMESAlumni Reunion Weekend is right around the corner, Thursday, May 29–Sunday, June 1. This is your chance to reconnect with classmates and old friends, make new friends and enjoy all that Morningside Heights and New York City have to offer. If your class year ends in a 3 or 8, and you haven't signed up, visit the reunion Web site for more information, to see a schedule of events and register.
Reunion gets bigger and better every year, thanks to classmates on the Reunion Committees who have spent the last year working with Alumni Office staff to plan campus activities, cultural outings, discussions and panels, great meals, cocktail parties, elegant class dinners and plenty of free time for relaxing, getting together with friends and spending time in NYC.
All attendees should start things off by checking in at the registration desk in Alfred Lerner Hall, the place to get nametags, schedules and the most up-to-date information. The Class of 1958 gets a jump on the party with a special reception on Wednesday, May 28, with other reunion-year classes joining in on Thursday, when the weekend officially kicks off with welcome receptions and cocktail parties. Attendees also have a choice of the New York Philharmonic at Lincoln Center (Schubert/Berio's Rendering and Emanual Ax '70 playing Beethoven' s Piano Concerto No. 5, Emperor) or Broadway theater: Avenue Q or Curtains. Sign up early for these shows, as availability is limited.
Friday morning features a Chelsea art gallery crawl; "Back on Campus" activities such as mini-Core courses, lectures, walking tours and campus updates (free, but registration is required); and class-specific activities. After lunch, more mini-Core courses are available, followed by cocktail parties/receptions and dinners. Those who observe the Sabbath may participate in a Tri-College (College, SEAS, Barnard) Shabbat Service and Dinner.
Friday activities continue late into the night with one of reunion's most popular Young Alumni events: Casino Royale and dance party at the Nokia Theatre in midtown.
On Saturday morning, stop by Roone Arledge Auditorium in Lerner Hall for a continental breakfast. Alumni with children ages 3–12 may sign them up for the supervised Camp Columbia for Kids and then join all reunion classes in Lerner Hall's Cinema for a State of the College Address and Alumni Panel featuring Dean Austin Quigley. The President's Cup will be presented, and a panel discussion will highlight College developments during the past 50 years.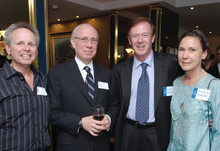 Alumni often gather at a classmate's home for cocktails, and Dean Austin Quigley (second from right) just might drop by. Here, he and his wife, Patricia Denison, join two '72 alumni last year at Conrad Lung '72's home. PHOTO: DAVID WENTWORTHLunch is either a class-specific event ('43–'68), a "Between the Gates" barbecue on the lawns ('73–'03) or free time to dine on your own. After lunch, choose from a class-specific panel discussion, if applicable, the annual Alumni Representative Committee reception for members and those who wish to join, an admissions presentation, a Center for Career Education presentation, or, new this year, a "green" panel discussion, featuring alumni and experts speaking on corporations' social responsibility to the environment, including Columbia's efforts.
Had enough learning? Get ready to unwind with the all-class wine tasting, an elegant class-specific dinner and the all-class Starlight Reception, a weekend highlight, held on Low Plaza so there's room to dance off the calories you'll enjoy from the available champagne and sweets. The weekend wraps up on Sunday morning with a bagel, cream cheese and lox brunch.
Online registration, a complete program of reunion events and general information may be found on the Alumni Reunion Weekend Web site, or refer to the brochure you received in the mail. For answers to any other questions, please contact the Alumni Office: 212-870-2288 or toll-free, 866-CCALUMNI.