Around the Quads
David A. Paterson '77 Becomes New York's Governor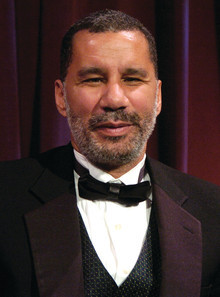 David A. Paterson '77 is only the fourth African-American governor in U.S. history, according to the National Governors' Association. Photo: Eileen BarrosoDavid A. Paterson '77 became the first African-American governor in New York State history and the country's first legally blind governor on March 17 following the resignation of Eliot Spitzer. Paterson had served as a New York State senator since 1985 before being elected lieutenant governor in 2006.
Paterson, 53, was honored by the College in 2007 with a John Jay Award for distinguished professional achievement. In accepting the award, he showed his sense of humor by noting, "Some people graduated magna cum laude, some graduated summa cum laude, then there were people like me who found so many other things to do at Columbia than study that we graduated thank you laude."
Due to an infection when he was an infant, Paterson is sightless in one eye and has little vision in the other. He was born in Brooklyn, but his parents moved to Hempstead, Long Island, when he was in sixth grade. He attended the only public school his parents could find that would allow him to learn alongside sighted students instead of in separate classes.
"He was extremely bright, an exceptional student," Casmiro Liotta, who has since retired from the Fulton School, told Newsday. "He was very likable, he participated well. He did not have his handicap get in his way, he was on the stage in dramatics, and he was very, very, very active in the school."
Paterson was a history major at the College, then worked for the Queens District Attorney's office before attending Hofstra Law School and graduating in 1983. Two years later he was elected to the New York State Senate representing Harlem, filling a seat once held by his father, longtime NYC political leader Basil Paterson. At 31, he was the youngest state senator in Albany.
"He is a role model to black boys and girls, to white boys and girls, to everyone with or without a disability. It's a great success story," said former NYC Mayor David A. Dinkins. Paterson worked on Dinkins' campaigns for mayor as well as for Manhattan borough president, and both are adjunct professors at SIPA.
"He's the ultimate mensch … honest, straightforward," Brooklyn State Assemblyman Dov Hikind told the New York Daily News. Hikind recalled that during a time of strained race relations in NYC in the 1990s, Paterson brought black students from Harlem high schools to talk things over with Jewish yeshiva students at a kosher pizzeria, one of many instances in which Hikind said Paterson worked to improve community relations at the grassroots level.
Paterson has advocated for disenfranchised and disadvantaged New Yorkers throughout his career. He has fought against late state budgets, unfunded mandates and legislative logjams and pressed for reforms in campaign finance and lobbying. In 2002, he was elected Senate minority leader by his Democratic colleagues and led the charge on several critical issues, releasing a report on New York State's Medicaid crisis, proposing legislation for a $600 million stem-cell initiative, proposing a statewide alternative energy strategy that would use sun and wind power and serving as an advocate for minority- and women-owned businesses in the state.
Paterson, whose secretary is Charles O'Byrne '81, '83 SIPA, '84L, former president of the Columbia College Alumni Association, is known for his inclusive approach to politics and his ability to reach across party lines and bring people together. "A kid from Harlem goes to Albany, where you have upstate, downstate, black, white, so on and so forth, and manages to bring everybody together around his leadership," said New York State Senator Bill Perkins, a Democrat who holds Paterson's former seat. "He was plucked to be the lieutenant governor, not for the sake of symbolism, obviously, but for the first time that I can recall, with a portfolio of substance."
A member of the Democratic National Committee and as a board member of the Democratic Legislative Campaign Committee, Paterson is an active advocate for the visually and physically impaired. He is a member of the American Foundation for the Blind and a board member of the Achilles Track Club, and in 1999 he completed the New York City Marathon.
Former New York Governor Mario Cuomo told The New York Times about participating with Paterson in a charity basketball game a decade ago. "David was on the other side," said Cuomo. "I said: 'What are you doing here? You're supposed to be blind!' He said, 'I'm guarding you.' Just what I wanted: a blind guy to guard me. The second time down the court, he stole the ball."
Clearly, Paterson values what he has described as "my ability to overcome my physical disability." The reason is simple: "As soon as people see that I can be independent, then they hold me to the standard that everyone else is [held to]."
He takes that same approach to serving as governor. "I have had this desire my whole life to prove people wrong, to show them I could do things that they didn't think I could do," he said. "This is just another."