Around the Quads
Chair Announced, Johnson Honored at Black Alumni Heritage Reception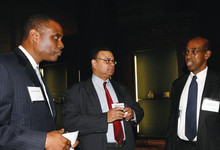 U.S. District Court Judge Joseph A. Greenaway Jr. '78 (right), former president of the Black Alumni Council, welcomed Ted Johnson '81 (center) and Greg Weston '82L to the BAC Heritage Award Reception. Photo: Diane BondareffThe first chaired faculty position in the Arts and Sciences to focus on African-American studies was announced at the annual Black Alumni Council Heritage Award Reception in Low Rotunda on February 22. In addition, Ted Johnson '81 accepted the 2008 Heritage Award on behalf of his recently deceased brother, Rick Johnson '71, who mentored many Columbia students and established an undergraduate scholarship fund in 1987.
Dean Austin Quigley and V.P. of Arts and Sciences Nicholas Dirks were on hand for the announcement of the M. Moran Weston/Black Alumni Council Professorship, which is named in honor of M. Moran Weston '30, '54 GSAS, Columbia's first African-American trustee. "In addition to its impact on African-American studies at Columbia, the chair will strengthen the presence of African-American alumni in the life of the University," said U.S. District Court Judge Joseph A. Greenaway Jr. '78, a past president of the BAC, which led the effort to establish the chair.
Greg Weston '82L represented his late father at the ceremony. "Columbia was very near and dear to my dad's heart," he reflected. "It was perhaps the most important institution to him throughout his life, and he would be thrilled to be linked in such a meaningful and permanent way to the school that he loved so much."
Supporters of the new chair include Greenaway, Weston, Bill Campbell '62, Eric Holder '73, '76L, Ronald Simons '86, '89 Business, George Van Amson '74 and the Garland E. Wood Foundation, established by Garland Wood '65, '72 Business.
Rick Johnson '71, who died on November 3, was a finance professional with experience in law, investment banking, private equity investing and financial and management consulting. A BAC leader and active in Class of 1971 affairs, he was known to family, classmates and friends as a Renaissance man whose interests included classical music, jazz, theater and the arts, fine food and wine, travel, ballroom dancing, boxing and skiing. He delighted in serving as a mentor to numerous alumni and friends, and had established a scholarship at the College to honor his father, Lee; that scholarship has been renamed to honor Rick as well.
Quigley drew applause from the approximately 100 alumni, students, faculty, administrators and friends who attended the reception when he announced that a survey conducted by the Journal of Blacks in Higher Education had found, for the first time, that Columbia was tied with the University of Virginia for the highest national percentage of African-American students in its first-year class.