Around the Quads
5 Minutes with … Mamadou Diouf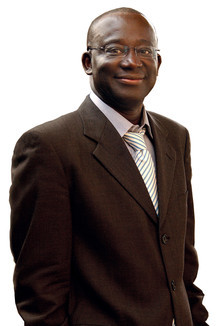 PHOTO: EILEEN BARROSOMamadou Diouf is the Leitner Family Professor of African Studies in the Departments of Middle East and Asian Languages and Cultures (MEALAC) and History. He also is head of the Institute for African Studies at SIPA, which celebrated its reopening last fall. Diouf holds a Ph.D. from the University of Paris-Sorbonne (France). CCT caught up with him in February to find out more.
Where did you grow up?
I grew up in Senegal, in a small town, Rufisque, near the capital city of Dakar.
What was the town like?
It was a small colonial town, which has an interesting history. It was a town that began developing in the context of the Atlantic slave trade. It was one of the first places where Africans and Europeans interacted. And actually the name comes from the Portuguese: Rio Fresco, or "fresh river," which shows that it is a city where mariners or slave traders used to stop and interact with Africans — buy food, whatever.
The city became an important French colonial city after the French took over the region in the 19th century. And very quickly it became the capital city of the first cash crop the French were interested in: peanuts. In the late 19th century, the city's inhabitants were granted French citizenship with the right to elect a municipal council and participate in the election of a Senegal representative at the French National Assembly in Paris. So this is a city that was much more a colonial city, which was part of two worlds.
What did you want to do, when you were little?
According to family memory, I have always said that I would be a teacher.
Any particular reason?
My mom used to say it's probably because I always liked arguing.
How did you first get interested in African history?
Actually, I decided to turn to African history very late. I began high school in my hometown before heading to France to complete the high school cycle, first in Orleans, [then] in Versailles before going to the Sorbonne University. Up to the master's level I did European history, and I was really attracted to medieval history because of the environment I was in. So, I was trained in a very classical European tradition of history.
So you came to African history — backward?
Absolutely. I wanted to do a master's in medieval history, and my friends, my Senegalese friends, were completely amazed by that. What happened, basically, is that they told me that I did not have the right to do that. I had to contribute to the development of African
history. Because there were not a lot of us, it was important to devote our efforts and our intelligence to developing African history. So I found myself doing African history … under the pressure of my community.
Did you discover that you liked it?
I loved it! I think that my training in European history enabled me to ask questions that were very different … I was interested, probably because of my origins — being born in a city defined much more by its colonial identity than anything else — by the cultural, social and political product of the encounter between the European and the African.
How did you end up at Columbia?
When I finished my Ph.D., I went home and got an assistant professorship at Cheikh anta Diop University in Dakar, Senegal. I taught there for many years before joining an intellectual social science NGO, the Council for the Development of Social Science Research in Africa. I was director of the research and documentation department for many years. When I stepped down, I was offered a visiting professorship at the University of Michigan in Ann Arbor. The "visiting" was turned into a full professorship position one year later, in 2000, and I was there till July 2007, when I joined the MEALAC and the history departments of Columbia. I also have been appointed director of the Institute of African Studies at SIPA.
Which classes are you teaching right now?
"A History of African Cities," an undergrad seminar.
What's new at the institute?
A lot of things are new because the institute was closed down; it's now reopened. We have been very active in organizing lectures and conferences and we are working hard to be among the most active units at Columbia.
We have also been working in conjunction with the graduate, undergraduate and SIPA students to [devise a] new major in African Studies [at the College]. The major is designed to introduce students to the intensive study of Africa. Majors are expected to develop their interest through methodological and theoretical training in a discipline (humanities, social science, etc.), but all students are required to take common Core courses, learn an African language and study or conduct research in Africa.
How do you recharge?
Usually by sitting somewhere and doing nothing.
If you could go anywhere in the world right now, where would it be?
Paris. It's probably the city I know best, where I have my friends.
What's your favorite food?
There's a Senegalese dish, a kind of gumbo soup. It has meat, smoked fish and okra. Sometimes people add palm oil or use tomato. It's called "soupe au kanja."
Coffee or tea?
Coffee — the French colonial tradition oblige …
Interview: Rose Kernochan '82 Barnard