Around the Quads
Student Spotlight: Ben Nwachukwu '08 Makes an Impact, On and Off the Court
By Nathalie Alonso '08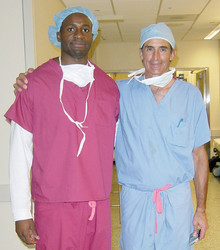 Ben Nwachukwu '08 (left) shadowed Dr. David Altcheck '78 last summer as part of the Steamboat Foundation's prestigious Steamboat Scholar program. PHOTO: SHAHREEN HOSSAIN '07 BarnardFor the past four years, Ben Nwachukwu '08 has been on top of his game — and not just on the basketball court.
The 6-foot-8 center has been a starter on Columbia's varsity basketball team since his freshman year and has been devoted to the team while never losing sight of his goal of becoming a surgeon.
Nwachukwu's history with the Lions is intertwined with that of Joe Jones, who was hired by Columbia in 2003 as head coach of the men's basketball team and charged with the task of revamping the program. Jones had heard of Nwachukwu's athletic abilities while serving as assistant coach at Villanova and put much effort into pursuing Nwachukwu, his first recruit.
"Not only was Ben intelligent and a highly skilled basketball player, he was someone who I thought had great character. I saw that right away," says Jones. "His biggest contribution has been his tremendous work ethic. When he came here, he said he'd give us everything he had, and he did. He's a man of his word."
Nwachukwu, who began playing basketball at 14 in England, was accepted to the College as a Kluge Scholar and is completing a pre-med curriculum with a major in psychology. "I really didn't know anything about Columbia. Coach Jones came to my high school and gave me his vision for Columbia University basketball. He wanted to turn the club around and make it into a winning team. I wanted to embrace that challenge," says Nwachukwu, who was v.p. of his fraternity, Kappa Delta Rho, during his sophomore and junior years and has been involved with the Nigerian Students Association.
In four seasons with the Lions, Nwachukwu set a school record by playing in 110 games, averaging 7.4 points and 4.3 rebounds per game. He ranks 13th in school history with 474 career rebounds and fifth with 62 career blocked shots.
Nwachukwu was born in Enugu, Nigeria, and moved with his mother and four brothers to London when he was 7. At 16, he was offered a scholarship to St. Augustine Prep in New Jersey and moved to the United States on his own to pursue his athletic and academic goals. His mother, a nurse, could not accompany him because of work-related concerns, so Nwachukwu lived with a host family for the duration of his high school career.
"Moving to America was tough, but I was excited about the opportunities I knew I had in store here. The first few months were the hardest and I spoke to my mother every day, but after some time I became more comfortable. It forced me to mature and learn how to manage my emotions and my priorities," notes Nwachukwu.
For as long as he can remember, Nwachukwu has dreamed of pursuing a career in medicine. "Medicine is how you're able to most directly impact people. You get to have an effect on their lives or even improve the quality of their lives. I'm a people person. I couldn't go into a career where you don't deal with people," he says enthusiastically.
Nwachukwu has taken full advantage of the opportunities Columbia has afforded him as he pursues that goal. He spent the summer before his junior year as a research assistant in the laboratory of Nobel Laureate and University Professor Dr. Richard Axel '67, where he studied the altered behavior of cloned mice with only one odor receptor.
"That was my first research experience. The problem with research is that people aren't willing to take a risk on someone without research experience. He took a risk on me," says Nwachukwu of Axel.
Nwachukwu also was a participant in the prestigious internship program offered by The Steamboat Foundation, a nonprofit organization started by Andy Walter (grandson of Hank Walter '31, '34L) and Peer Pederson, managing partners of Blue Orchid Capital, a money management organization based in Greenwich, Conn.
As a Steamboat Scholar, Nwachukwu spent summer 2007 shadowing Dr. David Altchek '78, an attending orthopedic surgeon in the Sports Medicine and Shoulder Service at the Hospital for Special Surgery in New York City. Altchek also is medical director for the New York Mets.
"I definitely noted that he was very passionate about medicine. He loved the idea of taking care of people," says Altchek of his initial encounter with Nwachukwu, who had the opportunity to sit in on patient consultations and observe Altchek's work in the operating room. "Ben's very special. He is an unusually warm human being and really enjoys the company of other people. He made an incredible impression on me."
Nwachukwu, who admits to being a television junkie in his free time, is applying to medical schools and after his internship with Altchek is considering a specialization in sports medicine.
"What I'm going to miss most when I'm in med school are the relationships I've built, some solid friendships. I'm really close with my teammates," he notes.
Nathalie Alonso '08, from Sunnyside, Queens, works part-time as an editorial producer of Spanish sites for MLB.com. She also is an American studies major, a freelance writer and an avid Yankees fan.