Bookshelf
Statman, Medina Translate Translate García Lorca's Poeta en Nueva York
By Maryam Parhizkar '09
Co-translators Pablo Medina (left) and Mark Statman '80 have published a new version of Federico García Lorca's Poeta en Nueva York, a book inspired by the famous poet's time at Columbia. PHOTO: JESSE STATMANIt was in late summer 1929 that young Spanish poet Federico García Lorca moved to New York City and into a room in John Jay Hall. He was freshly enrolled as an English language student at the School of General Studies. It also was at that time that Lorca's Poeta en Nueva York began to develop, right at the grim beginning of the Great Depression. Lorca expected "to see this sort of amazing metropolis that's represented to the media — it's America, the land where the streets are paved with gold and that sort of thing," says Mark Statman '80. "Then he comes to New York and he's horrified by it ... [but] there is a side of New York that he is really drawn to, because it is still the great cultural center."
Nearly eight decades later, Statman and Pablo Medina, associate professors of writing at The New School, have put together Poet in New York, a new translation of one of Lorca's most important works. The book is a series of poems inspired by observations during Lorca's nine-month period as a Columbia student. It is a collection of poems that could be read as an epic — a textual map that could be seen as a chart of personal growth for the poet himself.
Lorca's book opens with the section "Poems of Solitude at Columbia University," starting in the city where "a butterfly is drowned in an inkwell" and ending with the poet's departure to Havana. It is as though the journey to New York teaches the poet to be more at peace with his soul, says Statman, "more consonant, more able to be a Poet with a big P as opposed to a poet with a little p." After departing from the city, Lorca wrote, "I have said poet in New York, and I should have said, 'New York in a poet,' " as though he has internalized the city itself.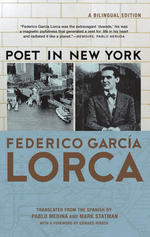 Statman, a published poet, was introduced to Lorca's work while a student in the College by the late Kenneth Koch, Columbia's legendary poet and professor of English (and later Statman's father-in-law). Although he was officially a religion major, Statman developed an interest in poetry and literature by taking courses at Columbia with Koch and former Professor of English David Shapiro '68.
This collaboration with Medina, also an accomplished poet, stemmed from more than a shared love for Lorca's work. After the events of September 11, Medina and Statman tried to make sense of the confusion by looking for solace in literature about the city, searching through works by writers from E.B. White to Frank O'Hara. "Then we came to García Lorca's Poet in New York," they write in the introduction, "and saw reflected in this book the range of emotions we ourselves felt and images strangely reminiscent of the ones we witnessed on September 11 and its aftermath." In that sense, there is something prophetic about Lorca's portrayal of New York in this fresh translation. "There is a way in which this New York of the late 1920s and 1930s is our New York, our United States," Statman says while drawing parallels to "Office and Denunciation," where Lorca writes:
There is a world of broken rivers
and infinite distances
in the cat's leg crushed by a car,
and I hear the worm's song
in the heart of many girls.
Rust, shaken earth.
Earth yourself swimming
through the numbers in the offices.
What can I do, bring order to the landscapes?
The ambitious task of co-translating a work that had influenced an entire generation of poets — including Allen Ginsberg '48 and Koch — did not come easily. It is best described as "a labor of love," Statman says, "If you think about how hard relationships can be, this was a tough one! It has certainly made us even closer friends." He recalls hours spent at the Cedar Tavern in the West Village and lengthy telephone discussions over single words and articles. The trick, Statman notes, is that "Lorca doesn't write in Spanish, Lorca writes in Lorca. The more we worked on the project, the more we had to go back … and jolt with certain things we hadn't quite known how to deal with before."
The result is work that has been described as "a necessary gift" in the El Paso Times; "a Poet in New York for our time" by poet Edward Hirsch; and praised by poet John Ashbery '50 GSAS as the "definitive version of Lorca's masterpiece, in language that is as alive and molten today as with the original in 1930." In retrospect, Statman has found the praise to be very humbling. "At a certain point I realized for both [Medina and me], no matter what we do in all our other writing, this is a point in which we have entered literary history."
Maryam Parhizkar '09 is majoring in English and frequently contributes to CCT.