Cover Story
Spring '68
Alumni recall a tumultuous time and how it changed their lives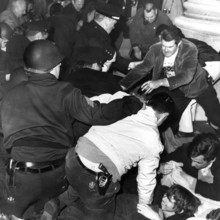 Helmeted police scuffle with students and others on the steps of Low Library on April 30 as they move in to clear students from the five buildings that had been occupied for a week. PHOTO: AP WIREPHOTOForty years ago, the Columbia campus was enveloped in turmoil by the events of Spring '68: the controversies (chiefly, the proposed construction of a gym in Morningside Park and the ongoing Vietnam War, including Columbia's involvement with a Defense Department think tank called the Institute for Defense Analyses) that led to the takeover of Hamilton Hall, Low Library and three other campus buildings on April 23 and in the days thereafter; the negotiations the following week to try to resolve the protests in a peaceful manner; the administration's decision to call in the NYC police to clear the buildings on the night of April 30 that resulted in a bloody encounter in which more than 700 students were arrested; a subsequent takeover of a Columbia-owned apartment building on West 114th Street that was followed by another police "bust"; and the early end to the spring semester, including a counter-Commencement to the official Commencement.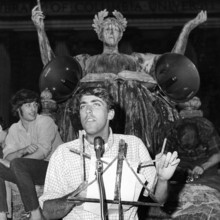 SDS chair Mark Rudd '69, who quickly became the best-known of the protesters, addressing a rally on Low Plaza on May 17. PHOTO: UNITED PRESS INTERNATIONALThe unrest at Columbia was not an isolated event. There were 101 campus sit-ins or demonstrations in spring '68, according to the late former CCT editor, George Keller '51. That same year, Martin Luther King Jr. and Robert F. Kennedy were assassinated, the Democratic National Convention in Chicago was disrupted by turmoil and violence inside and outside the convention center and protests against the Vietnam War spread through Europe, with Paris the site of several bombings. But of all the campus unrest in the United States, Columbia got the most publicity and is what people focus on to this day.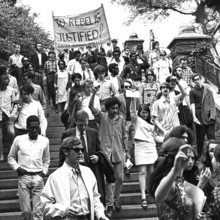 Student protesters entering Morningside Park, site of the proposed gymnasium that was one of the key issues in the protests. PHOTO: HUGH ROGERS PHOTOGRAPHYAnyone wishing to learn more about what took place is urged to seek original source material, whether it's newspaper (including Spectator) and magazine accounts, such as the remarkable Spring '68 issue of this magazine that was entirely devoted to the events (see Columbia College Today - Spring 1968 PDF); or several books that were published afterward, including Crisis at Columbia, the official report of the Cox Commission that was established to investigate the events, and Up Against the Ivy Wall by Jerry Avorn '69 and the editors of Spectator. One caveat, from someone who lived through the events: Approach all media accounts with a healthy degree of skepticism, consider the sources and their biases, and do not take any one account as gospel. This applies to all news events, not just this one.
To mark the 40th anniversary of these events that changed the course of the University, CCT invited readers to submit their thoughts on how Spring '68 changed the way they look at the world, whether there was one lingering image that summed up the events for them, what they learned from the events and how they applied these lessons during the past four decades. We did not seek responses from particular individuals, because to do so would be to skew the results, and we wanted this process to be as open as possible. Following are the responses we received, in some cases edited for length and style.
Alex Sachare '71
"Nothing radicalizes like ... "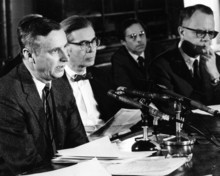 Wm. Theodore de Bary '41 (left) and Richard Hofstadter (second from left) were among members of an Ad Hoc Faculty Committee that tried to negotiate a solution to the dispute. Participating in the Columbia strike was a seminal event in my life and in my education. As I often like to say, I learned I was a Menshevik. I spent six or seven days in Fayerweather Hall, often engaging in heated discussions, in small groups or with hundreds of other students, over what to do. For us, this came down to whether to prolong occupation of the buildings; to negotiate with the administration; to insist on amnesty for the demonstrators; even how much to trust SDS leaders. I was convinced that SDS wanted to prolong the strike in order to provoke the administration into calling the police onto campus, where, inevitably, there would be a violent confrontation. "Nothing radicalizes like the Cossack's whip" was a refrain we often heard. After several days of tense debate, and with SDS in charge of the strike, a small group of us decided to try to reach out to the administration in Low Library to see if we could defuse the situation before the police were called in. SDS got wind of this initiative and I was asked, not politely, to leave the building. The Tactical Patrol Force arrived later that night.
This experience has informed my professional life. For the past 32 years, I have been an organizer for Amnesty International USA, working to defend prisoners of conscience and oppose torture and the death penalty. At the same time, I have written or edited seven books, most of them on aspects of Soviet history, including the Jewish emigration movement; the dissident movement; the holocaust on German-occupied Soviet territory; and intellectual life under Stalin, including a biography of the enigmatic Soviet Jewish writer Ilya Ehrenburg. The Columbia strike was a modest example of how radical politics can seize control of a movement for reform, exploit the commitment of well-meaning activists for change and provoke violence with little regard for the consequences. When it came time to study Soviet history, I could see how the tension between Bolsheviks and Mensheviks played out over similar themes. The Columbia strike provided me with a useful prism through which to view a broader and far more tragic history.
Josh Rubenstein '71
Somerville, Mass.
Legitimate violence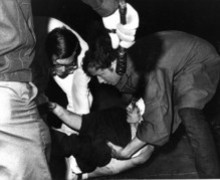 A policeman holding a billy club dominates the foreground as an injured youth is aided during a May 22 demonstration. I was sitting, locking arms, on the floor of Fayerweather Hall Lounge and more scared than I had been in my life. The "bust" we had talked about for days was really coming. I turned my head and saw the window pried open and the huge belly of a policeman rest on the windowsill for a second. Then he landed and many more police followed him in. I looked up and saw a young black man; blood was pouring down his face and onto his shirt. I was knocked unconscious and then remember being dragged down the concrete steps and into a police van on Amsterdam Avenue.
I gained a better understanding that night of "legitimate violence" than all the hours discussing Max Weber in CC. I learned when people challenge "legitimate authority" (as we did by occupying Columbia's buildings), state violence always is available to reestablish its authority. It rarely needs to use such violence only because most people accept their station in life without protest.
I have taken this lesson with me through the decades, working for social justice and training others to build powerful, sustainable organizations and reflect upon our action. On that warm night in April, "legitimate violence" stopped being an abstraction on the pages of my big blue CC text. It was now written in blood on the faces in Fayerweather Lounge.
Michael Jacoby Brown '69
Arlington, Mass.
Trying to find order and meaning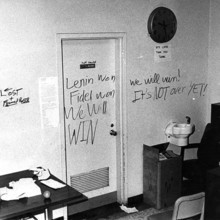 Inside the occupied buildings on the morning after the bust. This is a scene from Mathematics Hall. George Orwell wrote of the "revolutionary atmosphere" in Barcelona in 1937: "General and private, peasant and militia man, still met as equals; everyone drew the same pay, wore the same clothes, ate the same food and called everyone else 'thou' and 'comrade'; there was no boss-class, no menial-class, no beggars, no prostitutes, no lawyers, no priests, no boot-licking, no cap-touching. I was breathing the air of equality … "
Spring '68 was like that, both in the buildings and outside, but the intoxication of liberation was filtered and intensified by the parallel academic — classroom — yet relevant experience of reading and writing about masterpieces of political literature such as Homage to Catalonia, or Marx on the 18th Brumaire, or Dickens on the tragic heartlessness of mid-Victorian capitalism, or Edmund Wilson on Lenin and the Bolsheviks or Malraux on the revolution in China. And that experience was further intensified by immersion in the inimitable Columbia style of linking high culture (Julien Sorel, say) and popular culture (Mickey Mouse, say) in the same sentence while illuminating both — as practiced by the old guard of Steven Marcus '48 and Lionel Trilling '25 and the new lions like Edward Said — while trying to find order and meaning in what was happening in my Spectator stories about the strike, and then as one of the authors of Up Against the Ivy Wall.
So I became an English professor, and tried to be a public intellectual, as my way of trying to stay engaged in and illuminate for others the multiple, mutually refracting layers of lived and reflected-upon political and social experience that Spring '68 enacted. It didn't work out (I eventually became, Orwell forefend, a lawyer), but that's another story.
Michael Stern '70
Palo Alto, Calif.
Would never be the same
President Grayson Kirk (center) and Vice President David B. Truman (to Kirk's right) were the key administration figures during the protests. I recall the destruction of the naiveté of a young freshmen as I saw the office of President Grayson Kirk ransacked and Hamilton Hall occupied. I remember wandering through Hamilton Hall on the first evening of the protest. It was truly Dantesque, with the floors like levels of the Purgatorio. On the first floor were serious discussion groups about politics, seminars in Marxism and denunciations of University involvement in the Vietnam War. On the second floor, small group bull sessions; on the third floor, serious drinking and pot smoking; and on the darkened fourth floor, scattered pairs of copulating [students]. Then there were the cancelled classes; I regret not writing that essay for a letter grade in freshman English and just settling for a Pass.
The world would never be the same. People started cutting across the pristine grass of South Field, creating bare, trodden crossed trails that then became formalized by gravel — emblematic, it seemed to me, of authority yielding to youthful rebelliousness.
Dr. Philip T. Valente '71, '77 P&S
San Antonio, Texas
For once, I experienced certainty
I was and remain a liberal, sharing the characteristic liberal habit of questioning and reexamining my views frequently. Spring '68 gave me more backbone. Like a good liberal, I argued with members of the Majority Coalition, especially some of the football players among them with whom I was friendly, arguing that the Vietnam War-related issues justified some level of protest, and that using the police to clear out the protesters would surely be inappropriate. And I argued with some of the SDS members, with whom I also was friendly, complaining that their hard focus would render them conservative 30 years hence, while I would remain a liberal.
The night the police "cleared" the South Lawn, I spent most of my time on the First Aid squad, carrying bleeding classmates on stretchers to St. Luke's. But I found time for a few conversations. Some of my acquaintances on the football team, reviewing the bloodshed, acknowledged doubt, now, about the University's decision to call in the police. Another acquaintance, though, who had fascinated me with his consistent and rigid across-the-board conservatism in religion as well as politics, reacted differently. "Well," he said triumphantly, "they got what they deserved!"
At that moment, for once, I experienced certainty. Everything I knew was right. Everything he knew was wrong. I have rarely experienced it since. But the memory helps.
Dan Feldman '70
Port Washington, N.Y.
"We have to know when ... "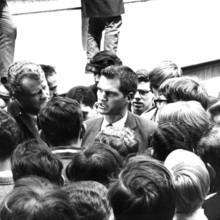 Acting Dean Henry Coleman '46 speaking to students outside Hamilton Hall, where he remained confined to his office for 26 hours as students occupied the building. On the night the police cleared the buildings, I stood watching fellow students lock arms in front of the southeast door of Low Library. When the police phalanx moved in on the students, billy clubs flew in all directions, and I remember thinking [about] building occupiers, strike defenders and spectators — everyone was at risk of being bloodied.
It was much the same with the war. After General [Lewis B.] Hershey's rescinding of grad school deferments, all of us were forced to find our place in the conflict. Academia could no longer serve as a refuge.
At graduation, my father asked what I might have learned from the events that spring. I struggled to sum up how it felt to be caught up in the jaws of history: "We have to know when is the time to die." My application for conscientious objector status and the screaming of sirens from Harlem the night of Martin Luther King Jr.'s assassination were both on my mind that day.
Rev. Douglas W. Smith '68
Pomona, Calif.
My most vivid memory
I think I came out of the events more cynical both of methods of change and the ability of established structure to effectively respond. It was exhausting.
Later, when I had the opportunity to attend Columbia and NYU Law School, I chose NYU. My Columbia experience was too chaotic.
I learned that when you are a personal observer of a news-covered event, the news accounts will be woefully inadequate and erroneous. I am not talking about bias, just a lack of understanding and accurate reporting.
My most vivid memory is the line of police driving students toward the locked gates by Carman Hall. Fortunately for me, I was then thin enough to slip through the bars.
David A.H. Rapaport '69
Scarsdale, N.Y.
My notion of authority changed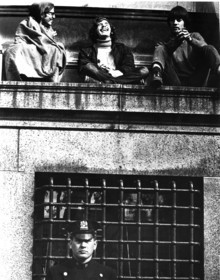 Student rebels perch on a Low Library window ledge as a police officer stands guard below. The police separated the protesting students from counter-protesters during the weeklong standoff. PHOTO: BONNIE FREERI came of age the night of "The Bust." A sheltered 20-year-old kid whose father was the police surgeon of Freeport, Long Island, I'd grown up respecting his friends on the force. They called him "Dr. Joe" and gave him a siren to use when rushing to the scene of an emergency. So when a Tactical Patrol Force officer clobbered me in the head with his nightstick just because I was standing around with everyone else when the order came to clear the campus, my entire notion of authority changed. I was outraged and incredulous that they beat up kids like me who had nothing to do with occupying buildings or obstructing Columbia's operations. After I left St. Luke's Emergency Room, the great professor Ronald Breslow rounded up as many exhausted, freaked-out kids as would fit in his car and drove us over the GW Bridge as dawn broke over the Hudson.
It so happened that a Spectator photographer caught the act on film. Later, in the Ferris Booth darkroom, we carefully zoomed in on the officer's badge — like in Blowup — and identified him. A complaint to the Civilian Complaint Review Board brought an apology from Mayor [John] Lindsay. I must admit some fondness for the small lump on the back of my head that remains to this day.
That evening taught a generation about power and authority, and it wasn't about trust. The assassinations, the disastrous Chicago convention, Nixon, Vietnam and the murders at Kent State two years later just confirmed that reality. The most amazing irony, though, is to look at who prevailed. What does the sorry state of our country say about what we learned — and of our leadership?
Dr. Peter G. Joseph '70
Castro Valley, Calif.
Columbia had its Vietcong
During Spring '68 I happened to be stationed at an American air base in South Vietnam called Tuy Hoa on the east coast between Cam Ranh Bay and Quin Nhan. The New York Air Guard ran the base and was operating a wing of F-100 aircraft. There also was a tenant unit on base, a small detachment of 10 C-130s, that handled the intra-country airlift missions. Prior to my arrival, the base had suffered severe losses of aircraft and equipment from infiltrating Vietcong sappers, who satchel-bombed several airplanes.
When Armed Forces Radio told of the riots at Columbia and the hooligans destroying and defacing school property, I couldn't help thinking Columbia had its Vietcong to contend with as well.
While security on base was handled by U.S. military, a contingent of South Korean troops took care of the surrounding hills overlooking the base. We were kept busy flying all sorts of missions, 16 hours a day, six days a week. The one image I can't forget was that during downtime or on alert we would congregate in a tin-roofed, homemade chow hall that overlooked the South China Sea. Many days we would watch as the battleship New Jersey lent its firepower to the South Korean and U.S. troops keeping the hills and area around Tuy Hoa free from Vietcong. We could see the flash of her 16-inch guns on the horizon; after a few seconds, the tin roof would shake and rattle as the giant shells streamed overhead toward the surrounding hills, impacting a few moments later with devastating effect.
Lessons learned: Never wait too long to take appropriate action, otherwise you suffer serious consequences. Incremental efforts, as we took in Vietnam, and as Columbia took against the hooligans, will probably always lead down the road to failure.
Retired USAF Col. Stanley G. Maratos '53, '60 Business
Staten Island, N.Y.
I became radicalized
As one of the students on South Field the night of the bust, I became radicalized by the experience of plainclothes cops descending on students whose jeers at the police loading building-occupying students into paddy wagons posed no threat to the orderly conveyance of the demonstrators. My pre-lapserian existence was rudely terminated.
The immediate impact was that I dropped long-held plans to go to law school. Though the academy was not a perfect solution, it was the best one available. I went to graduate school in English literature, Columbia's only Danforth Graduate Fellow that year. Soon, though, I learned that the country needed lawyers to solve environmental problems I'd learned about at the first Earth Day, April 1970, at Columbia. I became an environmental lawyer, suing polluters and enforcing environmental laws for years before entering private practice.
The longer-term impact is a great fascination with the history of Italian anarchist, syndicalist, socialist and anti-Fascist movements in this country. The executed Sacco and Vanzetti, the assassinated Carlo Tresca, others hounded back to Italy — they ultimately failed to change America, arguing endlessly among themselves, and succeeding mostly in closing the immigration doors for decades. Thus did my book-collecting habits go from the Dickens and Dr. Johnson of my graduate studies decades ago to its current focus on mostly Italian-language books by Tresca, Luigi Galleani and the other radicals who tried to move the masses through their writings. All of this is surely part of the legacy of my particular Columbia education.
James J. Periconi '70
Peekskill, N.Y.
Its violence was unnecessary
During the 1968 campus demonstrations (riots), I was on active duty in the Navy flying combat missions in Southeast Asia from the flight deck of the USS Bon Homme Richard (CVA-31).
According to my flight log book, from the latter part of April to early May 1968 (about 10 days), the ship's airwing pilots were enjoying a brief period of R&R in the Philippines before heading back to the "line" in the South China Sea to fly more combat missions. As I recall, I didn't hear of or care about what was going at Columbia until some time after the fact. But I eventually did see the news photos of the Columbia demonstrations and was disappointed and perhaps dismayed that Columbia was the locus of such violent anti-war activity. However, I did not dwell on it. We were all too busy with the business at hand, flying our missions every day, doing what we were trained to do. In retrospect, I understand the reason for the demonstration. However, its violence was unnecessary and I think only served to further polarize those who were actively involved in or who supported the war effort, and those who chose the less risky option of being an anti-war demonstrator or a draft dodger and then faded away. The warriors put themselves at risk to preserve the demonstrators' first amendment rights — a fact that didn't seem to matter to the protestors.
Having dropped bombs on North Vietnam and having spent a full career in the Navy does not make me a warmonger, contrary to what those '68 demonstrators might have thought and who made clear by their hostile reception when we returned stateside. In fact, I, like many career military officers who have experienced the horrors and often futility of war, am opposed to war. Although I do not like war, I still argue that it is sometimes a necessary evil to defend oneself against one's enemies and preserve those freedoms that we all enjoy. History bears this out. The United States, despite its faults, is still the greatest country in the world. The world view still is that America is a land of opportunity and a safe haven, evidenced by the many who continue to cross our borders every day, legally and illegally, seeking a better life.
Retired USN Capt. Richard B. Curtis '62
Fairfax, Va.
It affected everyone, everywhere
In summer 1968 I turned 40, fell out of work and was still single. Like everyone else, I was under a number of influences, both immediate and from afar. Martin Luther King Jr., 39, and Robert F. Kennedy, 42, were assassinated in the spring. They, of course, had a national agenda; I did not. My ambition was merely to work, get along in the world and pay my bills.
The My Lai Massacre occurred in 1968. In France, in spring 1968, students "sparked a nationwide strike affecting 10 million workers." "Political struggle, often violent, convulsed China in 1965–68." "Liberalization (spring 1968) in Czechoslovakia was crushed with massive force by troops of five Warsaw Pact countries." (All quotes from the World Almanac.) In the 1960s, I had applied for the scientist-astronaut program. (I had a private pilot's license). In late 1968, Apollo 8 orbited the moon. "A nonpolitical 'counterculture' developed, rejecting traditional bourgeois life goals and personal habits, and use of marijuana and hallucinogens spread." (World Almanac)
The Woodstock festival occurred in summer 1969.
So in addition to the events of Spring 1968 on campus, there were other stirrings all over the world in the same era. They seem to have affected everyone, everywhere.
Arthur L. Thomas '50
Greenwich, Conn.
I lost all respect
I already was a radical and a member of SDS before 1968, but the strike turned me from protesting to organizing. I knew that universities were just as corrupt as the rest of society in theory, but these events demonstrated that organically. I lost all respect for Columbia as an institution, and I have never seen any reason to change that view. The total distortions published in The New York Times also were important for me. I remember the story that said "1,100 students arrested with no violence," but when you read further you discovered that one of the Times' own reporters was beaten bloody.
There were many events that summed it up, but watching the gratuitous violence of the police from the roof of Ferris Booth Hall was a potent reminder of how this society resorts to violence rather than reason when it is challenged. Commencement, where the University cowered inside the Cathedral of St. John the Divine while we held a counter-Commencement on College Walk, also was a potent symbol.
I learned that we live in a class society where one class has almost absolute power and refuses to share it. I learned not to identify with an institution just because I was a student there. I have spent the rest of my life to date trying to undermine these corrupt institutions in any way I can, whether it be ending Portuguese colonialism, apartheid in South Africa and Israel, or the total opposition to democracy anywhere by the U.S. government.
Steve Goldfield '68
Oakland, Calif.
"YOU GET THE HELL OUT OF MY SCHOOL!"
From 1962–70, I was on the administrative faculty of the Journalism School — development, Alumni Affairs and placement officer — and in my spare time I taught basic newswriting (in those days, we wore many hats).
The J-School had received Columbia's first Ford Foundation Matching Grant, and Dean Edward Barrett used it to bring in Fred Friendly and get seriously into broadcast journalism. New electronic equipment had just arrived when the school invasions started. Ed was warned that we were next. He and I rushed to The World Room in time to see a group of students running across the bookstore roof from Furnald, trying to break in through the room's massive windows. We quickly bolted them.
Then we took the stairs two at a time (oh, that I could do that today!) down to the lobby to confront the "invaders" marching through the front door. Barrett (Princeton grad, former assistant secretary of state and founder of The Columbia Journalism Review) yelled at the top of his lungs, "YOU GET THE HELL OUT OF MY SCHOOL!" The students were so shocked that a dignified Columbia dean would confront them they simply left. Hard to believe today.
There are so many stories: the young policemen (I was crawling behind a hedge trying to get off campus safely and could hear their shocked reactions), one saying "And my mother wanted me to go to college"; the disgusting wreckage of Grayson Kirk's office; Alma Mater bathed in symbolic blood.
Among my lingering questions: What role did the junior faculty, anxious for well-deserved higher salaries, actually play in igniting this eruption?
And then there's the time Gloria Steinem and I lunched at the "Men's" Faculty Club. But that's a whole other story!
Eileen Walsh Grennan '56J
Chicago
Altruism, humanism, nonviolence
I watched Spring '68 from Hartley with my pacifist and proselytizing red-cross armband-wearing roommate. SDS leaders, and their commitment to Marx's social conception of the Hegelian dialectic and Machiavellian tactics, victimized and deceived the thoughtful and well-intentioned opponents of the ludicrous war. Some overzealous cops responded with irrational brutality. My nascent notions of altruism, humanism and nonviolence became an intractable and enduring philosophy, engendered by Spring '68's inimical and iniquitous display of enmity. I believe this philosophy has served me well.
Philip Bunnell '72
Corona, Calif.
The thinking of people ...
Anarchist Dwight MacDonald was among the speakers at a counter-Commencement ceremony held on campus. The official Commencement was moved to the Cathedral of St. John the Divine for security reasons. PHOTO: HUGH ROGERS PHOTOGRAPHYThe campus unrest impacted every Columbia alumnus and was not in any way limited to the people who were restless in 1968–71. At its conclusion, the Alumni Association attempted to bring alumni and undergraduates together and initiated a series of home visits. My home was one of the visited sites and I learned, very sharply, that similarity of background was no basis to expect similarity of points of view.
We had a few neighbors and six undergraduates to dinner. During the meal, one of the undergraduates, who was very good at arithmetic said, in substance, "You people must have been on campus when the atom bomb was dropped. What sort of demonstrations took place against the bomb?"
He, and perhaps his co-visitors, were astounded to learn that there were no such demonstrations, that we were all happy that our brothers, uncles and parents were going to come back from a terrible war that we had not started and we were overjoyed.
I wonder whether, if the disaster in Iraq ended by some cataclysmic event, today's undergraduates — I am mindful that there is no universal draft — would demonstrate against that event.
I have not made assumptions since then about the thinking of people I do not know.
Seth Rubenstein '48
Brooklyn, N.Y.
An enduring lesson
In spring '68, I was a second-year grad student in political theory and a longtime anti-Vietnam War activist. As a red-diaper baby, I had arrived at Columbia with no illusions of it as an ivory tower, insulated from the political and economic arrangements that allowed large institutions to accumulate power and wealth. So the issues of the proposed gym construction and the Institute for Defense Analyses were, for me, examples of the presence of the national security state on campus in the middle of an unpopular and illegal war, and the ability of the holders of large real estate assets to push poorer communities around; no surprises there.
Of the many images and memories I retain of those weeks, the most striking to me is that of strolling on College Walk some days after the bust and my companion pointing to an acquaintance of ours who had just passed us going the other way. I had not recognized him, because he had been beaten by police so badly that his facial features had been rearranged and distorted, such that he appeared to be literally a different person.
What did change for me resulted from witnessing how a combination of clumsy, clueless leadership by Columbia's executive team and the perfectly predictable violence of the NYPD's Tactical Patrol Force transformed an emerging but inchoate antiwar public into a militant community of rebels almost overnight. This is an enduring lesson for activists, especially in the daunting conditions of the present day.
David N. Stern '66
Brooklyn, N.Y.
"You have a duty of scholarship"
Faculty-student relationships changed in spring 1968 and the preceding semester. As a scholarship student, I had a job as an assistant in the graduate history department. I was sorting mail in the office one morning when the department chairman came in. He had a copy of Spectator, reporting on a pre-April campus demonstration. He also had a troubled expression on his face. He looked up and asked me, "What do students want?" While we had a good acquaintance, unexpected was it that he asked me the question. But I could tell he wanted to hear what I had to say. We talked for about 15 minutes. I was impressed that he would engage on the subject with an undergraduate and do so without condescension. The significance was something I carried with me in many post-Columbia settings, particularly as a lawyer interviewing witnesses.
Istvan Deak taught a 1968 senior seminar on East Central Europe. Given his background, Professor Deak was no stranger to upheavals. Whatever his sympathies, clear he made it that the seminar paper should be completed, even if we were not in class. Political views or involvement around the Sundial were ours, but "You have a duty of scholarship," he noted. Opinions varied on this, of course. He was right, in my view; the paper, the longest I had written, was completed in May. Some duties, whatever the context, you fulfill, another Spring '68 lesson I took with me.
Although working mainly on my seminar paper for Professor Deak, I had, in registering for my final semester, a remaining class to slot. Take anthropology, someone said, Margaret Mead is teaching. Three of us signed up. No walks to Hamilton — class was at the American Museum of Natural History, 79th and Central Park West. This meant riding the bus to and from, with class in a cavernous hall, Dr. Mead up front lecturing.
But the last class in the confines of our museum getaway was approaching. I remember a rainy night, early spring 1968, getting drenched between bus stop and museum. Only half the class filled seats, no Dr. Mead. Her teaching assistant addressed the group — "Dr. Mead does not feel that continuing the course would be appropriate given the concerns and disturbances on campus. I am going to hand out 3x5 index cards. Please write your name on a card and the grade you believe you deserve for class given the work you have completed and hand the card to me on your way out." Hmm … I had done the reading, actually was a bit ahead. I put a letter on the card and went back out in the rain. More immediate problems presented themselves soon after, such as sprinting down Broadway to stay in front of the TPF horse patrol and its club-wielding riders. Not until I later saw my transcript did anthropology come into remembrance. The index-card grade remains one of my academic memories of 1968.
Don Engleman '68
Southlake, Texas
It was a nightmare for me
In the spring of 1968, I was completing my third year working for the Columbia University Office of Public Information. The day the Tactical Patrol Force came onto campus, I was busy proofreading and mimeographing President Kirk and Vice President Truman's address to the press about the student situation. At about 5 o'clock, my supervisor asked me to put on a badge and be an observer for the University as to how the police handled the students. It was a nightmare for me hearing students scream and watching a couple of reporters get their heads bloodied as they tried to get between the students and the police. The press release stated their grief and hurt over having to bring the police on campus.
At about 11 o'clock that night, I took the press releases to Low Library where Kirk and Truman were to greet reporters. They didn't see me sitting there with the press releases when they saw each other in Low. They embraced. That was my first encounter with how politics does not necessarily tell the truth.
Philip Guinsburg '68
Brentwood, Tenn.
Nobody changed their minds
My story comes from the perspective of a high school senior having already been accepted at Columbia and needing financial aid to go. The takeover of the administration buildings put the aid package information in limbo and sent me scurrying to line up my fallback college, in case the package wasn't sufficient. At the same time, much of my family weighed in to oppose my going to Columbia, that hotbed of radical hippies. They believed the strike signaled the end of Columbia, at least of its greatness, and feared for my safety at such a dangerous place. Scenes of mounted police and fights between protesters and students did not help! Only my father was willing to let me go where I wanted to go, which was a big help.
I was at a boarding school in rural Virginia at the time. Hitching a ride, I went home to plead my case. Nobody changed their minds; my grandmother took to her sickbed and declared it would be the death of her. When the strike ended and I got the aid package info, I found I could swing the financing and realized that I didn't need their blessing. It was one of my first big steps into adulthood and a lesson in being willing to sacrifice to obtain something I want.
Bill Hudgins '72
Gallatin, Tenn.
An attempt to move the world
While the events at Columbia in spring 1968 were not of great historical moment in themselves, they did intensify our connections with the protest against the war in Vietnam, the Civil Rights movement, a pivotal Presidential election and the flavors of the late '60s. As we were entering adulthood, many of us entertained extraordinary hopes for a better future for the United States and for humanity in general, and we made serious attempts to act responsibly so as to have a positive impact upon University and national policies and upon public opinion. (In Fayerweather, we mopped floors, let professors and grad students get things from their offices and conducted meetings democratically.) Experiencing all this provided us, to some tiny degree, with more than a shred of insight into what it had been like for those who had lived through the truly major events we read about in history books. There was the rush of feelings, the uncertainty about the immediate future and the abundant discussions in which we searched for a bedrock of right and wrong. The historical imagination became visceral. None of what we dealt with was as momentous as the coronation of King David or the writing of the Declaration of Independence, but it was an attempt to move the world, and the minds of people, in the right direction.
Bob Kirsch '68
Ossining, N.Y.
I am proud of my participation
1968 was a horrible year for the country and not a good year for Columbia, either. But the strike was necessary and, I believe, contributed to the profound changes that occurred in this country and the world, including the eventual end of the Vietnam War. And the administration deserved it. Its behavior was atrocious, for all the well-known reasons.
My memories are vivid, including a dean who came through the window of Low Library in his robe, pointed at me and said, "You're out of school." Luckily, the strike went on long enough and was successful enough to result in academic amnesty. Either I benefited from that or the dean forgot about me, since I graduated on time in 1970.
Later that week, I was in Fayerweather Hall when the police crashed in and beat everyone indiscriminately. I was tossed outside without a scratch but volunteered to be arrested, which I was, along with 12 others who were thrown into the same police wagon to spend the night in the Tombs. Here there was no amnesty. We were duly prosecuted at the behest of an officer who wore a red button on his plainclothes lapel identifying himself as a member of the New York City Police "Red Squad." The University did nothing to discourage this prosecution, and the whole group of us became friends over the course of numerous court appearances. This experience permanently and negatively colored my view of the police, the courts and the press. (I later became a lawyer, and even got a security clearance from the Justice Department.)
A year later, I was duly convicted, after about a dozen court appearances, of the crime of criminal trespass, third degree. We all had to plead guilty or we would never be done with the courts, and we were all sentenced 15 days at Riker's Island or a $100 fine. Somehow, I came up with the money. While I was not a Marxist or even a member of SDS, I have had to recite this conviction repeatedly, every time I applied for a job, or acceptance into an academic program, or for professional licensing. In that way, and in explaining the bizarre events that led to this record, I have been forced to stay in touch with the experience. I am proud of my participation. They deserved it then, and they always will.
Since those days, my basic political views have changed little. Events have shown that the world has all the same problems, and some new ones. Such tactics will not work today, but it is a good feeling to have participated in a righteous and successful revolt, however briefly it triumphed.
Marc Arnold '70
Leonia, N.J.
Joyous conviction
Henry Coleman '46, who had been director of admissions and was serving as acting dean of the College, peers from his Hamilton Hall window. Reflecting on 1968 is both glorious and trying for me. I recognize the increased difficulty of realizing the wondrous aspirations I then shared with my Columbia classmates and SDS comrades for a domestic and international society that would eliminate poverty, assert equality, attain justice and promote a celebration of life, or for my anticipations of what the world of 2008 would look like. I am struck by how different, often antithetical, my projections were from our current reality.
I had anticipated our collaborating to author a prosperous and exhilarating future in a shrinking biosphere, one that requires increased intellectual and social flexibility. Contrastingly, the world has been altered dramatically by a very few exclusively to serve their narrow needs in an egregiously undemocratic regression to economic depravity for increasing numbers, shrinking social justice for all and eviscerated civil rights for everyone, as well as an open assault on our biosphere. As a professor, forensic examiner, psychologist, journal editor and network news commentator, I have tried to change that course. I have imparted on my children the burdens of leadership and the conviction to change the world. That is the glorious gift of 1968: a lifelong dedication to changing the world for the better!
I have been privileged to litigate or comment on some of the most high profile criminal matters of our era (Patty Hearst, O.J., Scott Peterson, Unabomber, Darren Roy Mack), and to prosecute and defend distinguished civil rights and other civil matters as well as to teach, research and remain politically active both in the movement for social justice and in electoral politics. But this anniversary has induced substantial cognitive dissonance for me: We are growing older, and have not adequately imparted to the successor generation a sense of excitement and conviction that they too can change the world for the better. We have not enhanced or even preserved the life of the mind, allowing television content and news to become Minow's vast wasteland, and excellent education to become rarer and increasingly beyond the reach of the many. We have become a more ignorant and less prosperous nation, and a more grieving world.
Yet, 1968 imparted on me, as other tumultuous times had for Jay and Hamilton, the joyous conviction that these are not, as Fred Friendly reminded us, "circumstances beyond our control." In a world on its head, find the courage to create a more equitable, fairer, more prosperous and more celebratory world for ourselves, our children and their children.
Edward J. Hyman '69
Berkeley, Calif.
I learned to question authority
When students started taking over buildings in the spring of my senior year, I was not among them. As not only a white boy from a conservative family in the Midwest but also the president of Nu Sigma Chi fraternity, I felt extremely uncomfortable with the protesters' tactics, even though I sympathized with some of their goals. After living through the tumult on campus for a few days, I went back home, sat out the strike for about a week and tried to ignore the whole thing.
As it turned out, however, the "whole thing" was impossible to ignore. I was still holed up in Indiana when the police riot cleared the buildings, but even at that distance, the media coverage, and especially the pictures of injured and bleeding students, finally did the job of "radicalizing" me. I returned to Columbia, became a delegate to the Strike Coordinating Committee, and participated in antiwar demonstrations for years to come.
The upheaval of 1968 shook me out of my acceptance of societal norms and expectations. I eventually went to the Law School, but I did not take a job in a big firm; instead, I became a civil rights lawyer, working for many years for the NAACP Legal Defense and Educational Fund. I eventually married and had a child, but I did not assume the stereotypical father's role; instead, I have been our daughter's stay-at-home parent while my wife has been the main breadwinner. And I have been a vocal opponent of America's war in Iraq from the beginning. In Spring 1968, I learned to question authority, to ally myself with the powerless and disenfranchised, and to stray — at least sometimes — from the conventional path. I have been putting those lessons into effect ever since.
Patrick O. Patterson '68, '72L
Fox Point, Wisc.