Cover Story
A Twice-Toad Tale
By James E. Shaw '71, '75L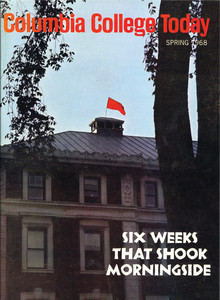 What do you get when an editor deals with a student occupation of the University and how it played out by authoring a 96-page cover story, Six Weeks That Shook Morningside? Not just the cover story, but the only story behind a cover photograph of a red flag flying atop Mathematics Hall, known as the most radical of the five campus buildings occupied in Spring '68?
You get the Spring 1968 issue (which actually appeared that fall) of Columbia College Today, written entirely by its editor, the late George Keller '51. That issue earned Keller the Atlantic Monthly's award as Education Writer of the Year.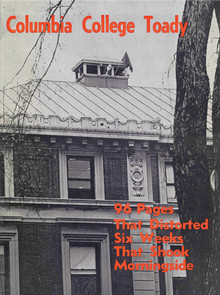 After Columbia College Today came out with a 96-page issue devoted to the student uprising, Jester published a parody. CCT COVER PHOTO: ALAN EPSTEINYou also get, in response, Columbia College Toady, the April 1969 issue of Jester, with its full-issue version, 96 Pages That Distorted Six Weeks That Shook Morningside, with Math's red flag now with a person beside it, waving: Santa Claus.
Jester Editor Tom Kramer '69 tells me it "was more a reaction to the reaction to [Keller's] issue than to the issue itself. None of us was terribly political." Kramer maintains an interest in cultural history and is today an autograph dealer.
Kramer assigned staff members to each take a chunk of Today and parody it by taking Keller's text and adding, or twisting. He then stitched them together and added bridging.
In some cases the parody was broad, such as of the only two Today pages not included in Keller's article, the editor's "Within the Family" column (a feature still written today) and the Columbia College Annual Fund's ad, "Remember the Soph-Frosh Rush?"
In many cases, the parody was subtle.
Where Today, in setting the campus scene of April 23 just before the occupations, noted "There was talk also of the new course in Afro-American history that was to begin next fall," Toady added "as soon as President Kirk received his commissioned report on 'Black History — Its Causes and Remedies.'"
Where Today noted that Mark Rudd '69 "told the crowd that President Kirk and the Trustees, 'who run this school completely … ,' Toady changed it to "Rudd's speech was a mixture of distortions and fabrications. 'Kirk and the trustees run this University,' Rudd alleged.
Where Today noted that during the bust, "Many in the crowd were screaming unbelievable obscenities," Toady added, "Most of the crowd, however, were screaming believable obscenities."
And on and on.
As tart as Toady is, it almost requires reading Today alongside it, because in ways Today was the more outrageous of them, and it is not always easy to guess whether something in Toady originated in Today.
Where Toady's Lincoln Perry '71 drew a two-page spread of instantly recognizable caricatures of David Truman, Henry Coleman '46, Andrew Cordier and, atop a crumbling Low Library, a porcine, pipe-smoking, profusely sweating Grayson Kirk, all as animals, the full impact is missed without comparing it with Today's similar spread, featuring demonstrators, including a primate directly staring at, and extending a long middle finger to, the reader.
Although you won't find it in the pop culture's recapitulation of Spring '68, at the time the media expressed a concern for the safety of a Rembrandt in Kirk's office. In Toady, the Rembrandt referred to in the photo is clearly a painting by Sam, the street artist familiar to Columbians of that era.
As a reader in 1968–69, I was engrossed in Today/Toady's thrusts and parries. A reading of Today today, however, also brings to the fore Keller's research, serious discussion of ideas and his obvious passion and anguish.
Today was, after all, a strong communication link with alumni, and it is remarkable to read in such a publication that "President Kirk's reluctance to act quickly and decisively, and his refusal to appear in front of any group personally, was serving to reinforce the charges of those critical students who contended that the President was inept, aloof, and incapable of swift, intelligent action based on key consultations." And that in clearing South Field of spectators of the bust, "Dozens of students were clubbed bloody" in a "beating" "assault."
Those comments even Toady did not try to improve upon.
James E. Shaw '71, '75L is an attorney representing those planning their estates and trusts, and also estates, trusts, fiduciaries and beneficiaries. He also is a writer and has been '71C v.p. and/or class correspondent continually since graduation.