Features
Three Moments with Robert Siegel '68
By John E Mulligan III '72
National Public Radio's Robert Siegel '68 began his broadcasting career at WKCR, where he covered the events of Spring '68 and recalls, "This is what we wanted to do. We wanted to be on the radio." Photo: © 2008 NPR, by Stephen VossAs Robert Siegel '68 roamed the Columbia campus one April evening in 1968, there was a sense in the air that the regular order of things had been suspended.
Protest groups were dispersing here and there from a day of demonstrations. In Morningside Park, Mark Rudd '69 had led a group of protestors to tear down a fence around a proposed gymnasium site. Other students were launching sit-ins as Siegel and his friend, Marty Nussbaum '67, '70L, passed various Columbia landmarks.
The place was in chaos, but nobody had a clue how the nascent uprising was going to turn out — least of all Siegel, a short, skinny senior with a head of hair not quite long enough to make him look hip.
Nobody knew that this run of relatively tame protests was about to give way to the occupation of University buildings, a bloody late-night police bust and widespread media coverage that would thrust Rudd and the Students for a Democratic Society into the national spotlight. But Siegel and Nussbaum, a first-year law student, were starting to see the unhinging of the campus from the vantage point of reporters for WKCR.
"How would we cover this?" Siegal recalls that they asked themselves. "What would we do if we were to say, 'Let's broadcast this'?"
---
It was in moments like this one 40 years ago that Siegel learned the craft that would one day make him co-host of All Things Considered, National Public Radio's popular evening program and one of the premier vehicles in all of broadcast news. Siegel was scrubbing away at the traces of his New York accent, mimicking the cadences of NBC's David Brinkley, and figuring out on the fly how to find the story amid the confusion unspooling before him.
As an undergraduate, Siegel already had a sense of vocation that would only deepen as he progressed to audiences of millions at NPR. "What's the thing I would most want to be doing in this chaotic situation?" he remembers asking himself during that campus upheaval. "It's to be on the radio!"
To colleagues, the Siegel that listeners find an urbane, sometimes droll companion on the evening commute is a consummate professional, a skilled writer, a master of the offhandedly pitch-perfect interview.
To some of his contemporaries, Siegel also is a broadcaster born to his medium. "Physically, it's probably true that Bob was an unprepossessing kid," says Bob Papper '69, '70J, a WKCR comrade-in-arms and former radio newsman who now is a professor of telecommunications at Hofstra. "But audibly, Bob always had a commanding presence. He always had that absolutely classic radio voice — deep, resonant, a little gravelly — that just demands that you stop and listen."
Old WKCR hands such as Papper and Nussbaum testify, too, that Siegel's personality and turn of mind were well-suited to radio's most distinctive quality — its intimacy. "He had that calm in the midst of chaos, that feeling of being maybe just a bit of a loner," says Papper, who succeeded Siegel as WKCR president. "He had the ability to paint word pictures in a listener's mind in an immediate and compelling way," says Nussbaum, a Manhattan lawyer who specializes in mergers and acquisitions.
Nowadays, Siegel is rounder than he was in 1968, and bald on top with a trim white beard. But he is every bit the man you might expect to find behind the baritone voice of All Things Considered. He speaks with understated precision and what sounds like a hint of amusement at the passing cavalcade of human adventure and folly. "That's the twinkle," says Papper. "You could always 'hear' Bob smiling."
In several recent conversations at NPR headquarters in Washington, D.C., Siegel settled into a theme: that he continually finds radio news a worthy pursuit, and occasionally an indispensable one. He zeroed in on three occasions that, for a less industrious and fortunate reporter, might qualify as once-in-a-career moments.
April 1968
Students strike and occupy University buildings
Siegel grew up in New York City, where his father, Joseph, was a commercial education teacher in the public schools. His mother, Edith, was a secretary at Stuyvesant H.S., which Siegel attended.
Siegel came to WKCR as a commuter who returned nightly to a bedroom window that overlooked 14th Street from the middle-class enclave of Stuyvesant Town. He lived at home until his junior year, when he took an off-campus apartment.
At the radio station, Siegel began a rich life's work at least partly as entertainment. WKCR-AM, which was piped through the wiring to the Columbia dorms, "was there for us to play with mostly," Siegel says. (Yes, the co-host of All Things Considered has some Golden Oldies gigs in his past.) But WKCR-FM "was a real New York City radio station where we did things that professional broadcasters did."
In Spring '68, they did things that professional broadcasters — and print reporters, for that matter — could not do. They chronicled the campus upheaval, a major national news story, from the inside, often live and without a script.
As Siegel and Nussbaum walked the campus that April evening, they rummaged for models of how to cover an unruly, breaking news event. They thought of the reporters staked out at the Dallas police station and the hospital after President Kennedy's assassination in 1963, the roving floor correspondents at the national political conventions in 1964.
"And as we talked about it," Siegel recalls of the peripatetic planning session, "we said, 'Well, let's go do it.'" So cover the protests they did. And they covered them in numbers. "We must have had 150 kids" with some connection to WKCR — as engineers, business managers, DJs, producers, sportscasters and newsmen — who were willing to put in the countless hours it took to man broadcast posts around campus and air the news of the strike more or less continually, says Papper.
When it became apparent that the New York City police were about to intervene, the University asked the students to suspend the FM broadcasts that reached the largest audience. Siegel recalls thinking, "This is what it's like when you're broadcasting under some controlling political authority. People come in and say, 'Stop broadcasting.'" He was struck by the idea that "what we could be doing on the air was so potentially powerful or incendiary." Protest calls flooded into the University, and the radio station soon went back on the air.
"The administration suddenly took a bad situation and made it much worse," says Nussbaum, who had preceded Siegel as WKCR president and stayed close to the station. "Everyone was listening to us, so when we were shut down, everyone came pouring out of the dorms to see for themselves what was happening."
One moment from the strike coverage that stands out in Siegel's memory was a panel discussion among adversaries in the strike. It aired live from St. Paul's Chapel, where WKCR had a high-quality line for broadcasting organ recitals. University Vice President David Truman made the short trip from his office in Low Library to St. Paul's through the underground passages that the police had used days earlier to oust the students who had occupied administrative offices in Low.
Siegel remembers thinking, "Everything is in a different place from where it was a week ago. Truman, a man who was greatly respected and popular at the University a week ago, was reduced to slinking through the tunnels." In a matter of days, "the gap between sort of smart-ass student and esteemed, serious, highly regarded professor was gone."
As for the radio discussion, "I can't remember a damn thing," Siegel admits. But he vividly remembers how it felt to wield the microphone. "Just as there had been people itching to protest for a couple of years, or people who had been dying to yell at an SDS member, this is what we wanted to do. We wanted to be on the radio."
A WKCR connection helped Siegel to land his first professional broadcasting job, at WGLI in Babylon, N.Y. Jay Mitchell '68, who already worked there, brought him to Long Island to work for him at the station. "I did morning newscasts and a show that was part phone-ins, part Top Forty, all under the pseudonym Bob Charles," says Siegel.
Next came a year at the Graduate School of Journalism, although he never finished his degree, and several years as a reporter, host and news director at nearby WRVR — "the late radio station of the Riverside Church," as Siegel calls it.
Siegel joined NPR in 1976, only six years after it was created. He had hoped to catch on as the New York Bureau reporter but didn't get hired. Instead, NPR offered him a newscaster's job in Washington, D.C., so Siegel moved there with his wife, Jane '70 GS, who is today an international trade analyst at the Department of Commerce.
The staff of NPR — a private, not-for-profit network heavily reliant on listener contributions — was very small and very young. "Things moved so fast here that after six months I was promoted to editor" of the news reporting staff, Siegel says.
One of the principal challenges of NPR's early years of rapid expansion "was filling the show every day," Siegel notes, referring to All Things Considered, the network's hallmark program at the time. "We relied heavily on the wits of Susan Stamberg," he says of the broadcast veteran of NPR's earliest days, now a special correspondent for Morning Edition, the news program born in 1979.
"Importantly, we all had come to a place we had not grown up listening to," says Siegel, who had so frankly borrowed elements of the broadcaster's craft from the David Brinkleys and Walter Cronkites and Edward R. Murrows of his upbringing. Public radio "was not the CBS of its day, so we felt free to make it up as we went along," he recalls.
May 1981
Solidarity defies Polish communist government
Also created in 1979 was NPR's London Bureau, with Siegel at the helm for what was to become a four-year stint. He went on assignment to Poland in spring 1981 and again in the fall, when Solidarity's challenge to the communist government was developing into one of the Cold War's most compelling stories.
NPR's crew went first to Warsaw to cover a university strike in progress — "a total flashback to Columbia '68," Siegel says. "The tremendous mood of suspension of order, suspension of all the rules of who was in charge and who had to listen to whom — that was palpably familiar."
Adding to the aura of déjà vu was the recollection that the SDS leaders at Columbia in 1968 had felt a kinship to student insurgents in Paris, Prague, Mexico City and Warsaw, where one of the first mass protests had broken out.
Now Siegel noted that some of Poland's dissident leaders in 1981 had cut their teeth as student protestors 13 years before at the University of Warsaw. "The things that had petered out in 1968 and '69 suddenly popped up again, only with much greater consequence," Siegel says. In Poland in 1981, the upheaval "wasn't just about a university's future or a police bust. It was about the country's future and possibly a war."
In the months since thousands of Solidarity's trade unionists had seized control of a shipyard in Gdansk, the movement's defiance of the Polish government had spread across the nation, sowing industrial strikes, anti-communist publications and popular protests of a duration and scale never seen in the Warsaw Pact nations.
The suspense crackled as the stakes rose. Ominous rumblings about Solidarity were heard from Moscow. Nobody knew in the spring, of course, where the Solidarity movement was headed. Martial law had not yet been declared and the unthinkable — the peaceful upending of the Polish government and the dissolution of the Soviet bloc — was still years in the future.
"The power of that moment was that no one had any idea where this was headed," Siegel says. As one dissident leader told Siegel's producer: "Tomorrow I could be in the cabinet; I could be in prison. I don't know."
Siegel traveled to Nowa Huta, or New Steel, the communist model city built near Krakow in the postwar years. "It was the most corrupt city I have ever been in," Siegel says. His hotel was in "the single most corrupt block, ringed with money changers, black marketeers and prostitutes" — a crew assumed to be heavily infiltrated by the secret police.
There was a famous Catholic church in Nowa Huta, a rare concession to a restive people that a man named Karol Wojtyla, the archbishop of Krakow, had wrung from the government. "This was the great scene of his doing battle with the Communist Party," Siegel says. Nowa Huta was where the future Pope John Paul II had won a skirmish that prefigured the outcome of the Cold War.
What stands out in Siegel's memory is a moment with Adam Michnik, a veteran of 1968 student protests in Warsaw. Now he was one of Solidarity's leading intellectuals, trying to organize a group of steel workers in Nowa Huta, airing their grievances about wages, working conditions and the pollution that was making their children sick.
"It was the scene that my SDS friends from college would have dreamed of," Siegel says, "being part of a national revolution and actually communicating with workers — except, of course, the content of the message is totally different." These radicals were agitating for a free-market democracy and against a communist government that, for all they knew, might crush their revolt tomorrow.
The questions one tried to answer were basic, big questions about the future of that country," says Siegel.
Siegel aired a number of daily reports on the unfolding situation in Poland during two-week visits in March 1981 and again in November — the latter just before General Wojciech Jaruzelski's government cracked down on Solidarity and imposed martial law.
The mission was to put these faraway events, and their potential for historic ramifications, into perspective for an American audience. Siegel looks back on the moment as thrilling and, more than that, as having carried a sense of "performing the most important service imaginable."
Siegel went on to produce award-winning coverage of the peace movements in East and West Germany and to tackle other jobs at NPR. He assisted, for example, in the launch of another newsmagazine-style program, Weekend Edition, before joining All Things Considered in 1987.
Along the way, Siegel and his wife raised a pair of daughters. Erica '98 is a Columbia doctoral candidate in Slavic literature and teaches Lit Hum. Younger daughter Leah, an Emerson College graduate, is a rock musician.
Siegel has managed to nurture various other passions in the bargain. He's a moviegoer, a reader and a lifelong New York Yankees fan who has embraced the National League's new transplant in the capital city, the Washington Nationals. He's a golfer, too, but he is careful to stipulate that he is not the real McCoy. Robert Paul Siegel '68 was captain of the Columbia golf team.
The variety and fervency of Siegel's interests is among 4the traits that associates love to cite when trying to describe him. "Robert is probably the person in the building who is best qualified to do an interview on the Middle East. Robert is probably the person in the building who is most qualified to an interview on opera," says Susan Feeney, a senior editor at All Things Considered. Small wonder at NPR, then, when Siegel improvised a casually brilliant interview on a topic he was probably the person in building least qualified to address — rap music. It was a Father's Day assignment, the brainchild of an enthusiastic young producer, to interview rapper Common because his work owed much to the influence of his father, a poet.
Siegel had never heard of Common, says Feeney, but he gamely got on the horn for the interview and, while waiting for Common to come to the telephone, found himself chatting with his father. Common, as it happened, was not around and never got on the phone. But Siegel continued his conversation with Common's father and filed "the loveliest Father's Day interview you can imagine," Feeney recalls.
Siegel has shown equal zest to the task of producing an early segment of "In Character," a new feature on All Things Considered. After he selected one of America's ageless fictional idols — The Lone Ranger — as his kickoff contribution to the series, the hallways near Siegel's office frequently echoed with the telltale strains of "The William Tell Overture," theme song of the long-ago radio and TV shows.
"Robert has range," says Feeney.
September 2001
Terrorists attack the World Trade Center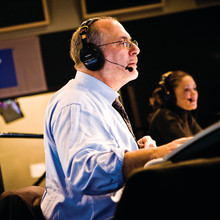 Siegel, with All Things Considered co-host Michelle Norris in the background, brought a personal touch to his network's coverge of the terrorist attack on the World Trade Center. Photo: © 2008 NPR, by Stephen VossWhen Siegel landed in the third of what he considers the clock-stopping moments of his radio life, he had long since settled into his role as the approachable-sounding co-host of All Things Considered.
As the newsgathering gods would have it, Siegel was on assignment in New York when two airplanes crashed into the World Trade Center on a brilliant morning in September 2001. He jumped into the breaking news coverage and stayed with it all week.
Siegel was on Chambers Street, at the northern edge of Ground Zero, when he found a story hidden in plain view on September 12. The dust-caked streets were strewn with papers, the daily by-product of a global financial center. "I thought I should look at the paper," Siegel recalls. What he saw were the artifacts of lives that touched this place: the stray page of an obscure legal deposition from the files of a law firm quartered in the World Trade Center; the resume of a sommelier seeking work at Windows on the World, the famous top-floor restaurant, now atomized with the rest of the North Tower.
This stuff became the raw material of a brief and moving radio report that day. Hours later, the pursuit of the story took Siegel to St. Vincent's Hospital in search of people who might have survived the attack.
"Suddenly I realized I was on West 11th Street," the scene more than three decades earlier of a fatal misadventure involving a band of radicals with links to the Columbia strike, he says. Siegel was just down the street from a townhouse where members of the Weathermen — as they styled themselves, after a line from a Bob Dylan song — had been assembling explosives for some revolutionary purpose. When they accidentally blew themselves up, Ted Gold '68 was killed.
"It brought me back to earth for a moment," Siegel recalls. "No one from Columbia did anything remotely similar to flying a plane into an office building," he allows. But there was still a jolt in the recollection that driven young people, right here in America, in Siegel's own experience, had once followed their vision of justice to bombings, bank robberies, even killings.
"People have a peculiar political experience, they have taste of a revolutionary experience where all the world goes their way," he says of the 1960s radicals, "and they could get themselves into all kinds of terrible ideas."
Through those days that Siegel patrolled Ground Zero, the old question loomed out of the chaos: "What do I do now? The firefighters did what they do, to their great credit and peril. What I do is I go on the radio and get people in the know to talk about this, and describe what I can and try to present a clear picture of what is going on," recalls Siegel.
"And at that moment I felt very glad that I was in New York, and that I was doing something that was useful."
John E. Mulligan III '72 is Washington bureau chief of the Providence Journal.