Within the Family
Memories, and Lessons, from Spring '68
All hell was breaking loose. That's the way I remember it. I was on campus, on the walk in front of Ferris Booth Hall, late on the night of April 30, 1968. There was a feeling that something was about to happen to break the stalemate that had existed since students occupied five campus buildings a week earlier, and I wanted to see it.
The demonstrations had torn apart the campus, pitting student against student, faculty member against faculty member. As a freshman on the Spectator staff, I knew some of the SDS demonstrators and many of their followers. As a sports reporter, I knew some members of the Majority Coalition, the most prominent of the student groups that opposed the demonstrations. Knowing people on both sides and hearing their arguments so passionately delivered made it all very confusing, reminding me of the Stephen Stills lyric, "There's something happening here, what it is ain't exactly clear."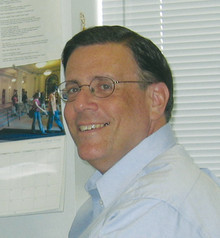 As an 18-year-old from a relatively sheltered background, the previous week had been bewildering. Students had marched into buildings and chased out faculty members and administrators, taking precipitous action to protest — what? A proposed gym that would be built in Morningside Park, because it used park land and was designed with separate entrances for the community (below, from Morningside Avenue) and Columbians (above, from Morningside Drive), interpreted by some as racist? The United States' escalating involvement in the war in Vietnam and Columbia's participation in a government think tank called the Institute for Defense Analyses? Or was the radical action of taking over buildings and throwing one of the world's leading universities into turmoil merely a tactic designed to provoke a stubborn administration to approve a forceful response that would polarize the students who were the true majority, those in the middle?
Forty years later, I still am often confused. I opposed the war in Vietnam, just as I oppose the war in Iraq, yet I believe there are some wars worth fighting (just don't ask me to name them). I don't think government sponsorship should automatically make a project off-limits for university involvement, but I'd like Columbia to be selective in what it takes on and whom it partners with. I did not serve in the military, yet I believe there's a place on campus for ROTC — Columbia's unit was abolished in 1969, and today's students who wish to participate must take their training at other schools.
As for the gym, I still feel that perception overtook reality here. Columbia proposed taking a rocky outcropping in a barren, underused section of the park and replacing it with a new gymnasium, with state-of-the-art athletic facilities and equipment available to University and community members. Yes, there would have been separate entrances, and yes, not all of the facility would have been available to community members all of the time. But overall, wouldn't that have been better than what's there now — which is nothing?
My point is that the issues behind the demonstrations were complex issues that would be wonderful topics for classroom debate. Instead, such debate was cut off on the night of April 30 when the University administration gave the OK to NYC's Tactical Patrol Force to clear the demonstrators from the occupied buildings.
The walkway in front of Ferris Booth was hundreds of yards away from any occupied building, but suddenly, dozens of helmeted riot police came charging from Broadway and College Walk, swinging their clubs at anyone in their path. I raced toward Butler and made a right turn, hoping to reach my dorm, Carman. Police were closing in, I could hear others screaming as they were hit and I didn't think I would make it. I saw that an emergency exit from Ferris Booth Hall was being held open by some students, so I raced up a couple of steps and dove through the doorway just before the door was slammed shut. As I lay on the ground, my heart pounding, I heard the sound of a billy club slamming against the door and a cop screaming, "Stay in there, you punks!"
I made my way up to the Spec office on the third floor, and as others filtered in, the nature of "the bust" became clear. I'm no chemist, but I know that oil and water don't mix, and neither do idealistic students and pragmatic police. Hundreds of students, faculty and others on campus were beaten and many were taken to St. Luke's for treatment. When I went back outside and made my way to Carman, it was shocking to see the bloodied faces and the debris that marred the campus that had become my home.
What did I learn from Spring '68? Blind trust is just that — blind. A healthy dose of skepticism is a good way to approach authority. Consider people's motives, and then consider them again. Keep in mind that their words may not fully belie their intentions. Be wary of leaders — that goes for Mark Rudd '69 as well as Grayson Kirk. Be extremely wary of media coverage of news events — that goes for Spectator as well as The New York Times, WKCR as well as NBC (although WKCR in particular distinguished itself with its reporting during Spring '68, and Spec, though clearly tilting to the left, did far better than the NYC print media). Think for yourself, do your own research, don't take anything you read as gospel (not even if you read it in CCT) and never, ever be afraid to question.
For other viewpoints, please see the alumni remembrances of Spring '68.
Also, the Spring '68 issue of CCT, written and edited by the late George Keller '51, is available at the CCT homepage.