Alumni Corner
Doctor Comes To Rescue, Finds Miracle
By Dr. Raymond Basri '77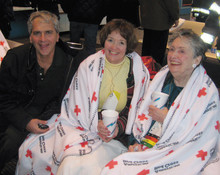 Dr. Raymond Basri '77 with his patients and friends, Diane Higgins and Lucille Parker, shortly after the women were rescued from a commercial airliner that made an emergency landing in the Hudson River on January 15. Thomas Jefferson once said, "I'm a great believer in luck, and I find the harder I work the more I have of it."
I believe in luck and opportunity. I work at my office most days practicing internal medicine and cardiology. Coincidence brought me into the fire service 21 years ago. It stuck with me, and I with it. I work about 50 miles northwest of Manhattan in Orange County, N.Y. I am a deputy county fire coordinator and do medical exams for the FAA, so I spend a lot of time with firefighters and pilots. They have a lot in common. They are bright, well-trained and experienced in handling difficult situations, and spend endless hours going through simulations of near-death scenarios. Just my kind of people.
On January 15, I began my morning by running a couple of stress tests and then settled into the office seeing patients. That afternoon, I drove to Manhattan to pick up some medical equipment on the East Side. When I got back in my car, I turned on the radio and caught the first mention of a commercial airliner down in the Hudson River, just one-half mile away.
I guess every firefighter would say, "Wow, I'm on it." I said words to that effect and called in to Orange County fire control. I turned on my red lights and drove west to the New York Water Ferry terminal at 38th Street. As I drove, I had thoughts of 9–11. I wondered what the rescue would entail. I considered possible injuries during landing such as blunt trauma, deceleration injuries, near drowning and hypothermia. The temperature was in the 20s; the water temperature was 42 degrees. That would give those in the water only a few minutes to be pulled out.
I parked at the West Side Highway and made my way past three security checkpoints into the terminal. When I got inside, I noticed it was quiet. No shouting, screaming or panic.
I found the EMS lieutenant in charge and checked in, offering my help. He said all the passengers in the area had been triaged and tagged green with the exception of one with orthopedic injuries, tagged yellow. EMS transported this passenger within a few minutes. The thought started slowly that this was a miracle. Then I considered that there may be others still not on shore. I asked about that and was told it looked like everyone made it out OK. I had a major sigh of relief.
I looked around the room and saw most of the passengers sitting quietly by themselves, some in their own clothes and some wrapped in sheets or blankets. Coffee was being distributed, and their hands were shaking. Most looked straight ahead, absorbed in thought. A few groups of two or three passengers spoke softly about the landing. One told me that touching down in the Hudson was as gentle as any runway landing. I didn't see many cell phones in use. When I asked why, everyone said they already had made the important calls.
Several head counts were done. There were many detectives, some FBI members and some emergency management staff interviewing passengers. The flight crew stood off to the side. They were smiling and confident. They said it was the only successful water landing of a commercial airliner, and they had done it. The captain, Chesley B. Sullenberger III, was standing furthest away from the passengers, quietly accepting congratulations. His uniform was as impeccably pressed as if he was boarding his flight. He was soft spoken and gracious.
Everyone had been in the water up to at least their shins. Some passengers were soaked and now wore only blankets. One young man was in his best suit, tie set just right. I went over and said to him that he looked like he was going to an interview. He laughed. His name is Richard Jamison, and he had finished his internship interview early so he could take an earlier flight home. We spoke for a while, and he seemed to relax. Would his life change after this? He said he would let me know.
While I was with the passenger, I heard, "Dr. Basri, is that you?" from behind me. I turned around, and it was Diane Higgins and her mother, Lucille Parker. I doubt any of us could believe a friend and patient could meet their doctor like this. Fortunately, they were safe and sound. Diane and her husband, John, live in Goshen, N.Y., as I do, and John is a former fire commissioner as well. None of us could get over the little hometown reunion. Diane was worried that her elderly mother may have been injured, so I gave her a thorough exam. Lucille was fine but a bit cold, so I got her shoes and socks off and wrapped her feet in a blanket. We will be telling this story at the firehouse for many years to come. We thought no one back home would believe the coincidence, so we took photos. Sometimes truth is stranger than fiction. Just good luck all the way around.
Dr. Raymond Basri '77 is a volunteer firefighter in Orange County, N.Y. He has practiced medicine for 21 years and recently won the Laureate Award, the most prestigious award given to a New York physician by the American College of Physicians.