Alumni Profiles
Bruce Paulsen '80 Tangles with Somali Pirates
Bruce Paulsen '80, an avid sailor, has survived most of the dangers that a nautical life can throw at you. A former captain of Columbia's sailing team, he has been through hurricane-force winds and 50-foot waves. He has even been rescued from a sinking wooden schooner. Until last November, though, there was one threat he still hadn't experienced: pirates.
That month, half a world away from Paulsen's New York law office, five men — dressed in shorts and t-shirts, and firing AK-47s and rocket-propelled grenades — hijacked the MV Biscaglia, a U.S.-owned vessel afloat in the Gulf of Aden. James Christodoulou, CEO of Industrial Shipping Enterprises Corp., the ship's owner, was awakened just after midnight by a phone call from an employee, with bad news: "The Biscaglia has been unlawfully boarded … " He quickly appealed to his outside general counsel, Larry Rutkowski from Seward and Kissel. Paulsen, a Seward litigation partner with a background in maritime law, was called in to help with the process of freeing the vessel and its 28-man crew.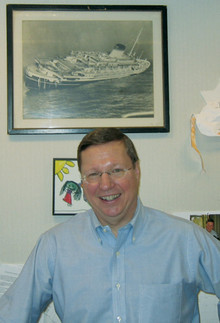 Bruce Paulsen '80, a former captain of the Columbia sailing team, recently was involved in legal negotiations with Somali pirates. PHOTO: ROSE KERNOCHAN '82 BARNARDThat's when the marathon started. As Crain's New York Business reports, " … from Thanksgiving until mid-January, crackly cell-phone conference calls took place on an almost daily basis." A piracy expert from a crisis management firm was brought in. In December, Paulsen found himself on a cell phone talking about the crew running out of fresh water, while trying to buy a Christmas tree with his child. The case took over Rutkowski's and Paulsen's lives. "It's not like the pirates took weekends or holidays off," Rutkowski told Crain's.
There aren't many growth businesses in these recession times, but piracy is one of them. In the Gulf of Aden alone, 32 vessels were hijacked last year, compared to just one in 2007, according to a Wall Street Journal report. Like any flourishing enterprise, Somali piracy has developed a kind of basic business procedure. The ship, once captured, is anchored off the coast of Somalia (in this case, near the pirate town of Eyl). The crew members are held prisoner but generally not harmed; the negotiation process usually takes 45–60 days.
In the case of the Biscaglia, a ransom was agreed upon during nearly two months of calls with the pirates' negotiators, two men named "Hussein" and "Abbas." A written agreement was faxed to the ship for review, then faxed back with a signature. "One of the more interesting things I've done in my career as a lawyer was sit in my living room reviewing a contract for the delivery of a ransom," Paulsen said in an AmLaw Daily interview. "It was actually a very straightforward contract, but it was the subject matter that was just jaw-dropping."
Christodoulou, who has known Paulsen for years, remarks: "I knew he would bring a high level of professionalism to the crisis." Christodoulou was confident, he says, that Paulsen "would devote the energy and focus necessary to help us achieve the primary objective: the safe and timely release of the crew."
While Columbia didn't exactly prepare Paulsen for encounters with pirates, it did pave the way for his legal career. As a sun-bleached–haired kid from Douglaston, Queens, he had grown up on the New York waterfront, racing boats off the local dock on Tuesday nights. He became good at it, and along with some of his sailing friends, he was recruited by Tufts, then one of the country's top college sailing teams. But faced with the choice between pursuing high-level sailing and attending what he felt was "a superior school," he chose Columbia. It's a choice he doesn't regret, thanks to the Core ("very good grounding for being a lawyer") and the many friendships he made. In fact, 30 years after graduation, the former history major still lives within walking distance of campus, in an apartment above the Hungarian Pastry Shop, with his wife, Barbara, an information specialist at ABC News, and his 7-year-old daughter, Anna.
After a brief post-grad stint as a "sailing bum," Paulsen headed to Tulane Law School with the intention of becoming a maritime lawyer. (His late father, Gordon Paulsen, was president of the Maritime Law Association from 1982–84.) Instead, after law school, Paulsen was drawn to the complexities of corporate litigation. He won a recent landmark victory in the New York Court of Appeals in the terrorism insurance arena, on behalf of a REIT that owns a midtown office tower (Tag 380 LLC v. Commet 380, Inc.); he also won the billion-dollar "X-Clause" litigation in the Adelphia bankruptcy case. Not even that high-wire lawsuit, though, was as dramatic as the Biscaglia negotiation. There were "lives at stake," Paulsen says intently, over coffee at the Hun­garian Pastry Shop. "You had to get this right." Even for someone who's sailed through gales, negotiating with foreign pirates was "a new level of pressure," he says.
Rose Kernochan '82 Barnard