Alumni Profiles
Eugenio Cano '95 Commits to International Development
By Nathalie Alonso '08
For Eugenio Cano '95, the experience of being uprooted from his native Nicaragua translated into a dream of working at the United Nations and a career in international development.
Cano, who recently served as minister counselor for the Permanent Mission of Nic­ar­agua to the United Nations, was 8 when his family fled Nicaragua after the 1979 rev­olution and settled in New Orleans. Cano's father had been a diplomat for the Nicaraguan government, making his family a target for political persecution.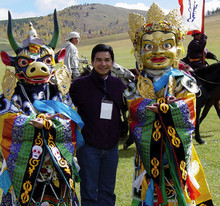 In 2003, Eugenio Cano '95 attended a reenactment of the Naadam Festival in Mongolia while serving as a member of the Nicaraguan delegation to the Fifth International Conference of New or Restored Democracies. PHOTO: Bayasakh Batbayasakh"My personal history is at the core of my lifelong interest in public service," says Cano. "I prepared myself to work in areas of international economic development with the dream of offering others in developing nations more opportunities to improve their living standards."
During his time at the United Nations (2002–07), Cano negotiated resolutions aimed at combating corrupt practices for the Group of 77, a coalition of developing countries of which Nicaragua is a member, and the U.N. General Assembly. As a member of the Nicaraguan delegation, he attended international conferences that took him as far as Qatar, South Africa, Malaysia and Mongolia.
Cano believes the United Nations is a valuable organization, despite its shortcomings.
"It's an important instrument for smaller countries that have limited arenas where they can voice their concerns," he explains. "An organization that consists of 192 countries is bound to have many limitations. It's a work in progress."
Cano remained faithful to his dream of working for the United Nations throughout his years in the College. He arrived in Morningside Heights as a second-year transfer student from the University of Massachusetts.
"When I was in high school, I never really thought that eventually I would work at the United Nations. It was just one of those dreams that you have," he says. "When I came [to Columbia], a whole world opened up to me. It was very transformational, the education here."
While a student, Cano helped revive and was editor-in-chief of Encuentros, a student-run bilingual literary magazine that has since gone out of print. He majored in political science and economics and fondly remembers political science professor Robert Shapiro, who was his adviser in the major.
"He was very instrumental in me seeking the area of public policy," recalls Cano, who subsequently attended the University of Michigan as a Woodrow Wilson Fellow and graduated in 1997 with a master's in public policy.
At Michigan, Cano met his wife, Jeannine Acevedo '05L. In 1996, they moved to Taiwan to study Mandarin Chinese. From 1998–2002, Cano was employed at the Nicaraguan embassy in Taiwan, where he organized investment and trade promotion activities for Taiwanese investors to Nicaragua. According to Cano, his endeavors directly resulted in the creation of approximately 30,000 new jobs in Nicaragua.
"I was one of the few Nicar­aguan diplomats at the time who spoke Mandarin Chinese. I was able to open up doors with a lot of investors and instill confidence in others because of those language abilities," says Cano.
In 2002, Cano was offered the job at the Nicaraguan Mission to the United Nations, which brought him back to New York — and to the College. He was v.p. of the Latino Alumni Association of Columbia University (LAACU) from 2002–05 and president from 2006–07. He is currently on the Board of Directors of the Columbia College Alumni Association.
Adlar García '95, who started LAACU, was good friends with Cano throughout their four years in the College. He says of Cano's time as LAACU president, "We didn't want the administration to think we were an organization that had only one event a year and was in the shadows. Eugenio had conversations with the directors and with the deans to maintain LAACU's level as a professional organization."
"When I was in Taiwan, I was always looking for an alumni [connection]. When I came [back to New York], I wanted to work with students and young alumni," Cano says.
Cano is now director of consulting at Globalhood, a nonprofit that provides consultancy services for international development projects.
"You need something between the idea and the interpretation on the ground. Globalhood tries to provide that something through advising," he says.
Cano lives on the Upper West Side with Acevedo and their sons, Diego (5) and Marcos (2).
"Family is a priority for me. I no longer travel that much. My vacations are more centered toward going to see family," says Cano, who considers helping his parents evacuate from New Orleans to Arkansas a few days before Hurricane Katrina hit the gulf coast one of his proudest life experiences.
"It showed me what really counts. My family had left in very difficult circumstances from Central America. I was able to help them to [flee] once again, but better equipped and under different circumstances. It put many things into perspective," he says.
García, who now lives in Miami, keeps in touch with Cano via e-mail. "Eugenio was very studious and has a great sense of humor," García says. "He has a genuinely positive attitude about life in general."
Nathalie Alonso '08, from Queens, majored in American studies. She is an editorial producer of Spanish sites for MLB.com.