Alumni Profiles
Beau Willimon '99 Brings Politics Alive on Stage
By Amanda Erickson '08
Beau Willimon '99, '03 Arts found his inspiration and his calling during his senior year at the College.
A friend suggested that they volunteer for Charles Schumer's campaign for a Senate seat from New York against longtime incumbent Alfonse D'Amato. "We dove into it," Willimon says of the months they spent polling and putting up fliers. "We were working 20 hours a day, seven days a week."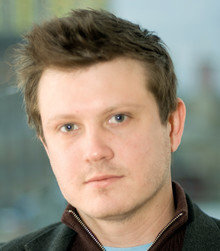 Beau Willimon '99 planned to be an artist but has found success as a playwright. Willimon's stint as a campaign aide led to paid gigs working for Hillary Rodham Clinton, Bill Bradley and Howard Dean while in college and after graduation. Those experiences are the basis for his play Farragut North, which tells the story of a press secretary for a Presidential candidate on the eve of the Iowa caucus. The show played to sold-out crowds in October and November at the Off-Broadway Atlantic Theater Company in Manhattan, and will be shown in Los Angeles in June and July 2009 and West Virginia in July and August 2009. The New York production starred Chris Noth, who played Mr. Big in Sex and the City, and John Gallagher Jr., who starred in the Broadway hit Spring Awakening. Noth will travel with the show to Los Angeles.
New York Times theater critic Ben Brantley gave the show a good review, writing "Mr. Willimon writes convincing dialogue in the statistic-laden, obscenity-peppered argot of his campaign workers … and he's good at suggesting the self-mythologizing streak in such people, the sentimentality that coexists within the cutthroat coldness."
It was quite a success for someone who had spent most of his undergraduate years painting in Dodge. Willimon had been drawing for years and planned to become a professional artist after graduation. That changed at the beginning of his senior year in college.
"There was something [about painting] that felt constricting and claustrophobic," he says. "I thought I'd write a play to cleanse my brain."
He hadn't planned to show his draft to anyone. But as he wrote, something clicked.
"In my painting, I always tried to create narratives," Willimon says. But he found that writing plays was a more satisfying way to tell stories.
Willimon submitted a play for Columbia's Seymour Brick Memorial Playwriting prize, awarded to the undergraduate "who submits the best one-act or full-length play," and won a cash award. "That was when I began seriously considering this as a career," he says.
After graduation, Willimon continued to visit and learn from mentor Eduardo Machado, who heads the University's dramatic writing program and encouraged Willimon to apply to the School of the Arts. In 2003, Willimon moved to Iowa to do advance work for Dean, who was running for President. Along the way, the idea for Farragut North was born.
"That [trip] was extraordinary," Willimon says. "When I came back from that campaign, politics was what I wanted to write about."
He wrote the first draft in about three weeks and sent it to theater companies across the country, but no one was interested. Willimon put the show away and began working on other projects, including a script called Hickory Hill, which takes place on a plantation in South Carolina during the Civil War. The story was told entirely from the perspective of slaves. The idea came in part from a class in American history Willimon took from the Dewitt Clinton Professor of History Eric Foner '63, '69 GSAS at Columbia. It was purchased by AMC, but the pilot never was shot.
Willimon continued writing, and in 2008, his agent tried to sell Farragut North again. Willi­mon was shocked by the res­ponse — several theater companies eagerly competed to stage a production.
The script drew interest in Hollywood as well. Warner Brothers has purchased movie rights and asked Willimon to adapt the script for the screen. It also has commissioned Willimon to write another film.
Willimon now is working on a show for the National Theater of Great Britain about the rise of Empress Theodora, a Byzan­tinian royal who started her life as a prostitute and eventually became queen, and he is writing a play for the Man­hattan Theater Company about chess masters and the psychology of competing against a computer.
The topics seem disparate, but Willimon insists that the theme that runs throughout his works is the ways power plays out in everyday relationships.
"The subject of [Farragut North] is not politics," he says. "The subject is ambition, power, hubris … it's a universal story that can always seem fresh."
Amanda Erickson '08 majored in urban studies. She writes about politics for the Washington Post Co.