Around the Quads
Alumni Reunion Weekend 2009: June 4-7
New This Year: Dean's Day, June 6, Open to All
By Lisa Palladino and Gordon Chenoweth Sauer '11 Arts
Alumni Reunion Weekend has a new look for 2009. The gala weekend, which will take place Thursday, June 4–Sunday, June 7, will feature the always-popular dining, cocktail, classroom and cultural events for the reunion classes and, new this year, the addition of Dean's Day. Traditionally held each April, adding Dean's Day to the reunion program allows even more alumni to experience the best of Columbia's faculty in a one-day campus event. Scheduled for Saturday, June 6, Dean's Day is open to all alumni — not just those participating in reunion — as well as parents.
Alumni Reunion Weekend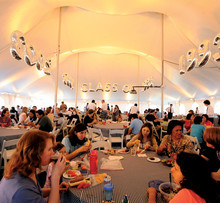 The Saturday afternoon barbecue on South Lawn is a wonderful opportunity to mingle with classmates and their families in a casual setting. Here, 2008 attendees catch up and make new friends. If your class year ends in a 4 or a 9, Alumni Reunion Weekend is your chance to reconnect with classmates and old friends, make new friends and enjoy all that Morningside Heights and New York City have to offer. Visit the reunion Web site for more information, to see a schedule of events and to register.
The Reunion Committees have spent the last year working with Alumni Office staff to plan campus activities, discussions and panels; cultural outings; cocktail parties; and elegant class dinners, but were sure to leave plenty of free time for relaxing, getting together with friends and spending time in NYC.
After you arrive on campus, start the weekend by checking in at the registration desk in Alfred Lerner Hall, the place for nametags, schedules and the most up-to-date information.
The Class of 1959 gets a jump on the party with a special reception on Wednesday, June 3. The weekend officially kicks off on Thursday, June 4, with cocktail receptions and a choice of the New York Philharmonic at Lincoln Center (Bach's Brandenburg Concerto No. 4, Kernis' world premiere of a Philharmonic-commissioned work for trumpet and orchestra, Copland's Clarinet Concerto, and Ravel's Boléro), American Ballet Theatre at the Metropolitan Opera House (all-Prokofiev celebration featuring a selection of ballets, including Désir, On the Dnieper and Prodigal Son) or Broadway theater (In the Heights or West Side Story). Sign up early for these shows, as availability is limited.
Friday morning features a Chelsea art gallery crawl, "Back on Campus" activities such as mini-Core courses and lectures (free, but registration is required), walking tours and campus updates. That evening, dress up a bit and join classmates and their guests at class-specific cocktail parties/receptions and dinners. Those who observe the Sabbath may participate in a Tri-College (College, SEAS, Barnard) Shabbat Service and Dinner.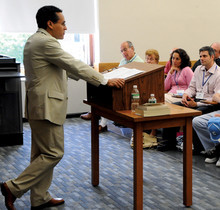 Associate Director of the Core Curriculum Roosevelt Montás '95 spoke at a mini-Core course at last year's reunion. All alumni, even those not celebrating reunion, may enjoy classes this year, as Dean's Day will be held on Saturday, June 6. Friday's activities continue late into the night with one of reunion's most popular events: the Young Alumni Rock 'n' Roll Casino, being held this year at a new venue, The Fillmore New York at Irving Plaza. Tickets will be available at the door.
Starting at 9:30 a.m. on Saturday, alumni with children ages 3–12 may sign them up for the supervised Camp Columbia for Kids. Also on Saturday morning, all alumni, including Dean's Day participants, may stop by Roone Arledge Auditorium in Lerner Hall for the Dean's Continental Breakfast, featuring outgoing Dean of the College Austin Quigley. Quigley will lead a State-of-the-College Address, and the President's Cup will be presented.
After breakfast, events continue for all alumni with Public Intellectual Lectures, followed by either a class-specific luncheon (Classes 1944–1969) or a Decades BBQ on the campus lawns (Classes 1974–2004). After lunch, choose from a mini-Core course or class-specific panel discussion, if applicable; the annual Admissions Presentation/Alumni Representative Committee reception for members and those who wish to join; a Center for Career Education presentation; or, new this year, a Class of 1959 ROTC panel discussion (open to all alumni), featuring alumni who served in the Navy following graduation. There also will be affinity group receptions for alumni of Spectator, WKCR, Double Discovery and Community Impact as well as a Tri-College LGBT Tea.
Reunion classes will continue the cele­bration on Saturday evening. After a busy day, unwind with the all-class wine tasting, an elegant class-specific dinner and the all-class Starlight Reception, a weekend highlight, held on Low Plaza, so there's room to dance off the calories you'll enjoy from the available champagne and sweets.
The weekend wraps up on Sunday morning with a bagel, cream cheese and lox brunch.
Online registration, a complete program of reunion events and general information may be found on the Alumni Reunion Weekend Web site.
Dean's Day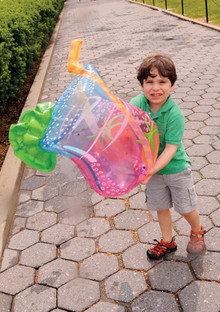 Reunion is fun for all, from alumni to their spouses/guests to their children. Here, a little Columbian plays with a balloon at the 2008 barbecue. PHOTOS: EILEEN BARROSODean's Day will take place on Saturday, June 6, and is open to all alumni, as well as parents. Alum­ni can relive their classroom days, and parents can get a glimpse of their children's College learning experience, by participating in lectures by some of Columbia's finest faculty. Offered at a nominal cost to alumni and parents, this is one of the Alumni Office's most popular events.
Among the many lecture choices this year are "My Wife Is a Terrorist: Narration, Redaction and Hermeneutics of Suspicion" with James A. Schamus; "Literature Humanities: The Great Chain of Meaning — Chekhov's 'Student' and Literature Humanities" with Cathy L. Popkin; "Frontiers of Science: Can We Afford To Go Green? Can We Afford Not To?" with Don J. Melnick; and "Magill Lecture in Science, Technology and the Arts" with Robert M. Bakish.
The Lecture Series fee ($25 for alumni and parents, $20 for Young Alumni in Classes 1999–2009) includes two lectures, one in the morning and one in the afternoon. A continental breakfast is available for $20 per person for alumni and parents. A luncheon for Classes 1939–1958 and parents will be held in the Rotunda, Low Library. Classes 1960–2009 may enjoy a barbecue lunch under campus tents. A choice of the luncheon or barbecue is available for $30 per person. Dean's Day participants may join reunion classes in afternoon affinity group receptions for alumni of Spectator, WKCR, Double Discovery and Community Impact. Coffee on the Quad will wrap up the day, weather permitting.
For more information, or to register, go to the Dean's Day page.
Should you need more information or assistance with either event, please contact the Alumni Office: 212-851-7488 or toll-free, 866-CCALUMNI.