Around the Quads
Campus News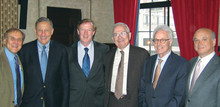 Dean Austin E. Quigley was feted on April 2 at the final meeting of the year of the Columbia College Alumni Association, and CCAA President Geoffrey J. Colvin '74 presented Quigley with a proc­la-­ mation making him a lifetime CCAA member. Several past presi­dents turned out to celebrate Quigley on the occasion of his last CCAA meeting as Dean of the College. Joining Quigley (third from left) and Colvin (far right) are past presidents (from left) Phillip Satow '63, Carlos Muñoz '57, Gerald Sherwin '55 and Robert Berne '60. PHOTO: ETHAN ROUEN '04JTRUSTEE: Jonathan Schiller '69, '73L, an attorney and John Jay Award recipient, was elected a trustee of the University, filling the seat vacated last summer by Patricia Cloherty.
Schiller, who specializes in complex litigation and arbitration at the firm he co-founded, Boies, Schiller & Flexner, is considered one of the premier international arbitration attorneys. He also is a member of the Dean's Council at the Law School.
Schiller played on the 1967–68 Ivy League championship basketball team, which was inducted into the Columbia University Athletics Hall of Fame in 2006. He is the father of three Columbia graduates, Aaron '06, Joshua '01L and Zachary '01.
Schiller joins nine College alumni who sit on the 24-member Board of Trustees: Jose Cabranes '61, Bill Campbell '62, '64 TC, Stephen Case '64, '68L, Mark Kingdon '71, Dr. Paul Maddon '81, '88 P&S, '88 GSAS, Philip Milstein '71, Michael Rothfeld '69, '71 Business, '71J, Kyriakos Tsakopoulos '93 and Richard Witten '75.
APPLICATIONS: A record total of 21,274 students applied for places in the College Class of 2013 as of March 31, an 11 percent increase over a year ago. Even though the plan is to increase the incoming first-year class by 50 students, the College's acceptance rate was 8.92 percent, among the lowest in the nation. SEAS received 4,154 applications, up 20 percent, and had a 14.42 percent acceptance rate. Combined, the College and SEAS received a total of 25,428 applications and had a 9.82 percent acceptance rate.
WE'RE NO. 3: Columbia climbed to third place in the Princeton Review's annual list of most desirable city schools among college appli­cants nationwide, if cost and accep­tance were not factors. Stanford leapfrogged past Harvard to claim the top spot in the survey, based on feedback from nearly 13,000 college appli­cants. Columbia was followed by Princeton and NYU in the top five.
GOLDWATER: Three College students were awarded Goldwater Scholarships, the most prestigious prizes for undergraduates planning to pursue Ph.D.s in science and math.
Alex Perry '11 of Drexel Hill, Pa., will receive $15,000 over two years. Noam Prywes '10 of Teaneck, N.J., and Arianne Richard '10 of Pepperell, Mass., will receive $7,500 each as juniors.
Perry, a Rabi Scholar, is studying mathematics. Prywes is a chemistry major, and Richard is majoring in biochemistry.
All three were recognized not just for their undergraduate achievements but also for their potential to make significant contributions to their fields in the future.
This is the first time since 2003 that Columbia has had three Goldwater winners, but College students have been racking up the scholarships this year.
Read about this year's Gates and Marshall Scholarship winners and our Rhodes Scholar.