Around the Quads
Five Minutes with… Elizabeth Povinelli
Elizabeth Povinelli is a professor of anthropology and gender studies. She is the author of three books, including The Empire of Love: Toward a Theory of Intimacy, Genealogy, and Carnality. Her research focuses on developing a critical theory of social belonging and abandonment in late liberalism. Povinelli earned her B.A. from St. John's College in Santa Fe, N.M., and her Ph.D. from Yale.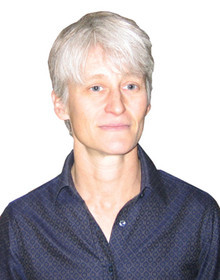 Where were you born?
Buffalo, N.Y., but I grew up in Shreveport, La., in a swamp that slowly turned into a middle-class suburb.
How did you become an anthropologist?
The Watson Foundation offered fellowships through St. John's College, where I went to school. The foundation is committed to sending promising post-baccalaureate students overseas. I had been watching Australian films at the local theater in Santa Fe at the time so I wrote a project proposing to study how Aboriginal women's political status in their communities was changing as their economic condition changed. Honestly, I had no real idea what I was talking about. But I received the fellowship, went to the Northern Territory and ended up living in a small indigenous community that was involved in what would be the longest running and most contested land claim in Australia. By law, indigenous people who are suing for the return of their land have to be represented by a lawyer and an anthropologist. I didn't want to be a lawyer, so a group of older people there said, 'What about anthropologist?' I said, 'I don't know what that is.' I went to graduate school in anthropology at Yale in order to go back to Australia to help with the land claim.
What are you working on now?
A digital archive project with indigenous friends in Australia. We are trying to use new media technologies to embed traditional, historical and contemporary knowledge back into the landscape from which it came. In particular, we are doing preliminary work on what we're calling "the cell phone project," which uses camera phones, barcodes and the Internet to record and reinforce local protocols about land use and knowledge acquisition.
How did you come to Col­umbia?
I was offered a joint position in The Institute for Research on Women and Gender and the Department of Anthropology at Columbia two years before I actually came. I loved New York, and the faculty in these programs are stellar.
But I found in the process of applying that there were scholarly projects that I hadn't finished at the University of Chicago, where I was teaching at the time. Right after I turned down the job at Columbia, I met my partner, who lives in New York and is very much a New Yorker. Oops. Two years later, the institute, the Department of Anthropology and the Law School were extraordinarily generous to cobble together another position, which I accepted in 2005.
What are you teaching this semester?
"Interpretation of Culture" in the Department of Anthropology, which is one of our introductory courses to the major.
What is the accomplishment you are most proud of?
Helping indigenous friends win a land claim in Anson Bay.
What did you want to be when you grew up?
I have always had trouble with this kind of question. I wanted to stay alive, by which I mean I wanted to stay interested in the world and interested in the life I was actually living. I like anthropology because I'm still alive in it, maybe because it incorporates so many facets of living in its methodology. When I was young, I liked to paint, I liked to lay bricks, I liked running. And I still do these things, though I swim rather than run now.
Are you married?
It is illegal for gay people to get married in New York. The whole question seems to me a very interesting one to ask. Why this question? If not this question, what other questions would we ask — or, what is the question behind this question? I think we're really asking, "What worlds do you consider yourself obligated to?" I have a partner, Stacey D'Erasmo, who is a fiction writer and teaches in the School of the Arts. We've been together nine years. So it would be easy for me to say, yes, I'm married, but not by law, blah, blah, blah. But I think the question is strangely missing the point.
Where do you live?
Upper Chelsea — the fur district.
What's your favorite spot in New York?
The Hudson Piers.
What's something your students would never guess about you?
I'm just the most boring person in the world. I get up, I work, I go home and watch an hour of TV. Though I've also eaten a cat (just one).
How do you recharge?
I do not have a problem with energy. I have too much, not too little, so I swim to chill out.
If you could be anywhere in the world right now, where would you be?
Other than in my lovely home here in New York, I would be with my family in Australia.
What's the last great book you read?
Blindness by Jose Saramago.
Interview and photo:
Ethan Rouen '04J
See video of this interview and watch Povinelli in a Bright Eyes music video: