Around the Quads
Celebrating 25 Years of Coeducation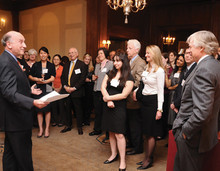 President Emeritus Michael Sovern '53, '55L, who was in office when the College became coeducational in 1983, speaks about the process during the March 31 celebration at the President's House. President Lee C. Bollinger (far right) looks on. Photo: Eileen BarrosoPresident Lee C. Bollinger and Dean Austin Quigley hosted a reception at the President's House on March 31 to celebrate 25 years of coeducation at the College.
Several administrators and faculty who were instrumental in making the College coeducational attended, including President Emeritus and the Kent Professor of Law Michael Sovern '53, '55L; Professor of Biological Sciences and former Dean of the College Robert Pollack '61; the Roberta and William Campbell Professor in the Teaching of Literature Humanities and former Associate Dean of the College Michael Rosenthal; and former Dean of Students Roger Lehecka '67.
Sovern remarked that by the early 1980s, "The consensus was that the absence of women had diminished the quality of life at Columbia," and was hurting the school competitively. He added, "I remember as a student hating the absence of women (we called them 'girls' then)." He explained that the decision to go coed came so late in Columbia's history because of long negotiations with, and concern about the fate of, Barnard College.
Lisa Landau Carnoy '89, vice-chair of the College Board of Visitors, spoke about her experiences as one of the early female students. "My recollection of Columbia was that there were women everywhere," she said. "We didn't feel isolated or different or separate."
Statistics support her recollection. The Class of 1987, the first incoming class to include women, was 44 percent female, and that percentage has hovered around the 50 percent mark ever since.
Shira Boss-Bicak '93, '97J, '98 SIPA