Around the Quads
Alumni in the News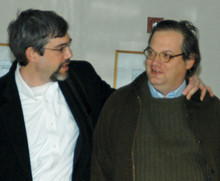 John Solecki '82 (right) is greeted by his brother, Bill, after being released by kidnappers in Pakistan. PHOTO: United Nations High Commission for RefugeesAfter a harrowing two-month imprisonment following his kidnapping in Pakistan, John Solecki '82, '87 SIPA is safe and back with his family.
Solecki, who works for the United Nations High Commission for Refugees, was abducted on February 2 by an obscure group of terrorists that killed his driver during the ambush. A restaurant owner found Solecki along a highway near the Afghan border on April 4. His hands and feet were bound.
According to the Associated Press, the group, the Baluchistan Liberation United Front, released a video during the ordeal threatening to kill Solecki if hundreds of people held by Pakistani security weren't released. It was not clear why the group released Solecki when they did.
He was examined at military hospitals, and then flown back to New Jersey, where his family lives and he grew up.
Julius Genachowski '85, a tech­nology expert who was former legal counsel to ex-FCC chairman Reed Hundt, has been selected by President Barack Obama '83 to head that agency. Genachowski played a key role in the President's transition team and has clerked for Supreme Court Justice David Souter and retired Supreme Court Justice William Brennan. He also spent eight years in senior executive positions at Barry Diller's IAC/InterActiveCorp. Read more about Genachowksi.
Professor Richard Howard '51 revisits his Cleveland childhood in his latest collection of poems, Without Saying. A profile of Howard, a professor in the School of the Arts, in The Jewish Daily Forward delves into his life growing up during the depression as the adopted son of a successful family as well as his time at the College. "Jewish American Literature: A Norton Anthology assigns Howard to a generation of gifted students of Lionel Trilling ['25] at Columbia University," according to the article. Howard gave a reading at the Metropolitan Museum of Art on February 8 to introduce the new Pierre Bonnard exhibit. Bonnard/Matisse: Letters Between Friends is one of the hundreds of books he has translated into English. He also has written 17 books of poetry, including Untitled Subjects, for which he won the Pu­lit­zer Prize in 1969.
Andres Alonso '79 has his hands full trying to rescue Baltimore's dysfunctional schools. Hired in 2007 as the schools' CEO, he is charged with improving a system that sees only half its students graduate from high school. A lengthy Baltimore Sun article about Alonso says the school board gave the hard-working executive "power unprecedented in recent history to run the system as he sees fit, a condition he insisted upon before agreeing to leave New York City, where he was deputy schools chancellor." Alonso has said he should be fired if students' performance doesn't improve.
When the Governor of Maryland proposed cuts to school funding, Alonso publicly railed against him, even though the governor appoints the board that hires the CEO. His mettle seems to be paying off so far. Since Alonso started his job, test scores, graduation rates and enrollment are up for the first time in 40 years, the Sun reports.
Oregon State Rep. David Hunt '90 was elected Speaker of the House in January at the beginning of his fourth term in the House of Representatives. Hunt has spent most of his adult life in Oregon politics, working for a decade as a congressional staffer before being elected to office. In 2006, his Democratic colleagues elected him Majority Leader. He also is the executive director of the Columbia River Channel Coalition and the Association of Pacific Ports, and was the youngest-ever president of the 1.5-million-member American Baptist Churches USA.
Jonah Lehrer '03 made a stop on campus to talk about his new book, How We Decide. The Rhodes Scholar discussed his book, about how the brain often makes decisions based on factors that have nothing to do with logic, with Professor Stuart Firestein in the Butler Library lounge on February 5. Lehrer has appeared on The Colbert Report and published an excerpt of the book in The New Yorker. Lehrer, an editor-at-large for Seed Magazine, has written for many major publications. This is his second book after Proust Was a Neuroscientist. Read an excerpt from Proust.
Tze-Ngo Chun '02 was named one of 25 young filmmakers to watch by Filmmaker Magazine. Chun's movie, Children of Invention, was an official selection of the 2009 Sundance Film Festival and has received rave reviews. The heartbreaking film, which he wrote and directed, follows two children in Boston who have to fend for themselves when their mother is arrested for unknowingly taking part in a pyramid scheme. "The world of the film is full of desperate Americans trying to achieve some shortcut to the American dream," Chun says of the movie, which was inspired by his own experiences. "That's the world I grew up in, and it's a world I think about a lot."
The film was submitted to Sundance three months after filming began and was shown at several festivals across the country during the spring.
Ethan Rouen '04J