Cover Story
The Jazzman Testifies
Robert G. O'Meally approached the altar of academe as a literary scholar, but music was his mistress all along. Out of this duality, he founded Columbia's internationally renowned Center for Jazz Studies, now in its 10th year.
By Jamie Katz '72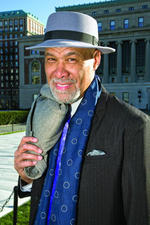 PHOTO: LESLIE JEAN-BART '76, '77JRobert G. O'Meally's office in Philosophy Hall is tall, slim and elegant, like the man himself. Actually, the man is a good deal more elegant than his book-lined sliver of an office. He carries himself with an athlete's grace and dresses with flair, favoring well-tailored jackets and smart-looking snap-brim hats. The style is vintage jazz: a splash of Miles, a twist of Monk. More than one student has pronounced the O'Meally look "cool."
In conversation, O'Meally, 60, listens intently and answers in a gentle voice that nearly succeeds in masking his passion for ideas. Columbia College students in his popular upper-level course, "Jazz in American Culture," sense that they're permitted to go out on a limb without fear of him revving up the chainsaw. "As much as I love the graduate students who take the class," O'Meally says, "they're preparing to write journal entries or go on the job market, and they need to be on the cutting edge. But ironically, it's the undergraduates, who don't know where that edge is, who might throw it out even further." They returned the compliment in 2003 when they presented O'Meally with the College's annual Mark Van Doren Award for teaching, adding his name to an honor roll that includes Moses Hadas, James P. Shenton '49, Sidney Morgenbesser and Kathy Eden.
O'Meally migrated from the Barnard faculty to Columbia in 1993, when he was named the Zora Neale Hurston Professor of English and Comparative Literature. An authority on Ralph Ellison and African-American literature, he has the kind of C.V. one would expect from a senior professor, with a long list of fellowships, board memberships and publications. Among his works is the highly regarded biography, Lady Day: The Many Faces of Billie Holiday (1991); the film version won an Ace Award in 1993 for best television documentary, the cable TV equivalent of an Emmy. O'Meally has co-edited The Norton Anthology of African American Literature, written critical introductions to works of Mark Twain, Herman Melville and Frederick Douglass, and regularly taught Lit Hum and a seminar in American humor that includes some consideration of Betty Boop. He is on sabbatical this semester, working on a book about American artist Romare Bearden.
As a graduate student at Harvard in the early '70s, though, O'Meally flirted with a different career possibility, hiking over to Boston's Roxbury section to play tenor sax in a community school band led by famed pianist and educator Jaki Byard. Trying to master a jazz standard such as Neal Hefti's "L'il Darlin' " — and then hearing Byard's brilliant improvisations on the same material — offered O'Meally a vivid lesson. "There's a big difference between a top professional musician and a Sunday player or even a responsible journeyman," he says today, more in admiration than sorrow.
Still, it would seem that in O'Meally's heart of hearts — as Ellison once wrote of himself — he remains a musician, or more specifically, a jazzman. The essence of his scholarly accomplishment is to have considered the rich materials of jazz culture — not just the music, but its sources and implications, its accusations and celebrations, its influence on modern poets, writers and painters, filmmakers and choreographers, popular speech and dance, gesture and attitude — and to have created a fluid, original (some would even say swinging) scholarly conversation that explores those meanings and connections.
Jazz studies has evolved beyond the usual sort of historical surveys or music appreciation courses.
The official home of that conversation is Columbia's Center for Jazz Studies, which O'Meally founded in 1999 and led until 2007. Though it occupies a space in Prentis Hall on West 125th Street, with staff members and archives and other institutional necessities, the center draws its vigor from a community of kindred spirits scattered across several academic departments and divisions, and from affiliated scholars worldwide. Their stated mission is threefold: to promote innovative research, encourage excellent teaching and present public events. In recent years, jazz has entered the Core Curriculum as a segment of the required Music Humanities course, and students can now elect a special concentration in jazz studies (though not a full-blown major). There is a flourishing program in jazz performance, an extensive collection of digital resources called Jazz Studies Online, a Louis Armstrong Visiting Professorship and a concert series called the Columbia/Harlem Jazz Project, among other ventures.
O'Meally believes that jazz culture offers much to contemplate across the usual boundaries — even in the corporate world, to choose one example. "Business schools typically hold up the symphonic conductor as an important model for someone running a business: cueing, keeping time, building toward climaxes and endings," he has written. "What could a jazz orchestra, typically without a conductor standing in front of the band, tell a business student about how to swing together, to improvise without losing the time or the sense of ensemble?"
Though Columbia is a leader in the field, it is not alone. "Jazz has proliferated in the academy to an astonishing degree, to somebody who's been around as long as I have," observes noted jazz historian Dan Morgenstern, director of the Rutgers Institute of Jazz Studies in Newark, N.J. "I can remember very clearly when you could read everything important that had been written about jazz in a week or two, easily. Maybe less, if you were a fast reader. Now we have oceans and oceans of stuff." There are journals and conferences, major jazz archives (at Rutgers and Tulane, in particular) and indispensable texts — among them The Jazz Cadence of American Culture, a 1999 anthology edited by O'Meally; it won ASCAP's coveted Deems Taylor Award.
Jazz studies has evolved beyond the usual sort of historical surveys or music appreciation courses. "They were not critical the way the new jazz studies is, where the study of jazz is inflected by the same spirit of skepticism and inquiry that has characterized literary studies, film studies, art history and women's studies since the '70s," explains Krin Gabbard, who chairs the department of cultural and literary studies at Stony Brook University and has written extensively on jazz and film. "If we can generalize about critical jazz studies, I guess the one word I would have to use is problematize," says Gabbard. "That's what we do. We problematize the easy critical judgments, the easy distinctions among genres. We problematize what has been believed about musicians by a lot of people who are true believers and are not, shall we say, as skeptical as they could be."
Not everyone is bowled over by the new jazz studies. One resister is Stanley Crouch, the famously contrarian author, critic and co-founder of Jazz at Lincoln Center, who was the Louis Armstrong Visiting Professor at Columbia in 2003–04. Crouch admires O'Meally and several others affiliated with the center, but is concerned about jazz scholarship waxing too theoretical ("That's so many bags of hot air," Crouch says), or being overly driven by the imperatives of academic career-building and what he sees as tired, politicized intellectual fashions such as post-colonial studies. "A lot of the time," Crouch says, "I feel like I'm listening to people try to frame an aesthetic retort to Cecil Rhodes, who was the guy who started Rhodesia. And I'm thinking, wait a minute, what does this have to do with jazz?" Still, he says, "I think there's a place for all of these different perspectives, it's just that people need to know what they're actually talking about. I'd like to see more focus on actual problems and facts about the music itself."
O'Meally smiles when asked about possible friction between different approaches to jazz studies. "That's been the challenge here, to get a conversation going between, and among, these various camps. And I have to say there's been remarkably little tension within our group, partially just through the generosity of spirit that's all around."
O'Meally stepped down as director of the Center for Jazz Studies in 2007 to give himself more time for scholarship, teaching and family. "I also felt that in order for the center to grow, it needed another conception of what the music consists of and what its importance is to the world," he says.
His successor is George E. Lewis, the Edwin H. Case Professor of American Music, who teaches composition, computer interactivity and historical musicology. A noted trombonist and composer (and MacArthur "genius" grant winner), Lewis has performed worldwide with artists as varied as Count Basie, Anthony Braxton and Laurie Anderson, and has been a member of the avant-garde Association for the Advancement of Creative Musicians since 1971, when he was a teenager in Chicago; in 2008, Lewis published a scholarly study of the group, Power Stronger Than Itself: The AACM and American Experimental Music. A one-time philosophy major at Yale, he is the kind of professor prone to challenge the premise of almost any question — from "How are you?" to "What is jazz?" — and he often punctuates his thoughts with great, hornlike flights of laughter. Lewis wants to expand the center's digital presence and international reach, recently inviting scholars from Germany and South Africa to be visiting professors. "There is significant long-term work being done in France, Germany, Italy, Scandinavia, Japan," he says. "There aren't many intellectuals, especially outside of the United States, who don't know about jazz, who don't find that they have to reckon with it."
O'Meally deserves tremendous credit for what he has done — and continues to do — at Columbia, Lewis believes. "Somehow he has taken jazz and made it an avatar in the scholarly world the way it was in the musical world — that is to say, of jazz being a symbol of freedom, being a symbol of innovation, being a model of dialogue, a model for ethical action. This is what jazz has meant to people around the world, and why musicians have felt that it was a very high calling."
Performing the music is just one of many options for Columbia students who dive into jazz studies. "Compared to a lot of institutions around the country, we sort of flip the script," Lewis says. "Our focus is largely historical, critical, cultural, academic — humanities and some social science — whereas most of them focus on turning out wonderful players and have a certain, small history component. To be honest, it's the Ivy League consensus on music performance: You can't major in it, you can't get a degree in it. But you can do it."
"There aren't many intellectuals, especially outside of the United States, who don't know about jazz."
In fact, there are now 14 student jazz ensembles of varying skill levels in Columbia's Louis Armstrong Music Performance Program, studying with top-notch New York artists such as Steve Wilson and Don Sickler. "Very few of them are music majors," says Associate Professor of Music Christopher Washburne, who directs the program, "but the best are at such a high level that they are playing professionally in town." Sam Reider '11, a pianist from San Francisco, already has recorded an album and was featured on Marian McPartland's NPR broadcast, Piano Jazz, in December. He's an English major.
Washburne himself is an accomplished trombonist who has recorded and performed with Tito Puente, Björk, Ruben Blades and the Manhattan Chamber Orchestra, among many others. He also has a Ph.D. in musicology ('99 GSAS) and numerous academic publications to his credit, most recently Sounding Salsa: Performing Latin Music in New York City. "I don't view performance and scholarship as separate activities," Washburne says. "One enhances the other. The best musicians, to my mind" — he cites Wynton Marsalis and John Zorn as examples — "are the ones who are not only emotionally engaged with the music, but intellectually engaged as well."
O'Meally's parents with Count Basie at a costume party. Photo: Courtesy of Robert G. O'MeallyJazz-oriented students have flocked to the College in recent years, reports Peter V. Johnson, Columbia's savvy, popular director of undergraduate admissions. New York City is an obvious lure, but sophisticated recruiting plays a part, too. "For the past eight years," Johnson says, "we've been meeting regularly with faculty from various departments — math, physics, foreign languages — especially the departments that have a tendency to be underrepresented in the student body. It's really a form of targeted training for the admissions officers, and we've had people from the Center for Jazz Studies come to speak to the staff, too."
Through the years, the College's alumni ranks have included such stellar jazz names as composer-bandleader Eddie Sauter '36; discographer and translator Walter E. Schaap '37; critics Ralph J. Gleason '38 and Barry Ulanov '39; record producer Orrin Keepnews '43; pianists Dick Hyman '48, Marc Copland '70, Armen Donelian '72 and Peter Cincotti '05; bassist Cameron Browne '69; and saxophonist Sam Morrison '73, among others. Then of course there is that jazz bastion, WKCR radio, where the incomparable Phil Schaap '73, an eight-time Grammy winner (and subject of a recent New Yorker profile), is in his 40th year at the microphone.
It was a long time before jazz was accorded any official recognition at Columbia, however. In the early '90s, an informal constellation of scholars with jazz interests began to coalesce — among them O'Meally and Ann Douglas in English, Margo Jefferson '71J in the Writing Division and the late Mark Tucker, a Beethoven and Ellington scholar who also was an excellent jazz pianist. In 1995, O'Meally convened the first meeting of the Jazz Study Group, a workshop that gathered academics, journalists, writers and artists and attracted Ford Foundation funding. Out of this group, eventually, came the Center for Jazz Studies. "O'Meally's initiatives were visionary. Without a doubt it was the first time that Columbia seemed to be approaching jazz as seriously as it approached the other components of American culture," says Loren Schoenberg, the noted saxophonist, bandleader, jazz scholar and executive director of the Jazz Museum in Harlem. "Bob also has kept his inner jazz fan alive. One of the unusual things about him is that musicians feel free and relaxed around him."
Since the center was established in 1999, there have been significant faculty appointments — Lewis, Washburne and John Szwed in the music department; Robin D.G. Kelley, a cultural historian (since departed for USC); Farah Jasmine Griffin and Brent Hayes Edwards in English and comparative literature — all of them leading figures in jazz studies and associated fields. "Not to sound arrogant," says Edwards, "but I don't think there's anywhere that has the kind of range and intellectual firepower that Columbia has right now working on jazz studies from interdisciplinary perspectives. Part of the reason we've come is because of this incredible community and spirit of sharing a broader project, and frankly, it's almost unilaterally Bob's doing."
Keeping scholarly egos and agendas on the same page requires no small amount of leadership and diplomacy. O'Meally's touch reminds Edwards of Count Basie, who led his famed band from the piano bench with a minimum of visible effort.
"Basie was about the quality of the groove that he could establish, that kind of propulsion that he could always get his bands to find," Edwards says. "When a conference or class or colloquium is going well, you feel that there's a kind of momentum to it — Bob's good at establishing it. And Basie's piano would supply these little, tinkling fills. It sounds like he's not doing that much, but he's doing exactly the right thing at exactly the right time. Bob's style is a little like that, too."
"I said, 'Dad, I didn't know you played the saxophone.' And he said, 'There's a whole lot of things you don't know.' "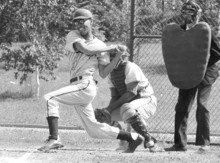 A star baseball player in high school, O'Meally left Stanford's team his freshman year to focus on his studies. Photo: Courtesy of Robert G. O'MeallyMusic was an important presence in O'Meally's household when he was growing up in Washington, D.C., in the 1950s and '60s. "My great-grandparents on my mother's side were slaves in Washington, as far back as we can trace — they were true Washingtonians," O'Meally says. "But it was interesting that my great-grandmother insisted that her daughters take piano lessons. So our piano had been part of our family for a long time." O'Meally's grandmother played at the nineteenth Street Baptist Church, and his late mother, Ethel, an elementary school teacher, played classical piano and thought her children should, too. O'Meally remembers marching off with his sister, Sharon, to a house in Northeast Washington, where they would wait their turn for piano lessons with Miss DeWeese, whose pedagogical methods included smacking her pupils across the knuckles with a ruler. After a few years of this, O'Meally begged his mother to let him quit. She agreed.
His Jamaican-born father, George O'Meally, was an engineer and cartographer with the U.S. Geological Survey. He also had some keyboard chops, which he would show off by improvising stride piano variations on whatever Ethel had just finished practicing. "My father had a good record collection and very good taste," O'Meally says, remembering the old vinyl LPs with a smile. "Cannonball Adderley with Milt Jackson; Ellington Indigos, from 1957; Nat King Cole's After Midnight sessions — I could name them all for you right now." O'Meally became a regular at Waxie Maxie's record store and listened to late-night jazz on a transistor radio under his pillow. His father quietly signaled his approval. "When I first got a saxophone, he asked me to pass it over to him and then he played a scale. I said, 'Dad, I didn't know you played the saxophone.' And he said, 'There's a whole lot of things you don't know.' "
O'Meally speaks of his father with undisguised adoration. His sudden death in 1968, during the family's first trip to visit relatives in Kingston, Jamaica, was an almost unbearable loss.
"I was very proud of my father," O'Meally says. "He was present. He was the one father at all the baseball games, driving kids to practices. And he was respected in the neighborhood." As president of the local PTA, he came to O'Meally's elementary school one day and supervised the kids as they drew a detailed, 60-foot-wide map of the United States in the playground. "That map stayed there from 1956 to 1998," O'Meally says. "I would go back to find it, almost as if it was a shrine. He was buried in Jamaica, but here was a marker, too."
O'Meally attended segregated schools until fourth grade, when he moved to a neighborhood close to the Maryland line that had just opened up to black families. "We were sort of pioneers," O'Meally says, "and I'm sure it had something to do with my father's audacity, because for him, there was no such thing as race. He was lighter than I am, and he had straight hair; there's a big Irish community in Jamaica, and they intermarried. If people asked him, is so-and-so member of the family white or black, he really wouldn't know. He would have to try and think, now what would an American say about this? Because to him it was ridiculous, a transparent fiction that he loathed."
Not that George O'Meally was unaware of the toll racism had taken on his own career. Despite his training and seniority, he wasn't allowed to be a supervisor — this in an office of the federal government. "It infuriated him that year after year, he'd have to train his new boss," O'Meally says. And he deeply wanted it to be different for his kids.
"He drove us to the drugstore in our neighborhood one day," O'Meally remembers. "We were allowed to run in and buy things, but we weren't allowed to sit at that counter. But we didn't know that, and I don't think my father knew it. Not just because of his light complexion, but because if you were a foreigner in Washington back then, you were sort of an honorary white person, especially if you comported yourself a certain way. I don't think he realized that that was the case with him all over town, that he was crossing these lines. And he was a regular in that drugstore.
"So he pulled up and said, 'Go on in there and have an ice cream. I'm just going to wait in the car.' We didn't know any better. We went in there and ordered. And the man said, 'Uh, you must be kidding. You can take it out, we'll put it in a box. But you can't sit here.' And we went out and told my father the man said we can't sit there."
O'Meally's voice tightens and his eyes tear up at this point.
"He parked the car. He went inside and went underneath the little barrier to go back behind the counter. And he went over and put his arm around the guy. What did he say to him? We didn't hear him, but I imagine it was, 'You see those children over there?'" O'Meally's tone grows firm. "'You're going to put whatever it is that they want in a dish and give it to them right now.' It wasn't a matter of him being bullying or anything like that, I don't guess. But he had a great deal of authority. And that was the first time I ever sat at the counter."
Now and again, O'Meally looks at an old team photo from his local 12-and-under Walter Johnson League. He believes that everyone else in the picture either died young or went to prison. "It's a sad lineup," he says.
Baseball mattered a lot to O'Meally. He excelled from an early age, playing center field and rooting for Mickey Mantle when the Yankees came to play the Senators. As a senior in the honors track at Calvin Coolidge H.S., O'Meally was president of the student council and editor of the school newspaper and yearbook, but he still dreamt of diamond glory. When he arrived at Stanford and showed up for baseball practice, however, the coach challenged him.
"Wait a minute, what are you doing?" he said.
"Well, I signed up for freshman ball."
"But son, we already have our team. They've been here since July."
O'Meally held his ground. "I was on the All-Star team in Washington, D.C.," he said. "In fact, I was the most valuable player in the All-Star Game, and my team just missed winning the city championship."
The coach shook his head. "Son, we saw that game. We did not select any boys from the Washington metropolitan area this year. We had one a few years back." Ouch.
O'Meally stuck around and trained with the squad for more than a month. The pitching was faster than he'd ever seen, the stadium looked like it could hold 90,000 people, and he was expected to hit the cutoff man from deep center field. It was the first time he'd ever heard the term "cutoff man."
One day the coach conducted a team base-stealing drill that ended with two straight hours of taking turns sprinting from first to second and sliding. Afterward, O'Meally sought him out.
"You know what? You were right on that first day," O'Meally said. "I don't want to do this. This is more like a job than the game I love to play."
"You're on an academic scholarship, right?" the coach said.
"Yes."
"Well, in effect, these boys are paid to play ball, and you're paid to be in the library. That's where you're supposed to be."
They shook hands, and O'Meally headed straight for the library.
"That's the generosity of spirit I'm talking about," he said. "That's it right there."
When he got there, he renewed his acquaintance with Invisible Man and other works of Ralph Ellison, an interest that carried over into his doctoral studies at Harvard, though with little encouragement from Ellison himself.
O'Meally with his wife, Jacqui, a professor of theater and dance at Queens College. Photo: Courtesy of Robert G. O'Meally"He was not easy to get to know, and he was not delighted to have this graduate student on his trail," O'Meally says. "He was very suspicious of this boy with an Afro, because he had been so attacked by our generation. It was much more gratifying to get to know him on the page than in person." O'Meally's dissertation was later published by Harvard University Press as The Craft of Ralph Ellison.
Somewhat more encouraging was an M.I.T. graduate student in city planning whom he met at a party while he was at Harvard. He married Jacqui Malone in 1973; she is now professor of theater and dance at Queens College, where she also chairs the dance program. They have two sons, Douglass, an artist in San Francisco, and Gabriel, a junior at Hampton University in Virginia.
Their Claremont Avenue apartment has become a regular stop on the jazz studies tour, says Brent Edwards. "When I was a grad student, Bob and Jacqui had me over often. They were incredibly generous to me, sharing records, making tapes. As a young scholar, as a young anything, it can have such a formative effect when someone that accomplished takes an interest in you and makes time for you."
For his own relaxation, in addition to music and hunting for vintage clothes, O'Meally says, "I walk almost two miles every morning in Riverside Park, so I have a nodding acquaintance with hundreds of my neighbors and fellow dog walkers." On a free day, he'll take his laptop to Tom's Restaurant and stay for a while. "They all know me there, and they know my order before I sit down." Which is? "Two eggs and sausage, no potatoes."
Through the years, O'Meally has modulated from pioneer to senior partner in Columbia's jazz studies community. The initial battles have been won, the torch of leadership has been passed and younger teachers, scholars and artists have stepped up to join the enterprise. Many of them express genuine gratitude toward the man who helped gather them all into what feels like a perpetual dinnertime colloquium, with O'Meally seated at the head of the table.
"I would absolutely describe Bob as my academic father figure," says Adam Bush '03, who studied with O'Meally for all four years at Columbia and is now a doctoral student in American studies at USC. "My dissertation project grew directly out of conversations I had with Bob six years ago," says Bush, whose actual father, Michael '63, introduced him to jazz in their Los Angles home; sister Shoshana '09 is following the jazz studies special concentration that was largely created by O'Meally and Washburne.
Another admirer is Laura Johnson, executive producer for Jazz at Lincoln Center, a past Louis Armstrong Visiting Professor who has worked closely with O'Meally in developing educational programs and curricula. "He was a kind of a mentor to me, introducing me to many of the concepts that eventually came out in his class, of how jazz intersects with other 20th-century arts," she says. Some of their most productive conversations came about when they'd randomly cross paths while exercising in Riverside Park. "I'd tell him, we have to stop meeting like this," Johnson says.
In truth, it's the easiest of tasks to find people — students, alumni, fellow scholars, musicians and artists, friends and neighbors — willing to talk about their regard for O'Meally, and in many cases, their debt to him. This is fitting, because that spirit of mutual support is at the heart of jazz itself.
The point was underlined recently by Geri Allen, an eminent jazz pianist and composer, who teaches at the University of Michigan. Allen came to Columbia in October for a three-day residency that included a master class, a concert in Miller Theater, a visit with students at Harlem's acclaimed Frederick Douglass Academy and a public dialogue in 301 Philosophy with Farah Jasmine Griffin.
Allen discusses her music with striking sincerity and lack of artifice, just as she performs it. At the request of one audience member, she played "Amazing Grace," re-imagining the hymn as a startlingly abstract piece, though not without its traditional allusions and signposts. Allen also talked about the process of collaboration in jazz performance. "This music is really life," she said. "You're going through the challenges you meet in life, on stage. You encounter things you didn't expect, and you have to find a way to respond, a way that supports the greater good and doesn't reduce anyone else. And you are tested sometimes."
George E. Lewis was there that evening, videotaping the proceedings for the archives. Peter Johnson came over from Admissions to sit in the back row. O'Meally was off to one side, benignly taking it all in and jotting things down in a small, lined notebook. Afterward, an alumnus remarked on the palpable feeling of mutual respect in the room, which seemed to be the essence of the jazz studies community at Columbia.
"It's true," O'Meally said. "I have seen that in wonderful ways. People here have a way of picking each other up when there's a crisis." O'Meally mentioned then that he had been hospitalized with heart trouble while he was editing his most recent anthology, Uptown Conversation: The New Jazz Studies, for Columbia University Press. It seemed the project might be sidelined indefinitely, until Edwards and Griffin unhesitatingly stepped forward and offered to finish editing the volume with him. It was published in 2004.
As he recounted this, O'Meally's voice once again tightened with thankful emotion.
"That's the generosity of spirit I'm talking about," he said. "That's it right there."
Former CCT editor (and WKCR jazz director) Jamie Katz '72 has held senior editorial positions at People and Vibe magazines and now is editor-at-large for Smithsonian Magazine.