Features
Five Alumni Presented with John Jay Awards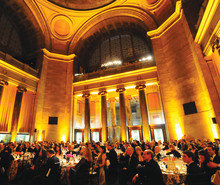 A festive crowd of more than 350 alumni, students, faculty, family and friends packed Low Rotunda on March 10 for the 2009 John Jay Awards Dinner. The five honorees were actress Maggie Gyllenhaal '99, NAACP president Benjamin Jealous '94, Progenics CEO and CSO Dr. Paul Maddon '81, mortgage executive Thomas Francis Marano '83 and sculptor Gregory Wyatt '71.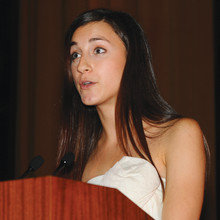 John Jay Scholar Samantha Elghanayan '09 addressed the attendees. The black-tie dinner, an annual tradition, supports the John Jay Scholars Program, which honors the most outstanding first-year College students. John Jay Scholars benefit from the program by being offered the opportunity to participate in special programs such as panels, discussions and outings, all designed to promote intellectual growth, leadership development and global awareness.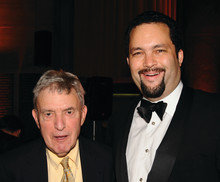 Honoree Benjamin Jealous '94 with his mentor, civil rights attorney and former Dean of the College Jack Greenberg '45, '48L. "[He] is why I came to Columbia," Jealous says. "I literally came looking for Jack." John Jay Scholar Samantha Elghanayan '09 addressed the attendees, prior to introducing Dean Austin Quigley. She noted how the program helps participants focus on "the importance of knowing yourself and knowing what drives you … the program provides the tools to answer the question 'Who am I?' "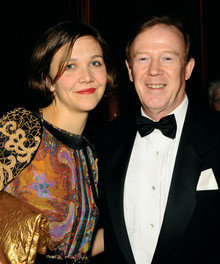 Honoree Maggie Gyllenhaal '99 with Dean Austin Quigley, whose class she attended in her first year at the College. Quigley, attending the last John Jay Dinner of his 14-year tenure as Dean of the College, highlighted the achievements of each honoree, noting how their varied careers each drew on the liberal arts education they received at the College. "We give a special kind of education here at Columbia," he said with pride. "We're educating our students about the fundamental questions facing humanity today."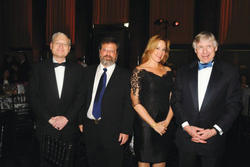 University Trustees (left to right) Philip Milstein '71 and Richard Witten '75 with Milstein's wife, Cheryl '81 Barnard and President Lee C. Bollinger.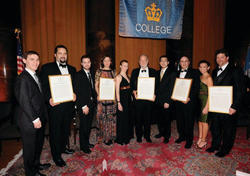 The honorees with their award citations and with the John Jay Scholars who introduced them (left to right), Jacob Weaver '09 with Jealous, Alish Erman '09 with Gyllenhaal, Chelsea Ward '09 with Gregory Wyatt '71, Clifford Shin '09 with Dr. Paul Maddon '81 and Kim Davidson '09 with Thomas Francis Marano '83. PHOTOS: EILEEN BARROSO