Features
Perez Races to the Show
Fernando Perez '04 gives the Tampa Bay Rays speed when they need it most
By Joshua Robinson '08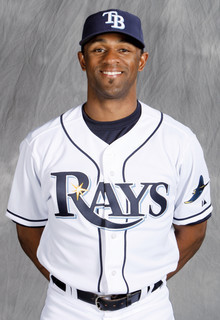 Perez gave Tampa Bay Rays manager Joe Maddon a valuable pinch-running weapon when he was brought up to the Rays for their stretch run to the 2008 American League Championship. Photo: Tampa Bay Rays – Skip MilosFernando Perez '04 figured he should chew gum. That was what big leaguers did, right? That was how guys handled the ninth inning of the World Series' deciding game, right?
With the Tampa Bay Rays down by a run against the Philadelphia Phillies, Perez sat on an exercise bike on October 29 at Citizens Bank Park and watched catcher Dioner Navarro lumber to first base on a single. The Phillies were two outs away from their first World Series crown in 28 years and their closer, Brad Lidge, who had not blown a save opportunity all season, was on the mound. The Rays needed speed on the bases. So they turned to Perez, the rookie outfielder and pinch-runner who had won them Game 2 of the American League Championship Series. The rookie who had started the year with the Class AAA Durham Bulls.
The rookie who figured it was a good time to chew some gum.
As Perez trotted out of the dugout and headed for first base, trying to look like he had been there before, he gnawed away the anxiety of being the Rays' last throw of the dice. "Once you're in it, you realize, 'I'm not the only one who's freaking out inside,' " remembers Perez, 25. "Almost everybody is.
"That was a funny feeling — when 55,000 people knew exactly what I was going in there to do. Everybody in the whole stadium knew that I was going to run from first base and try to steal second and wait there for somebody to get a hit."
Ben Zobrist came to the plate and looked at the first pitch. By the time the ball was in the catcher's mitt, Perez had already done what 55,000 people expected him to do — take off, run like the wind and never look back. Having successfully stolen second base, he now was 180 feet from a tie game. At his pace, that meant Perez was about 6.2 gut-ripping, heart-racing seconds from home plate. All Zobrist had to do was punch the ball to the outfield. A single would have been enough.
On the next pitch, somewhere in the brilliant white cloud of flash bulbs, Zobrist made contact. But Perez slammed on the brakes when the ball nestled into the right-fielder's glove for the second out of the inning.
Eric Hinske was next, the Rays' final hope. And leading off second, Perez had the best view in the house when Hinske went down swinging. When the Rays' miraculous season came to an end.
"In a straight-up race, I've got him over Seabiscuit." — Tampa Bay Rays manager Joe Maddon
Three months after Perez ran into the crucible in Philadelphia, he worked out alone at Columbia's Dodge Fitness Center. Fenced in by a pair of nets, he smacked line drives off a tee while a pickup basketball game unfolded to one side and the Lions' baseball team took batting practice to the other.
Former Lions coach Mikio Aoki says baseball became "a year-round commitment" for Fernando Perez '04 as he worked to make the leap from the Ivy League to pro ball. Photo: Columbia University Athletics/Gene BoyarsPerez's gear still had World Series patches emblazoned on it and yet, part of him envied the ballplayers on the other side of the net. Just five years ago, he was one of them, a member of the Lions' varsity. "I get a kick out of talking to them," he says.
A few days before Perez linked up with the Rays at their spring training complex in Clearwater, Fla. — and a month before he sustained ligament damage to his left wrist that will keep him out until late summer — he had returned to his alma mater to train with the Columbia baseball team and loosen up a little. In the blue gym, as it is known, with snow on the ground outside, Perez was back where his improbable journey to the majors — and the World Series — began.
Throughout high school in New Jersey, Perez had flashed the tools of a potential major leaguer. He could hit, he could field, and most importantly, he was always going to be the fastest kid at any tryout. Deep down, Perez knew he had what it took to play in the big leagues, but as he put it, he could never shake that "practical sensibility of the Northeast."
"Who's a professional athlete? Who does that?" he recalls being told. "That practical sensibility said: 'Go to Columbia. Don't go to Beer & Baseball State, only so you can play really well, hurt your knee and graduate from Beer & Baseball State.' "
So Perez focused on school. Even though he had quit baseball altogether for a year in eighth grade, he had the skills. And by the end of high school, he believed that he could have even been drafted by a major league team had he showcased his talent as much as some other prospects his age did. But at the time, that hardly mattered. His parents never carted him around to mini-camps and private clinics, anyway.
Perez's work off the baseball diamond earned him a spot in the Class of 2004 and in Ivy League baseball, an unlikely proving ground for future major leaguers. Before Perez, only five former Lions had ever made the show: Eddie Collins (Class of 1907), one of the greatest second basemen in baseball history who played 25 seasons from 1906–30, compiled a career batting average of .333, amassed 744 stolen bases and was voted to the Baseball Hall of Fame in 1939; George Smith (Class of 1915), who pitched from 1916–23 for the New York Giants and Brooklyn Dodgers; Frank Seminara '89, who pitched from 1992–94 for the San Diego Padres and New York Mets; Gene Larkin '84, who played for the Minnesota Twins from 1987–93 and won a World Series; and Hall of Famer Lou Gehrig '25, who left Columbia in 1923 for a legendary 16-year career with the New York Yankees.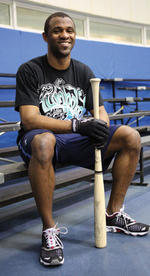 Perez was back on campus this winter, working out in the Dodge Fitness Center to get ready for spring training. PhotoS: Daniella Zalcman '09Perez's freshman season came and went with baseball remaining very much just a campus activity to him, the way some join Spectator or WKCR or others choose student government.
"Most of the time my priorities were very backward," Perez admits. "My first year, my priority was the city; baseball and school were somewhere second or third. I wasn't mature enough to really excel at all three things. I loved running around the city too much and staying at jazz clubs too late."
But by his sophomore year, after a stint in a summer league in Ohio, Perez had taken another step in his development, remembers then-Columbia baseball coach Mikio Aoki. He was digging deeper into the talent he had carried with him since high school and, suddenly, buckling down to practice. As fleeting as the season was — around 30 games — baseball became a year-round commitment for him, even though Columbia hardly had the luxuries of big-time baseball schools, like endless practice fields and permanent spring. The Lions ran in the cold and simulated game situations in the gymnasium.
"He realized that he was ready to make the sacrifices that he needed to make to succeed on the baseball side," said Aoki, who is now the head coach at Boston College. "And maybe that meant not going to The West End on Thursday nights. But he was also stepping up his strength and conditioning and becoming a lot more physical."
Even though Aoki knew everything about his game, Perez still managed to surprise him on a regular basis. Umpiring from behind the pitcher's mound during intra-squad scrimmages, Aoki had grown accustomed to a certain rhythm. But every so often, a blur out of the corner of his eye caught his attention.
"Something would happen that wasn't at that pace of play," Aoki says. "And every time you looked up, it was Fernando."
Ever the pragmatist, Perez also concentrated on his creative writing major. If baseball did not pan out, he probably would have looked to teach abroad and then try his hand at professional writing; he plans to return to school for a master's in fine arts some day after his baseball career. Perez wanted to make sure he had qualified himself at least to do something besides play the outfield should he be struck by that career-ending injury that haunts all athletes.
Balancing school and his growing baseball ambition got even tougher when he increased his workouts to four times a week, double his teammates' schedule. Though Perez's grades suffered, it paid off two years later. Perez was selected by the Tampa Bay Devil Rays in the seventh round of the 2004 amateur draft — the same Devil Rays who had finished 2003 with 99 defeats and were bringing up the rear in the A.L. East, an organization that specialized in futility.
Perez thought it was a perfect fit.
"You look at guys who get drafted by the Yankees, they either never make it on the Yankees or get lost in the farm system," he explained. "Your immediate sensation when you get drafted by a bad team is, 'I'm going to get an opportunity.' "
That certainly was true for, say, pitchers in the organization. But as far as outfielders were concerned, the Rays were as well stocked as any team in baseball. So after Perez put together a solid year playing for the low Class A Hudson Valley Renegades, the organization kept him in A-ball instead of promoting him to Class AA and made him learn to hit from both sides of the plate.
When he finally saw the bright lights of Class AA in 2007, it was with the Montgomery Biscuits, a team whose claim to fame is a logo that looks like a bit of pastry on acid. The Class AAA Durham Bulls, where he began the following year, echoed a little louder in baseball lore, but only because of the movie that threw some glamor onto the minor league game, Bull Durham. Dragging through America's heartland, carrying his own bags and sleeping in motels in places like Battle Creek, Mich., and Visalia, Calif., Perez learned that the minors were a far cry from the big leagues and even the Ivy League. But in the sink-or-swim world of baseball prospects, Perez was figuring out how to float. During his time in the minors, he batted .290 and stole more than 30 bases in four straight seasons.
"Ivy League caliber baseball hardly belongs in Division I," Perez says, referring to the top rung of college competition. "It's more like high-end Division III baseball. So I was playing against better competition than I had in my whole life. Basically, I was starting all over again."
The call-up came last September. This was what Perez had spent 4½ years in the minors toiling for — the luxurious clubhouses, the major league crowds, and a level of fun that Perez said he had not experienced since Little League. But the stakes were somewhat higher than pizza and soda. The Rays were chasing the first playoff spot in the beleaguered franchise's nine-year history.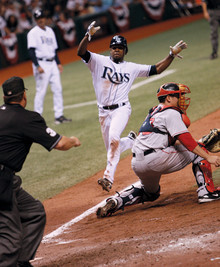 Above, Perez slides home with the winning run after tagging up on a short pop fly to right field as the Rays beat the Boston Red Sox 9–8 in 11 innings in Game 2 of the 2008 American League Championship Series. Photo: Tampa Bay Rays – Steven KovichSo when the roster expanded to 40 players on September 1 and manager Joe Maddon needed yet another injection of pace, Perez was a natural choice.
"In a straight-up race, I've got him over Seabiscuit," Maddon said during the postseason.
It turned out Perez would contribute with his bat as well as his legs. He made his major league debut on September 5 in Toronto and went 1-for-1 with two runs scored. For one night at least, his major league batting average was 1.000. By the time the playoffs rolled around, Perez had 60 at bats under his belt, was hitting .250 and the Rays had become everyone's favorite dark horse.
But standing between them and a trip to the World Series was the small matter of the Boston Red Sox, the defending champions with dreams of a dynasty, in the American League Championship Series.
In Game 1, the Red Sox went to Tropicana Field and bullied the Rays to a 2–0 shutout in front of 35,000 of their own cowbell-waving fans. By Game 2, the Rays were staring down the barrel of a two-game deficit in the best-of-seven series, with three nights at Fenway Park coming up. The two sides slugged away at each other into the eighth inning when the Red Sox tied it at 8–8. Perez watched from the dugout.
Perez is doused by a teammate after scoring the winning run during a regular-season game after his call-up in September. Photo: Tampa Bay Rays – Skip MilosThe ninth and 10th innings came and went without anyone crossing the plate. So did the top of the 11th. The Rays would have a chance to win it in the bottom of the inning, and Navarro started them off with a walk. Perez knew what that meant; he was Maddon's pinch-runner in the hole.
"There's this feeling that you just want to get it over with," Perez says about parachuting into a game as a pinch-runner, "that you want to do it hard and run and yell and scream. But the right way to do it is actually very boring. You have to think about it as if, 'When this happens, I must do this.' "
Another walk gave Perez a free pass to second, and he scrambled to third on a weak groundout. B.J. Upton then popped a high fly ball down the right field line. Perez's instincts took over.
When that ball hits the right-fielder's glove, I must run home.
When he did, and slid in safely, he was swarmed by a crowd of teammates in a deafening eruption of the indoor stadium. It was a moment that Perez would not savor again the following week, when he was left standing at second in Philadelphia. But nearly five years removed from Ivy baseball, Perez understood that he had arrived.
"I did such a small thing," Perez says with a smile. "But it was my role, my tiny niche on the team. And I did it perfectly."
Joshua Robinson '08 covers baseball for The New York Times. He lives in Manhattan.